7 essential FIFA 18 tips: new defending, Career Mode advice, Ultimate Team web app and more
FIFA addict Ben Wilson shares his must-know hints for FUT, Career Mode – and how to bend the rulebook to your advantage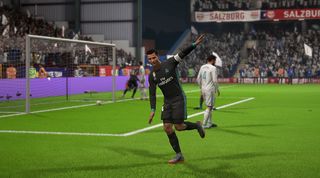 First, a note from Ben: "I've played 900 games of FIFAs 17 and 18 over the last year. Just to reaffirm that, in old-school Vidiprinter speak: Nine. Hundred. Games.
"While I'm still way off competing for six figures at eSports events, the sheer wealth of time spent in Career and Ultimate Team modes, coupled with behind-closed-doors access to the EA Canada development team, have enabled me to pick up some sneaky advanced tips – tips which I'm now going to share with you.
"These should aid players of all abilities – from two-button novice to perennial Weekend League contender."
New defending requires ditching of old habits
There have been claims that FIFA 18's defending model is broken – mostly by FIFA 17 players unaware of the new 'hard tackle', which is halfway between a standing tackle and a slide.
In fact, once you master that new tackle, it's much improved. The key is to hold down the tackle button for slightly longer than a second before making a challenge, rather than repeatedly tapping it as with previous years. Think of it as charging up a Street Fighter move; it's about reading the game in advance, rather than reacting to it.
There are also ways you can increase your chances of making key blocks in and around the box, Burnley style. One is to deploy a 4-4-2 (2) formation with two CDMs taller than 6ft 2in. Positionally they'll help shield your centre-backs, and their sheer size means outstretched legs deflect numerous goalbound shots away. It's like a Tony Pulis dream.
Also experiment in using the right stick, rather than L1/LB, to switch between players. This takes the choice of who you control out of the AI's hands, instead placing it in yours.
Want more goals? Turn handballs back on
Tucked away in the Settings menu is an option which, when changed from default, will immediately increase the number of goals you score. Handballs were introduced in FIFA 11 but 'removed' a year later after fans complained that the engine couldn't differentiate between deliberate and accidental. Except they weren't removed at all – merely switched off unless the game owner decided otherwise.
To flick them back on, head to Customise, then Settings, then Games Settings, then Rules. 'Handball' is the fourth option down. Most offline FIFA players set the difficulty at a level where they have more shots than their AI opposition, meaning more time spent in an opponent's box in any given game – and therefore more chance of ball striking hand.
When it does, you earn a penalty every time – we're seeing one in every five or six games. The downside is you'll occasionally concede one too, but it's definitely a change that benefits human player far more than AI.
Height is the most important keeper attribute
Some advice given to FFT by lead gameplay producer Sam Rivera ahead of FIFA 17's release remains true this year – particularly in the case of those gangly guys between the sticks. "Two specific attributes [are critical]," said Rivera. "They are the player's mass – how big they are – and their strength attribute. We combine those values to determine how strong the guys are. The bigger the player, the better he'll be."
There's a simple reason Asmir Begovic and Jack Butland are considered FIFA's most overpowered Prem keepers: at 6ft 6in and 6ft 5in respectively, their height enables them to reach shots and crosses that their stats suggest should be beyond them. Fraser Forster, at 6ft 7in, is also a colossus despite his 78 OVR.
From the other major leagues, Costel Pantilimon (La Liga, 6ft 7in), Michael Esser (Bundesliga, 6ft 5in) and Gianluigi Donnarumma (Calcio A, 6ft 5in) are all worth consideration for your Career Mode and/or FUT squad.
In Ultimate Team, never buy gold packs
Ultimate Team is built around tempting you into dropping big coins – whether real or in-game – on shiny gold packs. The trouble is, hundreds of thousands of gamers cave to that temptation daily, meaning the market is constantly saturated with gold cards.
From a standard pack costing 5K you'll be lucky to make back 2K on the secondary market; whereas bronze and silver packs cost comparative peanuts, yet almost always turn a profit due to the scarcity of those card types.
Open bronze or silver packs, stash any non-duplicate players in your club, and then every Friday night check the Marquee Matchups area of Squad Building Challenges. Take note of the eight sides featured in Marquee Matchups, then go into your club and list any players from those teams on the transfer market, being sure to choose a Buy It Now price in line with their current value. In this way we made 13 million coins in FIFA 17, and are already closing in on 2 million profit from FIFA 18.
There's a cunning little way to speed up your Journey
This year's edition of The Journey is fantastic, but one common social media criticism is that the story could be advanced faster. Having to play the entirety of every match can feel a grind in the final Alex Hunter chapter, and the one featuring former club-mate Danny Williams. Thankfully, there's a workaround.
On starting a match in the mode, head into the Settings menu, then scroll through to User Gameplay Customisation, and increase Sprint Speed and Acceleration to 100. Then select the CPU Gameplay Customisation tab, and decrease Sprint Speed and Acceleration to 0. There's no way to fast forward the games themselves, but in this way you can take an unassailable 7-0 lead after 10 minutes – no exaggeration – then step away and do something else, such as organise your transfers within the FIFA 18 app, while the rest of the match plays out.
The FIFA App transforms FUT for the better
That mention of the FIFA 18 app isn't, we swear, a cunning piece of product placement. It's actually a critical factor in the harvesting of Ultimate Team coins we mentioned earlier. In part because it enables you to buy and sell on the move, rather than having to boot up your console each time you want to do anything FUT-related; but chiefly because its menus make transfers far more easy to manage than those found within the game proper.
Take comparing prices for a particular player. While FIFA 18 forces you to scroll through each card individually, the app neatly lists all available cards for that player, enabling you to immediately spot the cheapest.
It's the preferable method of completing Squad Building Challenges too. Large rectangular panels make clear which you've done and which you haven't, while the transfer market – an essential factor in completing these challenges – is two mouse clicks, or screen taps, away, rather than an arduous cycle back and forth between console menus. It's free on iOS, Android and your web browser, and worth learning your way around.
Make a career out of youth development
FFT has already covered 10 of the most exciting teams to play as in Career Mode; but whoever you play as, don't make transfers your sole means of injecting new blood. Many neglect the Youth Academy option entirely, when a little work early doors can pay huge dividends from season three onwards – both in terms of bolstering your squad and making long-term money, thanks to the new addition of sell-on fees to outgoing transfer deals.
On starting the mode, immediately recruit a Youth Scout and command him to search for 'Technically Gifted' players. Each month, when your prospects report lands, sign anyone with a potential overall of 90+; also consider anyone in the 85-89 range, depending on how much space you have in your academy.
Leave them in there to ferment and improve, like a fine wine, until you receive a message that they're thinking of leaving – at which point offer a long-term contract. In this way you should add six or seven quality players per season, who'll be ready for first-team action from 2019 onwards.
More FIFA 18 on FourFourTwo...
The 12 best FIFA 18 right-backs you should sign in Ultimate Team
FIFA 18 wonderkids: the 13 best young players to sign in Career Mode
How to do the 12 new FIFA 18 celebrations – plus more of our favourites
The 11 best cheap Premier League players for your FIFA 18 Ultimate Team
The 11 best free agents in FIFA 18
7 must-read FIFA 17 tips and tricks – directly from the developers at EA Sports
Thank you for reading 5 articles this month* Join now for unlimited access
Enjoy your first month for just £1 / $1 / €1
*Read 5 free articles per month without a subscription
Join now for unlimited access
Try first month for just £1 / $1 / €1
Get FourFourTwo Newsletter
The best features, fun and footballing quizzes, straight to your inbox every week.