The 12 best FIFA 18 right-backs you should sign in Ultimate Team
From the full-back with a four-star skill rating to rock-solid bargains, Phillip Ekuwem picks the best FIFA 18 buys in a tricky position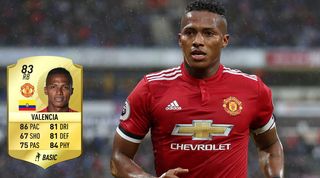 FIFA 18 Ultimate Team features a ton of quality alternatives for players in nearly every position spanning across Europe's top five leagues, but there's a dearth of quality right-backs. Most in the game have average stats, but here are a dozen exceptional right-backs who would be perfect additions to your FUT.
Note: The gold market is on a low right now, so some of these prices may rise in the near future, particularly due to league and country-specific Squad Building Challenges.
Dani Carvajal
Potential cost: 5k
Carvajal is an integral part of Real Madrid's squad, as evidenced by Los Blancos' struggles following the Spaniard's absence for a short period. The key role he plays for Real Madrid in real life has seen him become the highest-rated right-back in La Liga, and luckily for you he doesn't cost nearly as much as his Premier League counterparts.
His 83 crossing stats will allow you to utilise tall and strong strikers up front to devastating effect. Meanwhile, his defending stats, coupled with lung-busting stamina, gives Carvajal a strong defensive workrate.
Lukasz Piszczek
Potential cost: 1.2k
Piszczek is the highest-rated Bundesliga right-back in FIFA 18 - and with good reason, considering he's a difficult man to get past in real life and also a competent player going forward.
Equipped with 81 defending and 80 physicality, the Polish defender can get most wingers off the ball. A Shadow Chemistry style would give his defending - along with his 79 pace - a significant boost, allowing you to maximise his crossing ability.
Dani Alves
Potential cost: 3.1k
Dani Alves is widely regarded as one of the best players in the world – and that reputation follows him in FIFA 18.
The Brazil international is like Marcelo minus the four-star skill rating, bragging immense pace, sublime dribbling ability and midfielder-esque passing. The only downside to Alves is his severe lack of physicality, which is only rated at 66.
If your play is primarily centred on attacking, though – and let's be honest, whose isn't? – Alves is your guy.
Hector Bellerin
Potential cost: 8k
Bellerin is one of three right-backs every Premier League Ultimate Team should have. Only two players in the entire game are faster than the Spaniard (Jonathan Biabiany and Pierre-Emerick Aubameyang), so you can expect to catch up with most players easily and make key interceptions.
With Bellerin's strength rated at 62, though, you'd be better off using standing tackles to steal the ball from players as opposed to spamming L2.
Alessandro Florenzi
Potential cost: 18.7k
Florenzi is undoubtedly the best right-back in Serie A, but he's also the most expensive and currently goes for around 18-20k coins. That's with good reason, given his talents as an all-round player.
He's got decent defending abilities, but going forward he's a different beast thanks to his winger-esque shooting, dribbling and pace stats.
Antonio Valencia
Potential cost: 36.7k
Valencia is one of the most annoying full-backs to play against in FIFA 18, just as he should be. He's an expert at stopping runs and thwarting incoming attacks. The Ecuadorian's 87 pace makes him extremely difficult to outrun, while his 85 strength makes physical battles a piece of cake.
Manchester United's Mr. Reliable is a brick wall in defence, but he's also deadly going forward – capable of going past players and sending in a killer cross.  
Kyle Walker
Potential cost: 42k
Walker has enjoyed a great start to life at Manchester City, having played a key role in patching up their defensive frailties. He unsurprisingly has an OTW (Ones To Watch) card which currently goes for about 230k at the moment, but his base gold card is significantly cheaper at 42k.
While he's not the best dribbler, the Englishman possesses blistering pace and strong defensive abilities that will make him a key figure in your team and solve any right-back woes. Don't believe us? Just ask Pep.
Juanfran
Potential cost: 850
A mainstay in Atletico Madrid's masterful defence, Juanfran is one of the best right-backs you can acquire in FUT.
With 82 pace and 83 crossing, the Spaniard is perfectly capable of making menacing runs down the right flank before whipping accurate balls into the box for your striker to head home (or just into the goalkeeper's safe hands. Whatever).
Bargain corner...
Nathaniel Clyne
Potential cost: 1.5k
Don't have enough coins for Walker, Valencia or Bellerin? Clyne's got you covered. The Liverpool man might not have crazy amounts of pace, shooting or physicality, but he's a bargain option capable of doing a solid job at right-back.
Mitchell Weiser
Potential cost: 700
Don't let his 78 overall rating fool you: Weiser is a must-have player for every attack-minded Bundesliga team.
Blessed with a four-star skill rating – a rare trait among defenders – Weiser is best utilised as an extra attacking outlet at the back than as a real defender, given his defending and physicality stats aren't the best.
His 84 pace makes him hard to chase once he gets on his bike, and when coupled with his 83 dribbling you can utilise one of FIFA's most overpowered attacking plays – the cut-back – with regularity. Given he's currently going for close to discard value, he won't demand many of your coins.
Mario Gaspar
Potential cost: 750
In terms of key stats, there aren't many right-backs better than Gaspar. If you've got a Spanish centre-back and central midfielder (for a good chemistry link) within your ranks, then you'd be wise to snap him up even if your team isn't stocked with La Liga players.
While his dribbling could be much better, Gaspar still has a great balance of attacking and defensive stats. His 81 shot power is particularly eye-catching, but it's easy to forget how good the Spaniard is at performing his defensive duties.
He's currently selling for close to discard thanks to his high supply, but at some point his price is likely to rise to around 1.5k coins – which is also quite cheap.
Joao Cancelo
Potential cost: 1k
Stephan Lichtsteiner is the obvious alternative to Alessandro Florenzi, but based on usefulness you'd much rather have Inter's Cancelo turning out at right-back for your Ultimate Team.
The Portugal international isn't much of a defender, though, as his usefulness lies in the game's most important aspect: attacking.
Like Bellerin, Cancelo's pace allows him to cover a lot of ground quickly. His dribbling abilities prevent him from being stopped easily, meanwhile, giving you a window of opportunity to find a player for a tap-in or finesse shot from the edge of the box. Don't mind if we do. 
More FIFA 18 content…
WONDERKIDS The 13 best young players to sign in Career Mode
CELEBRATIONS How to do the 12 new FIFA 18 celebrations – plus more of our favourites
DREAM TEAM 11 best cheap Premier League players for FIFA 18 Ultimate Team
REVEALED! 10 excellent FIFA 18 Ultimate Team bargains for under 2,000 coins
BUDGETS! FIFA 18 career mode transfer budgets for every Premier League team
TEAMS 10 teams we can't wait to use in FIFA 18
BARGAINS The 11 best free agents in FIFA 18
Quizzes, features and footballing fun
Get the best features, fun and footballing frolics straight to your inbox every week.
Thank you for signing up to Four Four Two. You will receive a verification email shortly.
There was a problem. Please refresh the page and try again.