FIFA 20 Icons Swaps: which legends to target – and who to avoid
​All the FUT Icon Swaps you can get, how to get them – and which ones are worth it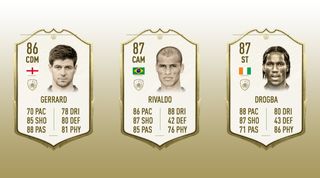 In a bid to give more players access to icons, EA have released 'Icon Swaps': a limited-time event which allows you to complete icon SBCs without spending any coins.
To complete these SBCs you'll have to submit a certain amount of 'Swap Items', which can be obtained by completing gameplay objectives.
Some objectives are harder than others, and as such, not everybody will be able to complete many of them. That's why there is a wide variety of icons (23, to be exact) to choose from to cater to the game's casual and hardcore player base.
Here's a look at the icons that are worth getting – and the ones that aren't...
OTHER GUIDES…
FIFA 20 career mode best young players: 15 wonderkids with world-class potential
FIFA 20's 10 most overpowered players for Ultimate Team
FIFA 20 coins guide: how to (legally) buy and sell your assets to maximise profits
FIFA 20 career mode free agents: 11 unmissable players with expiring contracts
The best FIFA 20 Premier League FUT starter team for under 100,000 coins
FIFA 20 best kits: 10 great shirts you need in your life
Peter Schmeichel
Requirement: 6 Swaps Items
Requiring only six FUT swaps items, Schmeichel is the easiest Icon to unlock out of all 23 included in the first batch of the Icon Swap SBC set.
We wouldn't really recommend Schmeichel, though, as there are a ton of NIF goalkeepers who are more efficient than him between the sticks. 
Jay-Jay Okocha
Requirement: 8 Swaps Items
If you've got a thing for five-star skillers, then Jay-Jay is your man. So good they named him twice.
With 92 dribbling and 92 balance, you can't go wrong with Okocha in your squad. He's worth completing for eight swaps items.
Pep Guardiola
Requirement: 9 Swaps Items
Guardiola's base Icon card is quite popular among the FIFA community right now, with a lot of players giving his card rave reviews. With 87 composure and 87 pace on a Shadow chemistry style, it's easy to see why.
Ryan Giggs
Requirement: 9 Swaps Items
Despite possessing 91 pace, Giggs's card is let down by its three-star skill rating and two-star weak foot – thus making the Manchester United legend rather one-dimensional going forward.
For 9 swap items, we wouldn't recommend it. Sorry, Giggsy. 
Alessandro Nesta
Requirement: 9 Swaps Items
One of the greatest defenders of his time, Nesta's reputation holds true on FUT. Standing at 6ft 2in and boasting 93 strength, the Italian is an Icon worth getting before the swaps promo runs out.
Roberto Carlos
Requirement: 11 Swaps Items
Blessed with blistering pace (86), insane shot power (92) and unparalleled free-kick taking ability (90), 86-rated Carlos is worth the 11 FUT swap items his SBC requires.
Hernan Crespo
Requirement: 12 Swaps Items
One of the greatest strikers Argentina has ever produced – Crespo's 85-rated card is good enough to lead you to glory in Division Rivals and the weekend league. 
For the price of just 12 swap players, you'd do well to get his base Icon card.
Patrick Kluivert
Requirement: 12 Swaps Items
Kluivert's base Icon card is pretty good, but he's more of a targetman than a playmaker so don't expect him to dribble past multiple foes.
Miroslav Klose
Requirement: 12 Swap Items
With 77 pace and 78 dribbling, German goal machine Klose is unfortunately not worth getting during the FUT swaps event – his base Icon card just isn't good enough to help you find the back of the net on a consistent basis.
Michael Ballack
Requirement: 14 Swap Items
Ballack's base card is a bit slow – his pace is only rated at 72 – but he's got incredible stats in other departments and boasts of 86 passing, 80 defending, 83 physicality and 78 dribbling.
His card is definitely worth the grind for 14 FUT swap items.
Andrea Pirlo
Requirement: 14 Swap Items
Few players played with as much style and elegance as Italian midfield maestro Pirlo.
EA have captured the Italian's skill set quite nicely on FIFA 20 too, and as a result the Juventus legend feels unique in-game.
Roy Keane
Requirement: 15 Swap Items
With 66 pace and 64 agility, we don't really think Keane's base card is worth the hassle. You'd be better off getting a midfielder like Pirlo or Ballack, both of whom cost just 14 Swap items.
Rivaldo 
Requirement: 15 Swap Items
Rivaldo's FUT item is hit or miss. He's got insane stats but his two-star weak foot lets him down in the attacking third. Regardless, for 15 FUT swaps players, completing Rivaldo's SBC might be worth it in the long run.
Ian Wright
Requirement: 16 Swap Items
Arsenal legend Wright is one of the newest additions to EA Sports' Icon roster. Boasting 91 pace and 99 finishing with a Sniper chemistry style, stick him up front and he will get you goals.
Rio Ferdinand
Requirement: 16 Swaps Items
Ferdinand is easily one of the best centre-backs on FIFA 20. With 84 pace, 84 defending and 83 physicality, his base Icon card is truly a force to be reckoned with. 
Rui Costa 
Requirement: 17 Swaps Items
Rui Costa has a pretty decent card – he's got 84 pace, 76 shooting and 83 dribbling. But for 17 Icon swaps, there are a couple of others you could prioritise instead.
Javier Zanetti
Requirement: 17 Swaps Items
With 88 pace, 82 passing and 80 dribbling, Inter legend Zanetti is one of the best full-backs on the game.  
He's also got 95 stamina, allowing him to run around the pitch non-stop without getting fatigued.
Hugo Sanchez
Requirement: 17 Swaps items
Mexican legend Sanchez has an amazing base Icon card – he packs 88 pace, 85 dribbling and 90 finishing. He's by far one of the best icons up for grabs at moment, so if you have enough swaps players you'd do well to pick him up.
Emilio Butragueno
Requirement: 19 Swaps items
Butragueno was one of the most popular icons back on FIFA 19, primarily because of his unique build and goalscoring ability.
Standing at 5ft 6in, the pint-sized Spaniard has a low centre of gravity which allows him to dribble past players and escape tackles with ease. He's Messi-esque, and boasts a five-star weak foot – we highly recommend you get him if you can.
Steven Gerrard
Requirement: 20 Swaps items
Gerrard's base Icon card is pretty decent, but compared to the players you can get for 19 FUT Swaps, the only reason you should complete Gerrard's swaps SBC is if you have a sentimental attachment to the Liverpool legend.
Gheorghe Hagi
Requirement: 20 Swaps items
Romanian hero Hagi is one of the most mesmerising players of all time. His FUT card captures his unique abilities pretty well, too: he's got amazing dribbling stats and custom animations. Definitely worth getting.
Michael Owen
Requirement: 20 Swaps Items
Owen's base card has pretty basic stats. Getting 20 Icon swaps items is no easy feat, and we don't think Mo's base card is worth the grind with a three-star skill rating and 74 stamina.
Didier Drogba
Requirement: 23 Swaps Items
Drogba is by far the hardest card to get in the Icon swaps set, but is he the best? The answer to that question depends on your play style.
If you prefer to dribble past players with your forwards, we don't think the Ivorian's base card is for you – he's got just 71 agility and 72 balance, giving him a clunky feel in-game.
However, If you prefer to cross the ball and play a more aggressive style, then the ex-Chelsea battering ram is your man. 
More FIFA 20 on FourFourTwo.com
COMMENT Can Antoine Griezmann ever thrive in Lionel Messi's Barcelona?
QUIZ How many of the 141 clubs to appear in the Champions League group stage can you name?
GUIDE Premier League live stream best VPN: how to watch every game from anywhere in the world
Quizzes, features and footballing fun
Get the best features, fun and footballing frolics straight to your inbox every week.
Thank you for signing up to Four Four Two. You will receive a verification email shortly.
There was a problem. Please refresh the page and try again.