FIFA 21: 8 unmissable free agents on Career Mode
Get them while you can: these experienced free agents can take your career mode team to new heights - if you can afford them...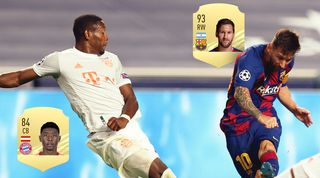 (Image credit: EA)
Of course you want to save some money in the transfer market. The good news is that there are plenty of free agents you can snap up in Career Mode by January, without having to fork out an eye-watering fee for. That's all thanks to deals expiring in the summer of 2020 in your first season. 
The bad news is that EA have adjusted the realism of free agents, a little. David De Gea was on last year's list, for example - of course, Manchester United are not going to let their goalkeeper run his deal down to its expiry before going elsewhere for nothing. That doesn't make sense.
A lot of these deals are very slim in chance. To be fast though, as soon as the second season starts on 1 July 2021, go over to the Transfers page, Search Players, and then adjust the Transfer Status filter box to the top right to Free Agents. Good luck...
BUY FIFA 21
• Order FIFA 21 for PS4, Xbox One and PC for £54.99 – Amazon
• Order FIFA 21 for PS4 for £54.99 – Argos
• Order FIFA 21 for Nintendo Switch for £44.99 – Argos
1. Lionel Messi
Summer 2020 was owned by Lionel Messi. If the 33-year-old wasn't captaining a side having its trousers pulled down by Bayern Munich, he was busy trying to find the keys to the Barcelona door, with Pep Guardiola clamouring for a reunion with his former boy wonder. 
FIFA 21 The top 125 wonderkids on Career Mode
If Lionel Messi runs his deal down in real life, he could become the most lucrative free agent in the history of football. Given that he's paid £510,000 in FIFA 21, good luck signing him. You'll need it. But it's not impossible... 
2. Sergio Aguero
MORE FIFA
FIFA 21 17 essential tips from FIFA experts, pro players and YouTube stars
It seems alien to imagine Sergio Aguero wearing anything other than the sky blue of Manchester City. Still, that's what they said about David Silva, so get over it - you can sign him on Career Mode, easy. 
Well, not easy. King Kun commands £270,000 a week. Assuming that virtual Pep doesn't extend that contract, he'll be hard to tempt - and he's 32 too - but can you resist adding a true icon of the game to your squad?
3. Sergio Ramos
It's been made very clear already this season - Sergio Ramos is still holding Real Madrid together at the back. 
FIFA 21 How to (legally) buy and sell your assets to maximise profits
If you want to add Spain's most-capped footballer to your team, you need to get in there quick. He's on £270,000, like Aguero, and still has an 89 rating overall. At 34, he'll be winding down sooner rather than later but that leadership in your side could be nice. 
4. David Alaba
At 28 years old, it seems proposterous that Bayern Munich wouldn't extend David Alaba's incredible career in Germany. The Austrian has won everything there is to see his reflection in and though rumours are linking him with the exit door, he's still one of Hansi Flick's most reliable performers.
He's paid around £93,000 a week in FIFA - which does seem exceptionally low for a man of his talent. Surely you can tempt him to your side if Bayern don't do the inevitable... 
5. Memphis Depay
Memphis Depay was rumoured to be departing Lyon for as little as £12m on deadline day. Though the Dutch schemer stayed, he may go for absolutely nothing come next summer.
FIFA 21 How to do every newly released goal celebration
Depay is on £120,000 and still rated at 85, with a potential of 88 that he could reach in his peak. Yes, Depay is still 26 - a bonkers statistic for everyone who remembers when he first broke through at PSV. He could be a steal on Career Mode. 
6. Angel Di Maria 
Another United flop seemingly running their current deal to its expiry, Angel Di Maria is the creative fulcrum at Paris Saint-Germain. Yet he might be available for nothing on Career Mode's second season. 
At 32, he doesn't have much more in the tank beyond his current rating - but given that he's rated at 87, that's not a huge worry. A perfect luxury no.10 for your side if you can tempt him - just remember he's on £145,000 on FIFA. 
7. Paul Pogba 
In real-life, it's almost guaranteed that Manchester United will trigger Paul Pogba's one-year option to extend his deal beyond this summer. In the world of FIFA, however, that's not something you have to worry about. 
RANKED! The 100 greatest FIFA songs ever
Neither is his much-discussed workrate, which players can "unlock" his full potential or whether he can coexist with Donny van de Beek and Bruno Fernandes in Ole Gunnar Solskjaer's midfield. Nope - with a current rating of 86, potential of 87 and still 27 years old, you just have to find space for his £170,000-a-week wages. 
8. Gianluigi Donnarumma
With an eye-watering potential of 92 and wage of £30,000, 21-year-old goalkeeper Gianluigi Donnarumma could be the best signing that you ever make on FIFA.
His contract is winding down so now's the best time to pounce. If you don't want to play chicken with AC Milan's will-they-won't-they negotations, then get in before then and make a cheeky bid in your first season. You never know... 
MORE GUIDES
FIFA 21 news: Most improved players, 5-star skilled players and best XI under 21 revealed
Ranked! The top 10 FUT icons in FIFA 21
FIFA 21 for XBox Series X pre-order: the new console is now available to buy – here's how you can play the latest FIFA on it
FIFA 21 for PS5 pre-order: the new console is now available to buy – here's how you can play the latest FIFA on it
Quizzes, features and footballing fun
Get the best features, fun and footballing frolics straight to your inbox every week.
Thank you for signing up to Four Four Two. You will receive a verification email shortly.
There was a problem. Please refresh the page and try again.