The best FIFA 20 Premier League FUT starter team for under 100,000 coins
On this year's FIFA 20 Ultimate Team, it's possible to build a brilliant Premier League starter squad without breaking the bank. Here are the best players to buy on FUT...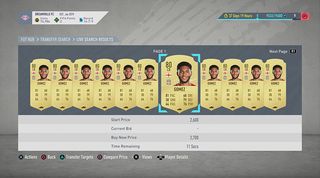 It's still early days in the FIFA Ultimate Team cycle, and as such not everyone is able to afford top-tier players. That's especially true for those in the game's most expensive division: the Premier League.
On that note, we've put together a Premier League squad which costs under 100,000 coins and is capable of allowing you to dominate Division Rivals and the Weekend League.
Here's a look at our overpowered EPL XI under 100,000 coins – and you might also want to fire up our handy guide on FIFA 20's Chemistry Styles too...
OTHER GUIDES…
FIFA 20 coins guide: how to (legally) buy and sell your assets to maximise profits
FIFA 20's 10 most overpowered players for Ultimate Team
FIFA 20 career mode best young players: 15 wonderkids with world-class potential
The best young strikers on FIFA 20 by career mode potential
GK: Jordan Pickford
Price:2,300 coins
Jordan Pickford has proven to be one of the most skilled shot-stoppers on FUT. The Englishman is 6ft 1in and boasts a great reach between the sticks as a result of his diving stat, which is rated 92 with a Basic chemistry style.
Goalkeepers on FIFA 20 aren't as reliable as they were on FIFA 19: EA Sports has made it easier to find the net in this year's iteration of the game. Regardless of that, though, you'll still find Pickford making some truly incredible saves for your side – he's able to react to first-time shots and tap-ins quickly thanks to his 96-rated reflexes (with a Basic chem style).
RB: Hector Bellerin
Price: 11,500
Bellerin has always been one of the fastest players in the past few iterations of FIFA, and FIFA 20 is no different. The Spaniard is (you guessed it) rapid with 92 pace – enough to keep up with the game's speed demands. 
In a bid to boost Bellerin's defensive and physical stats, a Sentinel chemistry style would be the best chemistry style to apply on the Arsenal man's FUT item. His aggression will go up to 82, while his standing tackle and slide tackle stats will go up to 93 and 95 respectively – thus making him perfect for stealing the ball off opposition players.
CB: Joe Gomez
Price:1,000 coins
FIFA 20 is all about pace. OK, maybe not all about it – but speed is by far the most influential stat on the game across every outfield position.
Back on FIFA 19, any player with average pace could catch up to speedsters like Kylian Mbappe, Pierre-Emerick Aubameyang and Neymar, preventing you from getting through on goal with regularity. EA has taken a much different approach with FIFA 20, though, ensuring only pacey players have the ability to keep up with fellow speedsters. It's why players like Liverpool's Joe Gomez are so overpowered (OP) on FIFA 20.
Gomez comes with pace of 81 – and with a Shadow chemistry style applied, that goes up to 93. Beat him if you can. 
SEE ALSO FIFA 20 career mode free agents: 11 unmissable players with expiring contracts
OFFLINEFIFA 20 Career Mode: the 8 best teams we can't wait to use
CB: Sokratis
Price:10,500 coins
Sokratis' base pace rating is 72 so he's not particularly fast, but he's not a slow-poke either. With a Shadow chemistry style that speed goes up to 84, which is still quite decent considering that when paired up with a fast defender like Gomez, the Greek will take on a different role in your defensive line anyway.
Your primary focus while controlling a player like Sokratis will be to stop players in their tracks and prevent the initial pass or through-ball from finding its target. Quick one-twos and long through-balls are common facets of pretty much every player's game on FIFA 20 as they look to get their strikers running in behind and one-on-one with the goalkeeper.
Sokratis is the no-nonsense centre-back who will stop players in their stride and force your opponents to spam crosses from the flanks.
SEE ALSO FIFA 20 best formation: 5 great tried-and-tested systems explained
LB: Kieran Tierney
Price:3,400 coins
Arsenal's Tierney is the best budget left-back in the Premier League. While his overall defensive stat (71) might be lacking, it can be boosted to 79 with a Shadow chemistry style which will max his pace out and mean he's able to keep up with any quick forward looking to exploit your left flank.
Tierney comes with 89 stamina so can make overlapping runs for long periods of a match and still track back to perform his defensive duties without losing much. He's the ideal left-back on a pace-heavy game. 
CDM: Jean-Philippe Gbamin
Price: 750 coins
Gbamin's FUT item is the very definition of a hidden gem: he's one of the most overpowered defensive midfielders in the Premier League.
Standing at 6ft 1in and possessing 83 strength and 85 aggression, the Ivorian is strong enough to push most players off the ball – the kind of player you want sitting in front of your backline and thwarting incoming attacks.
With a Shadow chemistry style, Gbamin's pace goes up to 92, while his ability to intercept the ball goes up to 89. For just 750 coins you'd be getting a defensive powerhouse.
CM: Tanguy Ndombele
Price:5,300 coins
Ndombele is a creative force on FIFA 20. With a four-star skill rating, 83 agility, 87 composure and 86 ball control, the Frenchman is a player you most definitely want in your midfield. He's great at going past players and creating goalscoring opportunities. 
The main downside to his card is his finishing, which is rated 59 – but that doesn't mean that he can't score goals in the right positions.
His primary role on the pitch should be finding spaces to exploit and creating goalscoring opportunities.
CM: Georginio Wijnaldum
Price:25,000 coins
After receiving a tidy +2 boost to his FIFA rating following his exploits for Liverpool last season, Wijnaldum is now one of the best Premier League midfielders you can sign for your Ultimate Team. Wijnaldum's FUT item is borderline Gullit-gang, as all his face stats are very close to being 80.
His 93 stamina means he's able to cover every blade of grass on the pitch without showing signs of fatigue – he's a player you can always count on to make a difference in every minute of the game.
RW: Willian
Price: 13,000 coins
After an impressive performance against Southampton for Chelsea, Willian looks set to be an influential player for the Blues this season – and he can do the same for your FUT side if you acquire his FUT item for just 13,000 coins.
With 87 agility and 82 ball control, Willian is a hard man to stop with the ball at his feet. A Hunter chemistry style will give the Brazilian's pace a +10 boost, taking it up to 95.
LW: Leandro Trossard
Price:2,300 coins
Trossard's FUT item is one of the most underrated cards on the entire game.
With a Hunter chemistry style he possesses 92 pace, 85 finishing and 87 shot power. The Belgian's ability to find the back of the net from range is rated at 85, making him a dangerous asset in your attacking third.
With 92 agility, Trossard is nimble on the ball and excellent for unlocking defensive set-ups making use of the drop-back tactic.
ST: Gabriel Jesus
Price:38,000 coins
Manchester City's Jesus has been an overpowered player since FIFA 18 – and he's more OP than he's ever been thanks to how important pace and agility are on FIFA 20.
The Brazil international boasts 95 pace and 89 finishing with a Hunter chemistry style, meaning once he gets through on goal there's only one place the ball is going - into the back of the net.
More FIFA 20 on FourFourTwo.com
TUNES FIFA 20 soundtrack: FULL track list announced including Major Lazer, Anderson .Paak, Disclosure
WATCH Premier League live stream 2019/20: how to watch every game from anywhere in the world
Quizzes, features and footballing fun
Get the best features, fun and footballing frolics straight to your inbox every week.
Thank you for signing up to Four Four Two. You will receive a verification email shortly.
There was a problem. Please refresh the page and try again.