EA Sports FIFA 23: Preorders, release date, cover, new features and everything else we know so far
EA Sports FIFA 23 is dropping in the autumn, with groundbreaking firsts for the franchise and huge new changes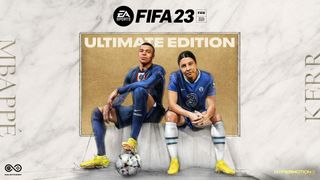 (Image credit: EA)
EA Sports FIFA 23 is coming soon – and it promises to be the most complete version of the game that we've ever seen, with brand-new firsts and new features.
The countdown starts now, with the new cover for FIFA 23 released in July, despite the game expected in the autumn as usual. Given that this is the biggest-selling football video game worldwide, you can expect there to be plenty of hype leading up to this one.
And… it's the last ever FIFA.
EA Sports FIFA 23: Everything you need to know
Preorder
How can I preorder FIFA 23?
You can now preorder EA Sports FIFA 23 from EA's official site.
Preorder now! (opens in new tab)
Release date
When is the release date for FIFA 23?
A firm date is unknown just yet – but FIFA 23 is expected to drop in the autumn of 2022.
FIFA has tended to become available for download from October onwards, with early access reserved for the middle of September. This has not changed.
Will FIFA 23 be free to play?
Not this time…
For a number of years now, there has been talk about whether EA would move to a free-to-play structure, similar to games such as Fortnite. People buy this game every year, after all. Speculation intensified last year when Konami took the step of rebranding their iconic Pro Evolution Soccer series into the free-to-play title, eFootball.
eFootball has been criticised and hasn't been the huge success that perhaps Konami envisioned, however. Creating a free-to-play football game would be a lot more complicated than something like Fortnite – and while free-to-play titles with subscription-based features could become the future for EA, FIFA 23 will not adopt this model.
Cover
Who is on the cover of FIFA 23?
Image 1 of 3
The Standard Edition cover of <em>FIFA 23</em> features Kylian Mbappe.
Sam Kerr features on the Australia and New Zealand version of the game – plus as an Amazon exclusive. 
The Ultimate Edition features both stars. 
Sam Kerr has become the first woman on the Global Edition cover of the FIFA series, appearing alongside PSG attacker Kylian Mbappe.
The Chelsea and Australia star is on the top of her game for WSL champions Chelsea and will return back down under for the Women's World Cup, which is set to be held in Australia and New Zealand. Kerr features on the Standard Edition cover in Oceania – while Mbappe features on the rest of the world.
This is Mbappe's third consecutive cover appearance.
Trailer
Is there a trailer for FIFA 23?
The trailer for FIFA 23 was released alongside the first batch of newly-released innovations and new features on July 20.
EA FC
Will FIFA 23 be called EA FC?
No. FIFA 23 will be the last of the FIFA franchise to carry the governing body's name – before the next instalment is named EA FC.
Why is FIFA changing its name to EA FC?
With the license of using the FIFA name coming to an end, EA had to change the name of the series or remain with the same name.
This was hinted at in a press release from EA, with EA Sports GM Cam Weber claiming, "We're reviewing our naming rights agreement with FIFA, which is separate from all our other official partnerships and licenses across the football world."
Now, EA have announced the future of the game will be called EA FC.
EA have also recently renewed their deal with FIFPRO though, meaning that EA can continue using the "thousands of player names and likenesses" in the game.
New features
What changes to gameplay will made in FIFA 23?
The gameplay has gone up a level – with Hypermotion improved upon further.
Advanced 11v11 Match Capture means that millions of data points have been captured from professional footballers playing real, high-intensity 11v11 matches to make this game. According to EA, "FIFA 23 includes Advanced 11v11 Match Capture data from two new full-match motion capture shoots with professional teams – including a FIFA-first motion capture of a women's match – and data from five training drills, leading to more high-fidelity, true-to-life animations than ever before in an EA Sports FIFA title."
The Machine Learning – that's AI, guys – has been, well, learning, too. It's now even more real, as EA explains that, "Advances to our cutting-edge and proprietary machine learning algorithm bring football realism to more footballing situations in FIFA 23. Learning from a cumulative 9.2 million frames of advanced match capture, the algorithm writes new animations in real time to create natural and realistic football motion across a variety of interactions on the pitch in FIFA 23."
"Advanced Impact Physics makes players' individual limbs more naturally affect the outcome when defenders block the ball in FIFA 23," EA continue. "Deflections and blocks from defenders and goalkeepers' arms, legs, hands, and even fingers will now have more realistic outcomes determined by the impact of the ball upon them, as they absorb the power of the shot to affect the ball's path and create more visually authentic deflections based on the speed and force of each individual strike."
On top of this, everything from the CPU AI tactical awareness to the pre-match build-up and the realism of the pitch itself has improved.
Will FIFA 23 have cross-play?
Yes, it will.
For the first time ever, you will be able to play FIFA across platforms in this edition, just like in games such as Fortnite.
"Connect with friends and play in 1v1 modes, including Online Friendlies, and in FIFA Ultimate Team in FUT Play A Friend," EA tells us. "Plus, compete against players on different platforms in Online Seasons, FUT Online Friendlies, FUT Rivals, FUT Champions, and FUT Online Draft to help you to get into your next online match more easily than ever before."
What new features will Career Mode see in FIFA 23?
Career Mode has been revamped in the last couple of FIFA games – and it's about to get better.
You can now define your personality as a player, while the management side of it has improved, too. There are Playable Highlights as well, making this the most authentic, immersive FIFA Career Mode ever.
What new features will Pro Clubs see in FIFA 23?
Pro Clubs has, in recent times, added women's players to its mode. It's still one of the smaller, lower-profile modes of the game – but a beloved part of the experience.
New customisation and improvements to Drop-Ins mean that FFT will be rinsing Pro Clubs again, despite letting the entire side down once more.
What new features will FUT (FIFA Ultimate Team) see in FIFA 23?
There's a revamped Chemistry system to give users a whole new way to build a dream squad – and we can't wait for it.
Plus, more Icon cards and FUT heroes – EA's most high-profile FIFA mode is getting even bigger, believe it or not.
What new features will Seasons see in FIFA 23?
Seasons is one of the best-loved modes in FIFA, yet it seems as if it's remaining untouched this year.
If EA plan to shake up the mode in FIFA 23, details of it are still yet to be shared.
What new features will VOLTA see in FIFA 23?
We were worried that VOLTA would be discontinued given that EA tend to work on three-year cycles when it comes to features in their games. Take The Journey, for example: the rest of Alex Hunter was charted between FIFA 17 and FIFA 19.
Thankfully, EA are building on VOLTA, four years into the mode. There are new, upgraded VOLTA Arcades and more ways to customise your avatar. Presumably, FIFA 23 comes with another VOLTA soundtrack, too.
Will FIFA 23 have new teams?
Oh, yes it will. There are over 19,000 players, 700+ teams, 100 stadiums and over 30 leagues in FIFA 23.
Will FIFA 23 have women's club football?
Absolutely, it will. We had a feeling… given that Sam Kerr was on the front of the game in her Chelsea shirt (bit of a giveaway, guys).
The Women's Super League and French Division 1 Arkema are both included in the game, while HyperMotion2 makes the whole thing far more authentic.
Will FIFA 23 have a playable World Cup update?
The World Cup kicks off in Qatar in November, ahead of the game's release – so play it right away with the all-new mode for the competition, featuring all 32 qualified teams.
And not only that, the Women's World Cup – taking place in Australia and New Zealand next summer is available to play, too. More information will follow in the build-up to each tournament, according to EA.
Will FIFA 23 have brand new modes and features?
With the franchise set to change its name to EA FC for the following game, it did seem unlikely that EA will roll out anything too game-changing for this title – yet it does appear there is a new mode for newcomers.
A new coaching system – Training Centre – helps introduce new and less experienced players to the fundamentals of gameplay, with a series of challenges and chapters to help you improve your game.
FUT (FIFA Ultimate Team)
Will there be new icon cards in FUT (FIFA Ultimate Team) in FIFA 23?
Last year, there were very few new icon cards on FIFA 22, with a focus on FUT Heroes instead.
According to the July 20 release, there will be new icon cards coming to the game in FIFA 23 – along with new Heroes cards, too. Get in.
Soundtrack
Who will be on the FIFA 23 soundtrack?
The FIFA 23 soundtrack has not been confirmed and there are very few rumours as to who will feature.
The official soundtrack is expected to drop around mid-September as usual.
Thank you for reading 5 articles this month* Join now for unlimited access
Enjoy your first month for just £1 / $1 / €1
*Read 5 free articles per month without a subscription
Join now for unlimited access
Try first month for just £1 / $1 / €1