First play: FIFA 17 vs PES 2017 – which is better?
Forget Jose Mourinho vs Pep Guardiola next season. PES vs FIFA is set to be the defining battle of 2016-17 – and Ben Wilson has played them both…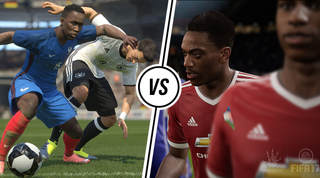 There's still a little while to go before either game is released – both will land within nine days of each other at the end of September – but after a four-hour hands-on with each (PES 2017 at Konami's UK HQ in Windsor, and FIFA 17 in a suite overlooking the pitch at Stamford Bridge), here's all you need to know about the big two's chances ahead of the new season.
What new stuff has each game added on the pitch?
Extra physicality and more realistic movement into space are FIFA's focus this year. That means players make support runs laterally and even across one another, and can hold off opponents when the ball is in the air – controlling Diego Costa, I was repeatedly able to keep Chris Smalling at arm's length to bring down Branislav Ivanovic clearances, whereas last year that scenario would always result in an aerial challenge.
Set-pieces have also been reworked, with an aiming reticule provided for corners, and your player is now able to move up and down the touchline before taking a throw-in. Plus, we get managers for all 20 Premier League sides on the touchline – and yes, Jose Mourinho's already at Manchester United.
PES doesn't do anything as ambitious as last year's game, instead focusing on tightening up the fundamentals. Passing is a touch smoother and more accurate, shooting offers more variation in terms of both power and accuracy (I scored multiple top-corner 30-yarders, which were basically extinct last year) and – best of all – tighter dribbling enables you to buy space on the edge of the box or beat a man out wide with cleverly-timed movement or a sudden change of pace, rather than having to be a skill-stick master.
Both games look fantastic, incidentally. FIFA has adopted Battlefield's Frostbite engine, enabling it to offer volumetric lighting (night games at Old Trafford are insanely true-to-life), while PES's facial likenesses is edging towards uncanny-valley territory. We so want to run our fingers through Olivier Giroud's manly beard. Er, only in-game.
What about off the pitch?
In terms of modes, little to report on the PES front. But more effort has been made to place tactical options front-and-centre of the team selection screen. After pausing the game, you can quickly and easily amend elements such as your team's defensive line, support run tendencies and width on both the attacking and defensive side of the ball. These options were here last year, but hidden away deep in tactics menus.
FIFA is attempting something far grander, and it's called The Journey: a story mode where you play as a fictional youth prospect called Alex Hunter, following his career after signing for one of the 20 Premier League clubs (you choose which). In addition to controlling Hunter in matches, you also get to play out interactive cut-scenes where you choose what he says to the media, talk to team-mates in the dressing room and respond to orders from your coach on the touchline. It's a huge risk that could backfire spectacularly, but you can see that EA's trying to move the genre forward. Maybe next year, instead of Hunter, it'll be you lining up alongside Rooney and Co.
Any new teams or leagues being added to either this year? Or player faces?
Arsenal are confirmed as licensed in PES 2017, with three other teams announced so far – Atletico Madrid, France and Germany. Konami also still owns the Champions League licence. Beyond that, nothing to report as yet.
EA bosses are keeping just as schtum about FIFA's line-up. The Israeli league is the addition fans want most according to a poll with over six million votes, but EA won't say whether or not it'll make the cut. What can be stated with a fair degree of certainty is that, as part of the official Premier League licensing agreement, the Riverside will take its FIFA bow following Middlesbrough's promotion. (Burnley and Hull City's stadia are already in the game, having been top-flight teams in 2014-15.)
How does each of them play?
It's early days, so I'd caution against getting overly excited, but on this evidence both games are going to be worth your 50 sheets.
My favourite thing about FIFA is that it's opened up: no longer do central defenders and defensive midfielders break on (and intercept) every pass the moment you reach the final third. Quickly tap L2 and you can even push them backwards, buying yourself space to play in an overlapping full back or breaking centre midfielder. Low drilled shots are also a welcome addition to the player's repertoire. It's all a touch faster and more attacking, while retaining the 'sim' elements added in recent years.
And PES plays dreamily. I wonder how much you'll truly be able to vary up tactics – going long when 0-1 down in the latter stages as France vs Germany was futile – but if delicate, intricate, precise passing football is your bag, there's a chance it never leaves your console until PES 2018 comes out.
There's a constant, beautiful sense of the unknown, and I mean that in the kindest way; you can dominate a game then lose to a Schweinsteiger humdinger (as I did), or pass and move the opposition off the park en route to a 4-0 victory, and all things in between. For now, it really feels like Konami is onto something special.
Which of them is the early favourite to win next season's title?
If the two games were released today, with licensing and presentation removed from the equation, I'd have to say PES 2017. But fans across the globe want real teams and TV-style presentation, and there's still no doubt that FIFA does the latter better, with Martin Tyler and Alan Smith again on superb, easy-on-the-ears form. (The version of PES I play has no commentary.)
Any other footy games coming out which might do a Leicester and trump them both?
Football Manager 2017 is inevitable, and will once again sate those looking for a purely tactics-based, squad-building experience. Expect that in October or November.
Then there's Dino Dini's Kick Off Revival – a comeback for the early '90s classic, which should scratch the top-down retro itch of anyone who's spent the last decade clamouring for Sensible Soccer's return. The real wild card, however continues to be Rocket League: football but with boost-powered cars instead of fury-powered men, and sports game of 2016 in many eyes. That's about to hit season three, and may yet leave both of these mega-money rivals sobbing on the penalty spot.
PES 2017 is out on 15 September, with FIFA 17 out on 29 September
Quizzes, features and footballing fun
Get the best features, fun and footballing frolics straight to your inbox every week.
Thank you for signing up to Four Four Two. You will receive a verification email shortly.
There was a problem. Please refresh the page and try again.