Gianluca Lapadula: Italy's Jamie Vardy linked with Spurs, Leicester, Juve and... Barça?!
It's taken him until the age of 26 to get noticed by bigger clubs, but the Pescara man's story is about to have another chapter written, writes Michael Yokhin...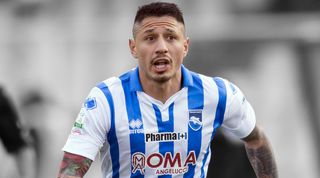 The 60-second story
Back in 2004, Juventus released 14-year-old Torino-born Gianluca Lapadula from their academy because he wasn't doing well in his studies. Few have heard about him since for more than a decade, until he became Serie B's top scorer with 24 goals for Pescara this season.
The brilliant rise has prompted Juve to make Lapadula one of their main targets, and they are not alone – Tottenham, Leicester and even Barcelona have been linked with the prolific striker who appeared from nowhere to make some big headlines. Is he really worth the fuss?
Why you need to know him
Lapadula's route to the spotlight has been very long and unorthodox. He was totally anonymous in his early days, making little to no impression at small clubs like Treviso, Pro Vercelli and Ivrea.
Parma signed the youngster in 2009, but they did so with an incredible number of players in order to send them out on loan. Eventually, that was one of the reasons for their disastrous downfall – they lost count of their loanees themselves, forgetting to pay taxes for some of them. Having been barred from the Europa League in 2014 the club's terrible financial state became evident, leading to meltdown and dissolution.
Until that happened, Lapadula was loaned out to no fewer than seven different teams. He scored 24 goals for tiny San Marino, but that was in the fourth division, and few took notice of the feat. Spells at Cesena and Frosinone proved to be disastrous, and the striker even tried his luck in Slovenia, when signing for Gorica alongside many more Parma-owned Italians in a truly farcical 2013 experiment.
Local Slovenian pundits were rather impressed with Gianluca's skills – he netted 11 times despite playing on the wing – but Parma failed to pay his wages to Gorica, and the whole adventure failed spectacularly.
The last loan spell happened to be at third-division Teramo, where Lapadula found his feet and scored 21 goals en route to promotion to Serie B last season. Or so everyone thought. A match-fixing scandal prevented Teramo from going up, and at the same time Parma officially went out of business, re-established from scratch in Serie D. All of their players became free agents.
Luckily for Pescara they knew more about Lapadula than anyone, having regularly sent scouts to watch neighbouring Teramo's games. The ambitious Serie B outfit noticed the striker's prowess in front of goal and were quick to sign him immediately. Massimo Oddo, the young coach of former Milan and Lazio playing fame who was part of the Italy squad that won the World Cup in 2006, promised Lapadula he would build the team around his talents, and was true to his word.
Oddo never regretted his decision. Lapadula's first goal came at the end of September, and he's barely stopped scoring ever since, finding the net in all possible ways. At the moment he has 24 goals to his name in 36 games – remarkably, none of them penalties. That is 40% of Pescara's tally of 59, and Lapadula is almost single-handedly taking them into the play-offs.
One of the latest efforts, the majestic overhead kick which brought a 1-0 win over fellow promotion hopefuls Cesena, was especially beautiful. Having witnessed such skills, some Italians started campaigning for Lapadula to be included in Antonio Conte's squad for Euro 2016.
Amusingly, Italy is not the only nation that could be interested in the player who made his breakthrough at the age of 26. Lapadula's mother is Peruvian, and the South Americans have made significant efforts to persuade the striker to represent the country he has never visited. Naturally, Lapadula prefers the blue shirt of his homeland, but it's a bit early to dismiss the chances of him going to the Copa America in June if Conte doesn't gamble on him.
Strengths
Lapadula is a marvellous penalty-box predator. He is constantly moving in search of scoring chances, which makes him difficult to mark. The Italian is quite sound technically, but at his best with one-touch finishes.
He isn't the tallest of players at 5ft 10in, but is able to outjump any defender. His work rate is absolutely phenomenal, and he is willing to chase and tackle opponents when Pescara don't have the ball. It is hardly possible to find a hungrier striker in the whole of Italy, which is quite understandable given his background.
Weaknesses
Obviously Lapadula is very inexperienced, especially for his age. He only played first-division football in Slovenia, and hasn't really tried himself against top opposition yet. His only game against a Serie A side, the Coppa Italia clash at Torino in August, ended in a 4-1 defeat.
It's impossible to predict whether he will continue to perform at a higher level. In addition, he is at times criticised for being a bit too selfish with the ball.
They said...
"With all due respect to Peru, Lapadula should wait and play for Italy. He can develop and become a great player ahead of the World Cup," said Pescara coach Oddo.
"Lapadula is a special character. I am not surprised that he is doing so well at this level," noted former Gorica coach Luigi Apolloni, who played Gianluca out of position.
Did you know...
Lapadula proposed to his girlfriend on the pitch as Teramo were celebrating their promotion to Serie B in May 2014. She said yes and shed tears of joy in the stands, and while the club were eventually denied of their dream, the striker still remembers the party very fondly.
What happens next?
It is obvious that Lapadula is about to make a huge step forward in his career. Juventus are confident of signing the player they released 12 years ago, but other suitors shouldn't be underestimated as well. The player probably shouldn't aim too high right now, because he needs to play on weekly basis – hardly possible at Juve or Barcelona.
Lapadula should remember that Ciro Immobile, who became Serie B top scorer at Pescara in 2012, only excelled at Torino later on, while his spells at Genoa, Borussia Dortmund and Sevilla were disappointing in the extreme.
Amusingly, Immobile is two weeks younger than Lapadula, and that makes you understand what a late bloomer he really is. Is he really better than his predecessor?
More features every day on FFT.com • Football's hottest prospects scouted
Thank you for reading 5 articles this month* Join now for unlimited access
Enjoy your first month for just £1 / $1 / €1
*Read 5 free articles per month without a subscription
Join now for unlimited access
Try first month for just £1 / $1 / €1
Get FourFourTwo Newsletter
The best features, fun and footballing quizzes, straight to your inbox every week.