Going to 1998 FA Cup Final was the best day of my life, even though my team lost
Deputy Editor Matthew Ketchell gets nostalgic about one of the final finals to ever take place at old Wembley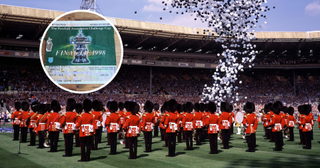 (Image credit: Getty)
Disclaimer: if you're reading this and you're my wife, please take the headline with a pinch of salt.
It's a sunny Friday lunchtime in mid-May 1998. I'm being driven out of high school early by my dad to travel to London to watch my team, Newcastle United, play in the FA Cup Final at Wembley Stadium.
Some of my friends actually escorted me from playground to reception like I was a departing VIP. I felt like one.
Newcastle were in their first FA Cup final for 24 years. The sun was blasting and the mood was heightened at the Tyne Tunnel barrier when the man taking our coins informed us Dennis Bergkamp had been ruled out of the final for Arsenal by injury.
We stayed with relatives in Windsor and the next day was even warmer. Soccer AM went straight on the TV in the morning, it was a special FA Cup final show and they had cameras already situated outside Wembley where Newcastle fans were congregating. It was 8am.
I would be on Wembley Way with them in four hours. As a 12-year-old football fan, these excitement levels were difficult to process. The 1998 final felt like one of the last where 'the world' was watching. I couldn't imagine anyone I knew not watching the game that afternoon, and I had a ticket.
There would be two more finals at the old Wembley before its drawn-out renovation. Newcastle returned 12 months later to lose meekly again, before Chelsea beat Villa 1-0 in 2000's final showpiece. The FA Cup final relocated to Cardiff for six years and after that most finals have sadly seemed to blur into one, save for the occasional upset.
I vividly remember my actual ticket for the '98 final – my dad had secured two via a relative and they were kept on his bedside table with his watch, wallet and coins in the week leading up to the game. I would sneak into my parents' room and sit staring at them in my hands like a Geordie Willy Wonka. Studying all the information, front and back. Imagining what the day would be like.
It was a miracle that we even had tickets. It would be two more years before we were able to get season tickets. Even more of a miracle was that my uncle also had one. He was in the army and won his via a ballot the Army FA held. Brilliant, until he realised he was slap bang in the middle of the Arsenal end on the day.
After breakfast, my cousin painted my face black and white. I was wearing an oversized Newcastle shirt, a curly black and white wig and even had an FA Cup rosette safety pinned to me like I was watching Newcastle vs Arsenal in the 1932 final.
My other accessories were a medium-sized black and white flag on a round wooden stick. The flag had a small cartoon Newcastle fan on it, stereotypically holding aloft a pint of beer. We bought this outside Old Trafford after Newcastle beat Sheffield United in the semi-final.
Completing my look was an inflatable FA Cup trophy that came free with that week's Shoot! Magazine. My cousin tied black and white ribbons to this and did the same to a bottle of champagne and told me "we'll open this when we win the cup". [Sigh]
Regrettably there are no photographs whatsoever of me from the day. But vivid snapshot memories spread across the day have remained with me.
My ticketless cousin drove us out of their estate, towards the train station. We zoomed past someone in an Arsenal shirt on Windsor's Dedworth Road and beeped and gestured. They laughed.
We took a train to Harrow, the idea was to find a pub for a few pre-match drinks (though no alcohol for 12-year-old me). I remember going into a supermarket with my uncle to buy cigarettes (for him) and the staff looking at me in my cup final garb with amusement.
We set up outside the pub and I saw a young couple across the road moving furniture into their new home. That I still think about this 25 years on is mad. I sometimes wonder how their lives in that home panned out. They could've had a couple of kids, raised them and waved them off since.
Next stop: Wembley Park. My dad had the tickets in a Nike bum bag and as we exited the tube station we saw the Twin Towers for the first time, we noticed ticket touts and speculated how much it would take for us to part with our tickets – £10,000 each we decided. Adjusted for inflation 25 years later that's £18,108.49.
I remember Wembley Way through black and white eyes. All I could see was black and white, I don't remember any Arsenal. We entered the stadium as soon as humanly possible.
Stewards forced me to remove the bottle top from my fizzy pop. When I asked why they said: "In case supporters slip on them". My dad struck up a conversation with one who told him he was friends with Les Ferdinand who Newcastle had stupidly sold to Tottenham the previous summer. "Les told me he wants you to do this lot today" he said. Cheers, Les.
We were sat between the Newcastle dugout and the old Wembley tunnel which was situated behind the goal, decent seats. The Newcastle players emerged from the tunnel in their cup final suits to inspect the pitch. A ripple turned into chanting at the Toon end and Shay Given turned, smiled and clenched both fists to his chest as if to say "get in, I'm playing in an FA Cup Final".
This was the era of cup final songs. Arsenal's was a cover of Donna Summer's Hot Stuff. Newcastle's was Bringing The Pride Back Home, supposedly written by Sting. Like the game, a total non-contest in favour of Arsenal.
Abide With Me (which I found impossible to sing along to, even with the words printed in the programme) was performed by Tony Hadley. I had no clue who he was.
The game was a bit of a sweaty blur. I remember thinking Anelka's goal was offside, and I remember my dad's frustration at Shearer hitting the post. I remember booing as Arsenal lifted the trophy.
Newcastle were never in the game and at the end there was no mass exodus in the Toon end. Fans stayed to applaud the team off, despite a drab performance. Arsenal's players did a full lap of honour and we moved to the front of the stand to get a better view.
Tony Adams was walking close to the touchline, applauding Newcastle fans and he began pointing to me. He was making a 'chin-up' gesture at me. Tapping the underside of his chin with the back of his hand. I'm crying, but not because my team lost, it was because I didn't want the day to end.
Thank you for reading 5 articles this month* Join now for unlimited access
Enjoy your first month for just £1 / $1 / €1
*Read 5 free articles per month without a subscription
Join now for unlimited access
Try first month for just £1 / $1 / €1
Get FourFourTwo Newsletter
The best features, fun and footballing quizzes, straight to your inbox every week.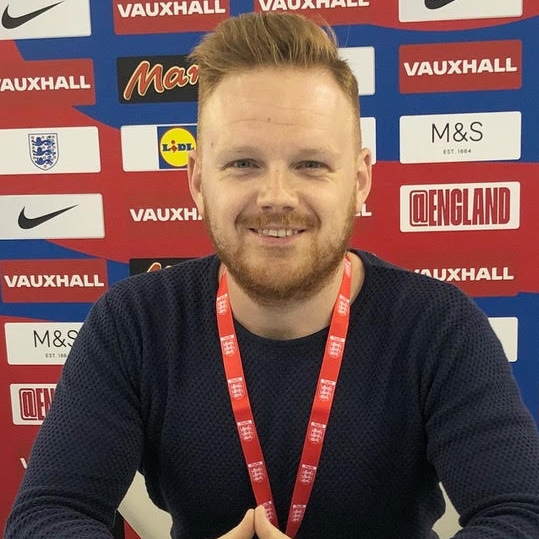 Ketch joined FourFourTwo as Deputy Editor in 2022 having wracked up appearances at Reach PLC as a Northern Football Editor and BBC Match of the Day magazine as their Digital Editor and Senior Writer. During that time he has interviewed the likes of Harry Kane, Sergio Aguero, Gareth Southgate and attended World Cup and Champions League finals. He co-hosts a '90s football podcast called 'Searching For Shineys', is a Newcastle United season ticket holder and has an expensive passion for collecting classic football shirts.