'Tim Lovejoy was s**t!' Inside the golden era of Soccer AM
With contested rumours of Soccer AM's demise, FourFourTwo revisits an age when it was the uncontested king of football television – and ask former host Helen Chamberlain why people loved it so much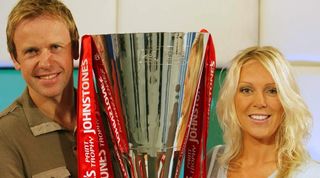 (Image credit: PA Images)
Rumours took over the internet on Wednesday that Soccer AM was headed for the great big television in the sky, alongside other bygone greats such as Dream Team and Grandstand. By Thursday, one host had refuted the news – but not before we'd had chance to reminisce over those long Saturday mornings...
Soccer AM had become must-watch TV by the early noughties. The show's rise towards Saturday morning domination began when Helen Chamberlain and Tim Lovejoy joined forces on the sofa in 1996.
"Before Soccer AM, I'd just done a couple of things on Nickelodeon – I'd been feeding the sea lions at Chessington World of Adventures," explains Chamberlain, who joined the show in 1995, initially presenting with Russ Williams. "When Tim came along, the first thing on his agenda was to get rid of me. He'd watched it and thought, 'She doesn't do anything – she only links to the commercial breaks'.
"But he was more used to being behind the camera – he did his first couple of shows and he was s**t! He will admit that, and we laugh about it – he couldn't say five words without tripping over the autocue. I glossed over all of his mistakes and he suddenly realised, 'Yeah, I need this woman sitting next to me'. We just clicked from there.
"Tim had brought in a producer called Andy Harris, who said, 'We want every Saturday to be like cup final day; we want chaos. We don't want in-depth analysis, we want to celebrate everything that's good about football'."
By the noughties, Soccer AM became known for its frequent skits featuring crew members: among them Fenners as pint-swinging funny man Stan Hibbert; Sheephead presenting the topless weather, outdoors in winter; Rocket as a trumpet-playing Sonia from EastEnders; and Tubes as… well, Tubes.
Guests didn't just include footballers, but the era's greatest indie bands and even film stars. "We would phone up Ray Winstone, ask him if he wanted to come on and he'd say, 'Yeah, I'd love to'," says Chamberlain.
"When we booked West Ham striker Samassi Abou, we had Bez from the Happy Mondays on the show – but not Shaun Ryder, because he'd swear. I spoke to Bez in the green room and said, 'Don't think you can just tone down 'c**t' and 'f**k' to 's**t' and 'piss' – you can't even say that, it's Saturday morning'.
"Abou didn't have great English and I asked, 'Has anyone ever given you the wrong thing to say in an interview?' Dennis Wise had told one of the Chelsea boys that the English word for offside was 'combine harvester', to get them to say, 'He was definitely combine harvester'. On the show I asked Abou if anyone had tried to wind him up. He said, 'One tells me that it's OK to say 'F**k off'. We had the Happy Mondays ready to come on – Tim said, 'This may be the show we come off air…'"
The duo became celebrities – opportunities that soon came Chamberlain's way included a bizarre promotional event in Hyde Park, for the Tango Great Britons Awards.
"I was sat in a motorised bath with oranges, being driven around by Vic Reeves," she says. "People didn't know me outside of football, but I went to a game at Wembley and it took me an hour to walk round to pick my ticket up, as that was our audience. One bloke came up to me, asked me to sign his head and I wrote 'c**t' on it! His mates said 'Brilliant', didn't tell him and off he went."
In 2007, Lovejoy decided to leave the show. "We'd come off air for the summer, and the week after he phoned me and said, 'I've got something to tell you – I'm moving on'," says Chamberlain. "The thing I'd liken it to is having a boyfriend say, 'I'm breaking up with you' and having to accept it, but thinking, 'I don't like it'.
"I hoped Sky would give it to Andy Goldstein, and they did. But it wasn't just losing Tim – it was Fenners, Sheephead, Neil, Robbie Knox: a big chunk of the production team."
That noughties era is remembered fondly.
"I posted a picture of me and Tim a while ago, and people were saying, 'When Saturday mornings were great'," says Chamberlain, who departed the show in 2017. "Tim messaged me, and we said that Soccer AM is now in that category like we used to be with Swap Shop or Tiswas – when you had no mortgage to worry about, no kids. You just got up in your pants and sat in front of the telly."
Thank you for reading 5 articles this month* Join now for unlimited access
Enjoy your first month for just £1 / $1 / €1
*Read 5 free articles per month without a subscription
Join now for unlimited access
Try first month for just £1 / $1 / €1
Get FourFourTwo Newsletter
The best features, fun and footballing quizzes, straight to your inbox every week.
Joe was the Deputy Editor at FourFourTwo until 2022, having risen through the FFT academy and been on the brand since 2013 in various capacities.
By weekend and frustrating midweek night he is a Leicester City fan, and in 2020 co-wrote the autobiography of former Foxes winger Matt Piper – subsequently listed for both the Telegraph and William Hill Sports Book of the Year awards.