Grzegorz Krychowiak exclusive: I've heard about Arsenal – but I leave it to my agent
Sevilla's Polish enforcer has been earmarked as a top transfer target for the Gunners in January, and it's not hard to understand why. Martin Harasimowicz chats to the man himself about the rumours, and what happens next…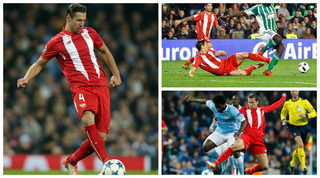 He's the midfielder who's long been in Arsene Wenger's thoughts for a transfer, but will Arsenal finally pull the trigger for Sevilla's £30 million-rated enforcer this month?
From being a largely unknown young midfielder with French side Reims only two years ago, to making France Football's Best XI of 2015 and thriving in Seville, Grzegorz Krychowiak's progress has earned him admirers at an exciting rate.
Keeping up appearances
The Poland international has seemingly grown month on month since joining for just €4.5m from Reims in 2014, collecting trophies and awards aplenty – like, for example, the title of Best Dressed Man in 2015 given to him by Polish Playboy magazine. His relationship with French model Celia Jaunat guarantees him regular headlines in local tabloids and on social media, where he's very active himself.
Not that any of the attention would show in Krychowiak's persona. It's yet to be determined whether Wenger will make any attempts to sign the 25-year-old before the winter window closes, but on the surface it feels like the Gunners could hardly fill their midfield void better than with the man who made last season's La Liga Team of the Season.
"I've learned a lot and became a much better player after joining Sevilla," says the Pole, speaking exclusively to FourFourTwo. "It offered great opportunities to grow as a player.
"I knew I was already good in typical defensive aspects of the game – aggressive play, pressing, dispossessing other players. I had to work on my technical skills to keep up with my team-mates and adjust to their level, though.
"I put a lot of hard work in to improve in that sense. I've learned to think what I want to do with the ball and how I want to pass before I even collect it. When you play against teams like Real Madrid and Barcelona, you don't have any room for error – your passing game has to be crisp and direct. Every turnover creates an immediate danger of conceding a goal.
"With a competition like that, if you are focused and dedicated, either you fail or make progress. I had to prove to myself that I can play at that level."
Flying in France
Though born and raised in Poland, Krychowiak joined Bordeaux aged 16 and didn't leave France until eight years later. It was his atomic volley which helped Poland to beat Ireland in the final group game of Euro 2016 qualification, securing their place in the tournament organised by the country he developed in as a player.
Poland won't be among the favourites to lift the trophy in June, but with genuine class in their squad they are dark horses – and Krychowiak will be essential to their cause. As Polish FA president Zbigniew Boniek noted: "The Polish national team isn't just Lewandowski. We have another world-class player in Krychowiak, who's definitely one of the top midfielders at the moment."
Polish football has a long tradition of high hopes, missed opportunities and heavy drinking – so much so that it became a national tradition. In 2001, When Poland secured their first World Cup qualification in 16 years by beating Norway at home, the players partied so hard that four days later they could barely run and got badly beaten 4-1 by a mediocre Belarus team.
Model pro
Krychowiak is the exact opposite of the stereotypical Polish player. After Sevilla won the 2015 Europa League Final in Warsaw, with the local hero scoring in front of his home crowd of 45,000, he could have been forgiven for letting himself enjoy the night that followed.
And yet, when Poland coach Adam Nawalka – a former crafty midfielder and member of the 1978 World Cup squad – went to swim at a nearby fitness centre at 6am the next morning, he was shocked to find his player there. "What are you doing here? Why aren't you celebrating winning the Europa league?" Nawalka asked with disbelief.
"I don't drink alcohol and I had too much adrenaline. I couldn't sleep, so I just went for a workout," came the reply.
It was typical Krychowiak. Now that he's made such huge progress, though, it makes more sense. "That's a true story and yes, the coach was surprised," says the midfielder with a chuckle. But it shouldn't be a surprise to those who know his absolute discipline and dedication to a very strict fitness regime.
"Physical preparation is the key to success," says Krychowiak. "Otherwise you can't play on a high level every three or four days, it's impossible.
"You have to be professional and take care of your body, because a footballer's career doesn't last forever. I always imagine and visualise that it's like a game of tennis and everything depends on me – how I prepare myself for the challenge. I always have to be 100% ready."
Wojciech's mate
It's hard not to consider Krychowiak the perfect fit for English football, with his terrific attitude, skill on the ball and natural toughness – after all, he managed to play against Barcelona with a broken rib.
Perhaps he could also use the luxury apartment in London owned by his best friend Wojciech Szczesny, who's currently living in Rome while on loan from Arsenal. The pair are known back home as the most entertaining duo in Polish football – YouTube channels are full of their comedy routines during press conferences and post-match interviews.
There's no doubt Krychowiak would ask Szczesny for advice about any potential move, but will the eccentric goalkeeper recommend him to work with a manager who helped him to develop and then cast him aside?
Krychowiak is aware of the transfer rumours but refuses to live by the day-to-day speculation. "I never had a favourite team or league," he shrugs. "The Premier League? Some say it's the best in the world, other people think that's La Liga.
"I've heard about Arsenal, but I leave it to my agent. I trust him and he's the one who deals with that kind of the stuff. I can't think about things like that. I have to keep my mind free of any distraction and just focus on doing my job for Sevilla."
In demand
Krychowiak isn't sure what 2016 holds for him, then, but the Pole is methodical when FFT asks what he'd like to accomplish.
"2015 was a perfect year," says the midfielder. "We've set up specific goals as a team and achieved all of them.
"I wanted to win the Europa League and qualify for the Champions League with Sevilla, and secure a spot in Euro 2016 with Poland. We've done all that. It's a 100% success ratio.
"Now we want to accomplish the exact same goals in Spain and to have a good run in France. I don't set individual goals, because it's a team game. When the team plays good football and wins a lot of games, each player benefits from that.
"I definitely want to be a better player, but it will only happen when the team does well."
Sevilla might not be enjoying quite the same success in 2015/16, down in ninth and out of the Champions League at the first hurdle, but Krychowiak's personal development hasn't wavered. Simply, it's a matter of when and not if a big club comes in for him before next season, but the man himself is concerned only with getting even better.
"There are a million things I can still improve," Krychowiak concludes. "The moment I start thinking that I'm a finished product as a player will be the moment I start regressing.
"I believe I can be a much better, more complete player at the end of 2016."
Time to dig that Spanish dialling code out, Arsene.
RECOMMENDED
More features every day on FFT.com • Exclusive interviews
Thank you for reading 5 articles this month* Join now for unlimited access
Enjoy your first month for just £1 / $1 / €1
*Read 5 free articles per month without a subscription
Join now for unlimited access
Try first month for just £1 / $1 / €1
Get FourFourTwo Newsletter
The best features, fun and footballing quizzes, straight to your inbox every week.