Henrikh Mkhitaryan warned off Arsenal by vision of future self
Time-travelling Mkhitaryan puts Alexis Sanchez swap in doubt, Back of the Net reveal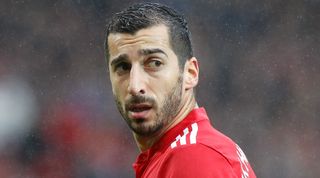 Henrikh Mkhitaryan is recovering after an encounter with a time travelling version of himself, who allegedly journeyed back to 2018 to plead with him not to sign for Arsenal.
The Gunners appear favourites to sign the Manchester United star, and indeed have already done so in the timestream from which the desperate future Mkhitaryan claimed to hail.
The Armenian forward had appeared happy to move to north London this month in part-exchange for Alexis Sanchez, but may now reconsider after future Mkhitaryan, who insisted he was from 2024, begged him to change his mind.
"He, or I guess, I, told me – I mean, myself – that joining Arsenal would be a tragedy of galactic proportions, and literally anything would be better for me, and indeed for humanity," present-day Mkhitaryan told FourFourTwo. "He didn't have time to elaborate before he was dragged back into the time vortex from which he came.
"Dragged, I should make clear, by two masked men wearing body armour emblazoned with what I think was the Arsenal crest.
"They told me they were stewards, and then one of them shot him with a laser and radioed someone called 'Le Professeur' to say mission accomplished."
The former Borussia Dortmund man affirmed that while he was not superstitious, the fact that in eight years time he would apparently journey through a time vortex, while evading capture by official Arsenal stormtroopers, just for the purpose of warning himself off the Emirates switch, seemed like a bad portent.
"All I'm saying is, I have a weird feeling about this now," he said. "And Monsieur Wenger's cryptic references to his long-term plan, and his insistence that everything is falling into place, and his offhand references to a clause in my contract that would require absolute obedience to his every command, now look a teensy bit sinister."
Mkhitaryan added that he would probably join the club anyway if he got a nice big signing-on fee and a new Porsche.
Please note: This satirical news story is not real. Like, obviously.
Quizzes, features and footballing fun
Get the best features, fun and footballing frolics straight to your inbox every week.
Thank you for signing up to Four Four Two. You will receive a verification email shortly.
There was a problem. Please refresh the page and try again.