How are football boots designed at Kipsta?
FFT took a trip to Kipsta's HQ to find out how they build their football boots... it was fascinating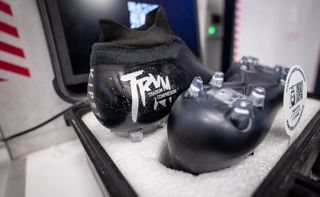 (Image credit: Kipsta)
FourFourTwo recently had the honour of visiting Kipsta - the football arm of Decathlon - to find out how their football boots are designed, developed and tested before going on sale. As football boot enthusiasts, we were pretty excited to have a peep behind the curtain... not least so we could report our findings back to fellow boot lovers.
Kipsta have a new boot due out in December (more on that to come soon), and their talented designers, engineers and product developers talked us through the entire process. We'll do our best to share a few insider secrets with you here.
We've also done separate articles on how football boots are tested at Kipsta and how Kipsta are able to sell their boots so much cheaoper than rivals, so be sure to check out those, as well as FFT's reviews of the best football boots of 2022.
How are football boots designed at Kipsta?
As one might imagine, the first step to designing a new football boot is to come up with the concept - will these boots be lighter, or cheaper, or simply better looking than those already on the market?
Or will they do something new entirely? Kipsta's latest release, the Traxium Compressor, is the latter - a genuinely innovative design which sees the boot's studs integrated into a sock-like mould, as opposed to being attached to a soleplate which is then glued onto the shoe.
Kipsta have patented the design and will be hoping to make big waves in the elite boot market (they've previously positioned themselves as a quality budget option). It's all very exciting and admirable, sure, but how does one go about designing a new football boot?
The first post-concept step was to come up with a rough sketch. Kipsta's designers knew they wanted to add the studs into layers of sock, but how would this eventually look? Once a rough drawing was agreed upon, it was up to the developers and engineers to put these plans into practice.
Socks were wrapped inside one another, with a soleplate and studs inserted within those layers. But, of course, this barely resembled a pair of football boots; merely a bunch of socks with studs poking through the holes. The first prototypes had no discernable structure, weren't waterproof and offered zero protection.
After some back and forth with the design team, it was decided that the socks would need to be compressed (hence the Traxium Compressor's name), into a firm but thin mesh. But doing this wasn't easy, given the extreme heat and pressure that is needed to compress thick socks together that tightly.
Meanwhile, laces were added, then removed, then added again, then removed again, as the engineers and developers tried to make the boots tighter and more structurally sound. They had similar problems to solve when it came to the colour, sustainability, stud shape, stud pattern and more. Dozens of prototypes were created over several years, with tiny incremental changes each time. Each prototype was tested in Kipsta's HQ by their football-mad employees, then by customers, with feedback crucial at every step.
Ultimately, the frustrating sock-compression issue was resolved when one of the design team had a brainwave while at the airport. "How," they asked themselves, "are suitcases so thin… yet so tough?" It proved to be the missing piece of the puzzle. A suitcase manufacturer was brought in to compress the socks into a thin yet durable mesh that worked perfectly.
Once this issue was solved, Kipsta were able to patent their idea - scuppering similar design plans unfolding at competitor sportswear firms - and, as a team of designers, developers and engineers, finalise their boot using the tried and tested expertise they'd been using for years.
The whole design process lasted more than four years, with teamwork, testing and one genius brainwave to thank for a boot which FFT was pretty in awe of.
Thank you for reading 5 articles this month* Join now for unlimited access
Enjoy your first month for just £1 / $1 / €1
*Read 5 free articles per month without a subscription
Join now for unlimited access
Try first month for just £1 / $1 / €1
Quizzes, features and footballing fun
Get daily World Cup 2022 news, updates and other football frolics to your inbox