How Conte liberated Hazard to make Chelsea great again
By John Robertson published
Oh, the Belgian is back – and John Robertson was at Stamford Bridge to see another virtuoso display in Chelsea's thumping 5-0 win over Everton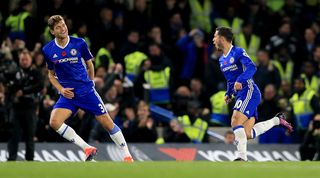 With three goals in the three Premier League matches leading up to Saturday evening's Stamford Bridge encounter against Everton, Eden Hazard had been one of the key reasons behind Chelsea's improvement in form over recent weeks.
On paper, the Blues' last four matches looked tricky: Leicester, Manchester United and Everton at home sandwiching a trip to Southampton. But their 5-0 hammering of Ronald Koeman's previously watertight Everton means Antonio Conte's side have succeeded in them all, scoring 14 goals without reply.
Hazard's performance was one of continuation, the Belgian's quality in attack once again proving one of the key pillars responsible for Chelsea again walking away with three points. He has thrived under Conte since the Italian switched his formation to 3-4-3, Hazard playing on the left side of the attacking front.
Within this system the Belgian is able to express himself, his impact being so strong at times that the tactical approach seems to have been built especially for him.
Greater creative licence
While Hazard lines up on the left, in reality he enjoys a much freer role than his position on the teamsheet suggests. Conte allows him to come inside frequently, often joining Diego Costa through the middle and at other times dropping deep to pick up the ball, while he can even be found lurking in offside positions behind the opposition defence.
This freedom, as highlighted by his recent record (this is the first time in his career that he has scored in four consecutive league games), is the best way to make use of his natural talents. There is no better example of the power of this unshackling than his two goals against Everton: the first scored coming in from the left side, the second from the right.
Hazard's goal for those who missed it, so ascetically pleasing to watch. November 5, 2016
The intelligence of Hazard's movement caused havoc for Seamus Coleman down Everton's right; the Irishman wasn't sure whether he should pursue Chelsea's midfielder when he drifted away from him, or to retain the same defensive line as the rest of his back four.
This uncertainty played into the hands of Marcos Alonso down Chelsea's left side and encouraged the new signing to push forward with increased frequency in a bid to put Coleman under further pressure. Coleman's lack of decisiveness also gave Costa more space through the middle, as Phil Jagielka and Ashley Williams had to spread out in order to cover the space left by Coleman when he did follow Hazard.
The Alonso Factor
Hazard's freer role is underpinned and made possible by the relentlessness of Alonso's approach to his position on the left side of Chelsea's midfield. He epitomises the modern wing-back in that he never stops running, sticks to the touchline with military-like discipline, and his stamina seems endless.
With Alonso providing width, Hazard is given licence to drift across the pitch without fear that a gap will appear in the space he vacates. Clearly, Conte has given special leeway to Hazard and Alonso to combine in such a way and this trust is demonstrated by the comparatively more traditional and functional relationship Victor Moses and Pedro have with each other on the right side of Chelsea's attack.
The partnership that Hazard and Alonso have developed in this regard is striking for a duo that have played just a handful of games together. Alonso seems to have an instinctive awareness as to when Hazard is going to leave a gap for him to fill before the Belgian has even made the move.
Not all footballing partnerships have to involve interchanges of passes – sometimes it's the relative positioning that's most vital.
STATS ZONE
STATS ZONE Free on iOS • Free on Android
The power of belief
Given the way he underperformed in a Chelsea shirt for the majority of last season, it remains legitimate to question Hazard's mental strength and teamwork ethic. When things are going right for him, however, his self-belief results in spectacular achievement.
His two goals against Everton, as well as his direct involvement in two of the other three, speak to his ability to determine the course of a game and feed off of his own talents. The delicate curve on the ball for his first goal, the ankle-breaking turn in the build-up to Alonso's goal, and his sheer desire to break through Everton's defensive line for his own second highlight how much faith he has in his range of talents when things are going right. When he's happy, Chelsea generally are too.
At present there seems to be no weakness in his game within Conte's 3-4-3; his usual defensive frailness is covered by Alonso's presence and by the fact that the central midfield pairing of Nemanja Matic and N'Golo Kante do such a superb job of winning possession so quickly after it's lost.
One of the more startling, and frightening, aspects to his game at present is his ability and confidence when dribbling. Not only does he succeed consistently in this area, but he shows great intelligence in knowing when to take on opponents and only does so when he knows Alonso, Matic or Kante are in position to cover him if things should go wrong.
The danger his selective dribbling presents also led to Hazard being the most fouled player of this game over the course of the 80 minutes he was on the pitch.
Speed and directness
Meanwhile, Hazard was not only the most fouled player, he was also the player with the most shots, most shots on target, most passes in the attacking third and most successful passes to Costa.
It's this directness and constant desire to attack that makes him so dangerous. With him on the pitch it's impossible for a defence to switch off or take a breather. The greater licence he has within the 3-4-3 makes this directness even more impactful, as the opposition defence can never be sure which one of them Hazard is going to target next.
Quite simply, if Hazard can continue to produce performances of this quality, Chelsea are going to once again find themselves challenging for the Premier League title. Arguably, they're making themselves favourites.
STATS ZONE Free on iOS • Free on Android
Thank you for reading 5 articles this month* Join now for unlimited access
Enjoy your first month for just £1 / $1 / €1
*Read 5 free articles per month without a subscription
Join now for unlimited access
Try your first month for just £1 / $1 / €1
Quizzes, features and footballing fun
Get the best features, fun and footballing frolics straight to your inbox every week.
Thank you for signing up to Four Four Two. You will receive a verification email shortly.
There was a problem. Please refresh the page and try again.