How Diego Costa is running less but scoring more – and why it should worry Spurs
Thore Haugstad explains why the former Atletico Madrid man is thriving in Antonio Conte's system - and why he's a particular danger to Spurs this weekend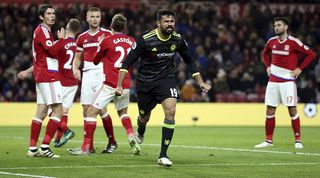 Diego Costa will be the main threat when Chelsea face Tottenham at Stamford Bridge on Saturday, but his goalscoring streak isn't the only thing that should worry Mauricio Pochettino. The striker has changed his game under Antonio Conte, adopting a style that better suits the new 3-4-3 system. Rather than working the channels, Costa has now become a kind of targetman whose link-up play is fundamental to the way in which Chelsea build their attacks.
This represents an evolution for Costa, the Premier League's top scorer with 10 goals in 12 games. At Atletico Madrid, whom he left for Chelsea in 2014, he was a mobile forward who drifted wide to drag centre-backs out of position, winning dangerous free-kicks and taking on defenders. Particularly in the derbies against Real Madrid, he spent little time in central areas near the box.
Costa was handed a similar role when Jose Mourinho fielded him up front in the 4-2-3-1 system that propelled Chelsea to the title in 2014/15. The wide runs did not appear as frequently as in Spain, but he did continue to drift near the flanks to make space for others, particularly away from home.
This was dangerous enough and might have been welcomed by Conte, had it not been so at odds with how the Italian likes his strikers to play.
Like watching Pellè
Indeed, the Juventus years left few doubts about Conte's preferences. Eventually settling on a 3-5-2 configuration, the former Siena boss based his attacks on a forward duo who operated close together, with runs out wide left to others. One striker could go while the other came short, but one non-negotiable aspect was their availability for passes to feet from the defenders and midfielders. Conte wanted clear reference points up front.
This restricted their movement, but it also gave team-mates an easy outlet. When Conte had been replaced by Max Allegri in 2014, Carlos Tevez, then at Juve, lifted the lid on the key differences. "Under the previous coach we played with two strikers in fixed positions and close together," he told El País, "Under Allegri we only have a fixed position when we don't have the ball, but we're more free to play the way we want to play when we attack."
When Conte took Italy to the Euros, this dimension was retained. In a similar 3-5-2, Eder and Graziano Pelle stayed centrally and came short for passes to feet or high balls from the defenders. Having already rehearsed several moves, the Italian wingers would sometimes hit blind passes towards the front duo, aware that someone would always be available. The strategy was evident throughout the tournament, most notably in the 2-0 win against Spain.
Give it to Diego
And so when Conte arrived in London, Costa would always have to adapt, a message delivered publicly already after the opening 2-1 triumph at home to West Ham. "Diego is a forward and he knows that, in my idea of football, the forward must be a point of reference for the team," Conte said. "I don't like that a forward moves around the pitch. I like him to stay there [in the box], because you are a forward and your commitment is to score goals and to stay in the right position."
While ramming home goals, Costa's got to grips with the new demands. His link-up play has been noticeable, particularly in the last two games – a 5-0 drubbing of Everton and a 1-0 win at Middlesbrough. There's been little need to work the channels, with wing-backs Marcos Alonso and Victor Moses taking care of maintaining width, while forwards Eden Hazard and Pedro can also stretch the play. As a result, Costa has roamed less than before.
This has benefited Hazard and Pedro: the duo spend most of their time lurking between the lines and can now use Costa as an outlet for quick one-twos. An easy trick is to give Costa the ball, then run towards him and beyond to get it back in a better position. Hazard has linked up in this way on numerous occasions: the playmaker gave Costa more passes than any other team-mate both against Everton and Middlesbrough.
In fact, Hazard found Costa twice as often (18 times) as anyone else did at the Riverside Stadium. "Diego is always important, not only for the goals but because he is our point of reference when we are attacking," Conte reiterated later. "He played so well with Pedro and Eden."
Problems for Poch
It's therefore not at all surprising that Costa has been more directly involved in creating chances. His average of shots assisted per league game has risen from 1.1 to 1.7 this season, and he set up four apiece against Everton (nobody recorded more) and Boro, having not managed more than three in any previous league game under Conte.
Such numbers will surely have been noted by Pochettino, who will face the 3-4-3 that's helped Chelsea to six straight league wins and clean sheets. The Argentine, whose side have recorded one win in nine games across all competitions, will miss the injured Tony Alderweireld and Ben Davies plus the suspended Danny Rose, which is far from ideal for such a test.
One option is to use the thee-man defence that delivered the 1-1 draw at Arsenal. That would raise the prospect of putting three centre-backs on Costa – while also pushing up on Hazard or Pedro – without leaving large gaps in the backline. Another key point will be to screen the space in front of Costa to prevent easy passes into feet, given that he'll try to link up with Hazard and start dangerous moves.
Still, that's far easier said than done. When the league's top scorer doubles up as an influential targetman, you know you'll be in for a challenge.
Thank you for reading 5 articles this month* Join now for unlimited access
Enjoy your first month for just £1 / $1 / €1
*Read 5 free articles per month without a subscription
Join now for unlimited access
Try first month for just £1 / $1 / €1