How Gianluigi Donnarumma became the world's best teenager – by those who know him
published
At 11, he was over six feet tall. At 14, he joined Milan. At 16, he debuted for the first team. At 17, he'd made 50 appearances in the league. Aged 18, the goalkeeper is the future of Italian football – and our best teenager in the world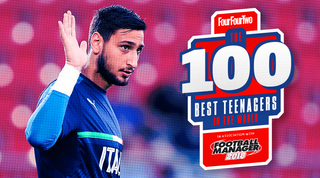 On one side of the Passeggiata Archeologica, not far from Naples, are the ruins of Villa San Marco. The villa was likely the country pad of emperor Claudius's second-in-command, Narcissus. His Berlusconian political scheming finally got him executed, but before that he'd liked his sport – so much so that he had his pillared bathroom decorated with boxers and wrestlers. The villa overlooked the sea before Mount Vesuvius blew, forging a new coastline to the south of Pompeii.
Just across the road, pinched in between the Passeggiata Archeologica and the motorway flyover, is an Astroturf pitch, a clubroom cluttered with trophies and, in a scrap yard, table football. The Lattari Mountains of the Amalfi Coast rise up behind one goal; the volcano looms beyond the other.
It's October 2015, and five kids at this local soccer school are doing goalkeeper training. The coach is a guest, an old boy: Bologna's Antonio Mirante is one of three keepers to go from the (misleadingly named) Asd Club Napoli in Castellammare di Stabia, all the way up to Serie A.
These boys were about to gain a new role model. He's almost within touching distance of their age, if seemingly twice their height. Gianluigi Donnarumma, at just 16 years and eight months, made his debut for Milan against Sassuolo on October 25, 2015, becoming the youngest goalkeeper ever to start a match in Serie A.
He had already sat on the substitutes' bench against Cesena back in February 2015, three days before his 16th birthday. With goalkeeping coach Alfredo Magni raving about the prodigy, the Rossoneri obtained the medical dispensation that was necessary to confirm that the 6ft 5in hulk was able to compete with adults.
A man at 16
Boss Pippo Inzaghi had considered starting Donnarumma at Atalanta in Milan's meaningless last game of that season, but baulked despite privately knowing that his own tenure was up. Yet new coach Sinisa Mihajlovic had the balls to write the teenager's name down on the team-sheet – and he did it under the gaze of the vultures, after the side had leaked 14 goals in eight league games to begin 2015/16.
Mihajlovic phoned Milan veteran keeper Christian Abbiati, now on the verge of retirement and warming the bench behind Diego Lopez, to ask if he thought Donnarumma was ready to replace the faltering Spanish keeper. The answer was an emphatic "yes" – to the surprise of no one who had trained Donnarumma.
"Are you kidding?" says Bruno Tedino, his Italy Under-17 coach, when FourFourTwo asks if the debut was unexpected. "Absolutely not! Even at 16 years old he looked like a 30-year-old man. He had all the attributes to become a champion. He showed he had his head screwed on. I congratulate all those who took a chance on him."
Donnarumma was a little more wide-eyed. Mihajlovic told him the news in the Milanello dressing room the day before the game.
"It was an incredible emotion," he said. "I hadn't thought he would play me. I'm normally one to keep my emotions in, but that day it was difficult. After training I called up my parents straightaway and they left Castellammare to come over and see me. It was a strange sensation in the coach on the way to the stadium. Then I ran out, touched the crossbar and we were off."
NEXT: He still hasn't got over buying himself on FIFA...
Cool and composed
Donnarumma's maiden Serie A outing was acceptable rather than dazzling. He was beaten at his near post by a well-hit Domenico Berardi free-kick, although Milan still won 2-1. The onlooking Lopez said after: "I'm relaxed because I have faith in my work. You can be sure I will be back to do my talking on the pitch."
And he was – on loan at Espanyol, before joining them permanently in the summer.
Donnarumma kept a first clean sheet three days later as the Rossoneri edged out Chievo. He leaked one as Milan put three past Lazio, then excelled in a goalless draw against Atalanta. By the end of the campaign he had become what La Gazzetta dello Sport called "the only reason to smile in that torturous season".
The San Siro showered him with applause, providing welcome breaks from the din of whistling as Milan failed to qualify for Europe and lost the Coppa Italia final.
Donnarumma cried after the loss to Juventus in Rome – something he does easily. When Abbiati – whom Gianluigi considers a second father according to Alfonso, his real one – finally bade farewell to the San Siro, raising his arms up to the crowd alongside Donnarumma in a baton-passing gesture, the youngster wept. He also cried after his Serie A debut, when he saw that the ball boy behind his goal was an academy team-mate; they'd played together only two weeks before.
This is one version of Donnarumma: a man (well, just about) who is open with his emotions, "at peace with himself" as one former coach puts it. The other Donnarumma is so calm and self-assured that one Italian paper likened him to a Swede.
"Every player who gets called up is nervous," says Tedino, remembering when the glovesman first joined his squad for the U17 European qualifiers back in 2014, "but Donnarumma registered 40 heartbeats per minute – he was cool and rational. His concentration has always been his foundation."
Less than three weeks after making his Milan bow, the teenager said: "I let it all slide over me, that's just the way I am. Calmness is my strength, including during the difficult moments of a match. A keeper has to transmit a sense of security to the team. Mentally I am more advanced. I noticed it when I made my Milan debut, as I should have been very nervous, but wasn't.
"I talk to my defenders continuously; I don't worry about the age gap. After all, having faith in your goalkeeper is a necessity – he has a different view of the match and he can give out useful directions."
Down to earth
This is a teenager who on one hand has declared his ambitions to become a Milan icon, wear the captain's armband and take over from Gianluigi Buffon for Italy, but on the other still collects Panini stickers, says press talk about his value makes him feel like a fantasy football player, and hasn't got over the fun of buying himself on FIFA.
Filippo Galli, youth team coach with Milan, has never seen him brood.
"One of his strengths is how he always manages to calmly forget his errors," he tells FFT. "Since he was a kid, he's always made a fresh start after a mistake. At his age, and playing the position he does, a mistake can occasionally bother you, but the personality he has got always helps him out."
Or perhaps 'forget' isn't quite the right word: the memory of that bungled free-kick during his debut has not been expunged. When La Gazzetta interviewed Donnarumma in July as he prepared to start his first season as Milan's first-choice shot-stopper, he singled out that error as one he never wanted to repeat.
The only things which faze Donnarumma are his school work – he has studied accountancy – and Bayern Munich custodian Manuel Neuer, whose shirt he said he would be too shy to ask for. A social animal, by his own admission, he happily plunges into the autograph-hunting throngs when he goes back home to Castellammare. The diploma is important to his parents – and family is important to Donnarumma.
"His family is close to him, they're always there for him," says Galli. "He has always been well brought up and is respectful, which hasn't changed as he's become famous – he is still very friendly and kind."
Donnarumma goes to mass regularly and he still wears the rosary beads his grandmother gave him. "Gianluigi's biggest strength is his enormous humility, his willingness to sacrifice," explains Tedino. "He is always very friendly with everybody and he deserves to get to the very top professionally, but also as a person. Even though he is still so young, he has always had this amazing attitude towards all of his team-mates and coaches. That's something that you can't teach – it comes from being raised in a decent family."
Studying accountancy... and Neuer
If you lack the fabled experience of the mature keeper, then a good grounding – plus a reptilian temperament – are more than a reasonable substitute. It also helps to be a cross between circus strongman and acrobat. Milan's youth goalkeeping coach Davide Pinato revealed that, when the 14-year-old Donnarumma first arrived at the club, "he was a bit overweight but despite that, what was really impressive was his ability to learn motor skills in a short time frame.
"He has innate talent, he's quick-thinking – and that's the basis of everything. He has always been precise and clean in his movements, which is really surprising in someone so young. And then he does all that with strength, technique and a level of coordination which is out of the ordinary. I compare him to an NBA player. They are all tall, but fast, strong and intense in spite of their bulk."
A video clip of Donnarumma displaying "Martian-like" reflexes as he faces close-range shots in training helps to explain his excellent record at saving penalties: opposition players missed four of the nine spot-kicks against him 2016/17. Intensive studying of Serie A's penalty takers has improved his armoury, informing saves like one from Adem Ljajic at Torino, when he parried the shot in front of his chest.
His height and confidence make him as commanding on high balls as you'd expect, leaving just one piece of homework. The predestinato – as the Italian press love to anoint him – is prompt to identify his ball skills as needing work, and so studies Neuer accordingly. Donnarumma's displays at youth level suggest this might just be a skill gone AWOL, though.
"Since his first day at Milan, he has always had the ball at his feet," reveals Galli. "We'll focus a lot on this aspect. We want our keepers to get involved in building play. That's always been one of his characteristics."
NEXT: What happens when you're a 6ft 2in 11-year-old?
Love for Milan
How has Donnarumma come so far so fast? Preternatural physical development is one answer. Club Napoli president Ciro Amore tells FFT.
"Donnarumma did always play up an age group," he says. "He was born in 1999, but we always played him with the kids born in '97. To avoid trouble, we'd write the '99' sloppily, without closing up the second 9, so it looked like a 7."
Donnarumma's mother Maria famously kept his birth certificate in her bag, as people found a 6ft 2in 11-year-old hard to believe.
More importantly, Gigio – as he's been universally known since middle school – has had no other desire than to be a goalkeeper since the age of four. "His uncle, Enrico Alfano, was the one who pushed him to play football," says Amore.
Maria's brother had played locally as a keeper and, finding himself out of work, came in to help Ernesto Ferraro coach Club Napoli's stoppers.
"Enrico had known Ferraro for a long time, because they used to play together. Enrico brought Gigio, plus [his brother] Antonio, and the funny thing was that their father wasn't a great football fan. So when Enrico passed away, Ernesto took his place. He is an amazing coach, just like a broody hen. Ferraro would be the one who went to collect him from his home, because Donnarumma's father was always working... and then he would take him back in the evening."
Around a decade ago, Ferraro gave an interview about Gennaro Iezzo and Mirante, the first two of his Club Napoli apprentices to keep goal in the Italian top flight. He told the reporter that he was also coaching an eight-year-old who'd go on to play for Italy.
By then Gigio's older brother Antonio, nine years his senior, had gone to Milan. The Rossoneri later made €1.8 million selling him on to Genoa but, more importantly, they had earned the fanatical love of his little brother. Gigio wore the rossonero shirt to school, stuck the crest on his schoolbook and had a Kaka clock on his bedroom wall.
In 2013, Inter appeared to have beaten off the competition to all but secure Gigio's signing, when Milan belatedly expressed an interest. Gigio swapped blue stripes for red without a second thought.
Jewel in Milan's crown
Antonio, who's now back at Milan after re-signing from Asteras Tripolis in Greece this summer, has always been proud to admit his brother was better (not to mention just a little bit taller) – though his goalkeeping coach at Bari has claimed Antonio raised his game after Gigio's success at the San Siro. While the older Donnarumma was in Greece the two brothers would keep in touch every day, waging online PlayStation encounters in the evenings and baiting each other over goals conceded.
In November, Antonio said that "knowing Gigio, he would not leave Milan for anything in the world. He's truly happy in rossonero and he's always been a Milanista."
Gigio definitely isn't shy of commitment: he is already engaged to the ironically named Alessia Elefante, a Pompeii local whose head barely reaches his chest.
But Gigio's flamboyant super-agent, Mino Raiola, is less of a sporting monogamist. "Donnarumma? I compare him to a Modigliani," he said shortly after the youngster's Milan debut. "He's worth €170m."
Last season season he was muttering that "jewels should stay in the windows of high-end shops." When some fans began criticising Donnarumma in January, notably after Milan's 2-1 defeat at Udinese, Raiola declared, "If they want him to leave, they should tell me..."
Silvio Berlusconi's sale of the San Siro giants to Chinese company Sino-Europe Sports in March provided a good reason – or excuse – to delay talks on Donnarumma's first five-year contract, even though the goalkeeper became eligible upon turning 18 at the end of February 2017. It almost ended catastrophically: in mid-July it was announced that Milan's jewel wouldn't be renewing his deal, but he eventually inked a contract to 2021 in August amid fan backlash.
The new Gigi
Donnarumma was handed his Italy debut in September 2016, coming on as a half-time substitute in a 3-1 home loss to France in Bari. The great Buffon was the man he replaced that night – as if the 'new Buffon' clamour couldn't possibly get any louder.
"I think it's a good comparison," explains Tedino. "Buffon never shirks responsibility. He's honest and humble – he really understands what it means to be part of a team. From a moral point of view, he's similar to Buffon, though technically they're different."
READ THE FULL LIST
FourFourTwo's 100 Best Teenagers in the World 2017
Buffon, Donnarumma's idol, made his Italy debut in October 1997 – 16 months before his replacement had even been born. Amid the flood of compliments he paid the teenager soon after his Serie A bow, one piece of advice now seems pertinent: "Try to mature as fast as possible, so you can understand which are the true things and which the false in this environment."
Nothing could have said more about how Milan have fallen than when Donnarumma once suggested that the Rossoneri could take inspiration from Leicester. When his shootout save in December 2016 earned Milan the Supercoppa Italiana, it was the club's first trophy in five years. Yet past cycles of Milan success have been founded around a kernel of young, homegrown players like the one that is currently struggling to assert itself.
When Milan returned after the winter break last season, Donnarumma's was the club's best-selling jersey, with their stock virtually sold out. When a goalkeeper's shirt is this highly prized, it is either the sign of an average team or the mark of a truly great keeper.
Additional reporting: Alberto Santi
This is an edited version of the feature that originally appeared in the April 2017 issue of FourFourTwo. Subscribe!
Thank you for reading 5 articles this month* Join now for unlimited access
Enjoy your first month for just £1 / $1 / €1
*Read 5 free articles per month without a subscription
Join now for unlimited access
Try first month for just £1 / $1 / €1