How Jese Rodriguez can avoid becoming yet another Real Madrid academy cast-off
At 22, this could be a make-or-break season for the young Spaniard at the Santiago Bernabeu. David Cartlidge explains what he's got to do...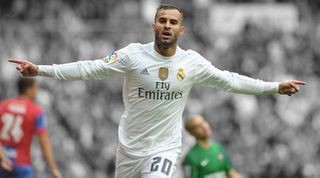 Failing to make the grade at Real Madrid as an academy player is by no means a rarity, nor an embarrassment. Many have tried, failed, and even been handed the opportunity to try again. The success stories are few and far between, and sooner or later Jese will discover if he is one of the few.
Jese, it could be argued, is the most important Real Madrid youth player in over a decade. He's almost certainly the most talented. What becomes of him may well be a pivotal moment in the history of the club's academy, La Fabrica. The club itself as a whole may well move on.
Real's policy, rightly or wrongly, does not dictate that they build with the players from within. For every Jese, there is a James or Bale; a ready-made star, or at least one that needs only minor nurturing.
If Jese were to go this summer and never return, it would be a case of what could have been but perhaps little else. The loss may force lament, a degree of anger even, but it would soon be forgotten. A Marco Reus or Eden Hazard would arrive, and that would be Jese's chapter at Real Madrid read and never returned to.
RECOMMENDED Real Madrid's flawed youth policy could be preventing global domination
Injury and back
Put the situation on its head, however: what happens if Jese were to make it, and what happens if this was another Raul, albeit a watered-down version? Raul's emergence came at an opportune time, as Emilio Butragueño had reached a point of decline. Jese hasn't encountered such an opportunity – in fact, it could be argued that the greatest thing to go against the player so far was entirely out of his hands.
Few recall the level of confidence and quality Jese was playing with before an anterior cruciate ligament injury crippled his right knee in March 2014. He had five goals and four assists to his name in just 18 games, the majority of which came as a substitute, plus another three in eight Copa del Rey appearances.
JESE IN 2015/16
Sporting Gijon Started, 56 mins
Real Betis Bench
Espanyol Bench
Granada Bench
AthleticBilbao Subbed on, 18 mins
Malaga Started, 60 mins
AtleticoMadrid Bench
Levante Subbed on, 21 mins, 1 goal
Celta Vigo Started, 69 mins, 1 assist
He might be in a different place today without that injury, despite reflecting on the setback positively. "I had a very tough time, but I think that things in life happen for a reason," said the 22-year-old. "Maybe I had the injury because I needed to learn and become a more mature footballer."
While that may have been true, injury seems a harsh way of learning lessons. More minutes, bigger games, and being handed more responsibility might have been more useful. Vicente del Bosque was another disappointed figure when the injury occurred, admitting Jese was part of his plans for last year's World Cup. Spain notoriously bombed at that tournament, with their failure to bring on the next core of talent cited as a significant factor.
Back to reality
Now the player is back at square one, where he was at the start of 2013/14 – a young player seeking any minutes afforded to him. Except Jese isn't so young anymore. He's 22, and should be playing more regularly. There is no onus on Real Madrid to give him those minutes, of course – Rafael Benitez picks what he believes to be his strongest team.
The problem is that, right now, Jese is some way off that level and will take some work to get there. In terms of ability, he's there. In terms of charisma he's there too. Jese is blessed with natural star quality, and carries himself in a way any Real player should. It's what separates him from other young players not only at the club, but Spain in general. The forward packs a swagger, and self-belief, like the very best.
In reality however, he should maybe be questioning areas of his game. Jese has never been the most driven of individuals, and a lack of work ethic in specific areas exists. Under Carlo Ancelotti the player was perhaps overloaded as he worked his way back to fitness; Jese strived to get back in shape, but overdid it.
It left him heavier, and unable to call upon the explosiveness, ability to change direction in an instant and pace to dart into dangerous areas. While he may be leaner this season, he's not quite yet meaner.
Training is still a thorn in Jese's side, as a player who finds it difficult to leave everything in those sessions. For a boss like Benitez, one who craves hard work and dedication to his methods, Jese is somewhat at odds (he needs to do more of the below). Lucas Vazquez and Denis Cheryshev may be less gifted players, and lack the star quality Jese possesses, but they are working in a more professional manner at Valdebebas. While they realise minutes are hard to come by on the field, the least they can do is impress off it.
The road ahead
Fortunately when handed minutes, Jese has shown better attitude; he's fighting for loose balls and chasing down lost causes. It may not befit a player of his style, but it's what he has to do for now. There has been a goal and assist too, however, offering a glimpse that he can find balance in his game.
The issue of defensive sacrifice has been a strongly debated subject in Madrid since Benitez's arrival, and some argue a player like Jese should be handed more freedom. Others say he needs to learn the team game, and that everything doesn't revolve around his individuality.
Maybe when he's established himself with these values, and only then, he could return to a more natural profile; one of the star and showman. Gerard Deulofeu, his great friend and a similar player, is working on similar issues at Everton after moving on from Barcelona. Jese doesn't envisage a life outside of Real. "I arrived at 13, I'm 22 now and I want to retire here at 40. This is the club of my life," he declared.
He believes he's right for the club, but he must prove it to others who don't. He strengthened his case last weekend against Celta Vigo, but perceptions aren't changed in one game. To change his circumstances, Jese may well have to change himself.
Thank you for reading 5 articles this month* Join now for unlimited access
Enjoy your first month for just £1 / $1 / €1
*Read 5 free articles per month without a subscription
Join now for unlimited access
Try first month for just £1 / $1 / €1