How many substitutions can teams make at the World Cup 2022? New extra subs rules
New substitution rules for the Qatar World Cup were approved at a meeting of the International Football Association Board in June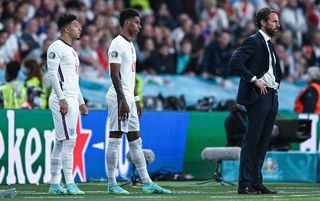 (Image credit: Getty)
Each country competing at this year's World Cup will name a squad of 26 players, which must include three goalkeepers.
All available players will be part of the matchday squad, so 15 substitutes will be sat on the bench ready to be called upon if required.
During matches, managers will be allowed to make five substitutions, two more than they were at the 2018 tournament.
In addition, teams can make an extra substitution if a player is suspected of suffering from concussion.
The decision to increase the number of substitutions was taken with fixture congestion and player welfare in mind.
The Qatar World Cup is being played in a shorter timeframe than normal (28 days as opposed to 32) and in the middle of the season for many major leagues.
Covid has played havoc with the football calendar over the last couple of years, affecting both club and international schedules.
To combat this and minimise the added strain on players, the burden can now be spread across bigger World Cup squads.
Managers will have three windows in which to make their substitutions, excluding natural breaks in play like half time.
If the game goes to extra time, managers will be awarded an extra substitution, as well as carrying over any that they didn't use during the original 90 minutes.
The same rules were in place at last summer's Euros and were used to great effect by champions Italy (opens in new tab).
Roberto Mancini used all six of his substitutes as they went the distance in the semi-final and the final, beating Spain (opens in new tab) and England (opens in new tab) respectively.
Gareth Southgate used five substitutes, bringing on Marcus Rashford and Jadon Sancho at the last possible moment in extra time so they could take penalties.
The bold move backfired with the Manchester United duo missing from the spot as a defiant Italy emerged victorious.
Thank you for reading 5 articles this month* Join now for unlimited access
Enjoy your first month for just £1 / $1 / €1
*Read 5 free articles per month without a subscription
Join now for unlimited access
Try first month for just £1 / $1 / €1