How NBC helped the Premier League's popularity boom in the United States
With the television network broadcasting the English top flight on a weekly basis, Manny Otiko assesses how America has fallen in love with the league...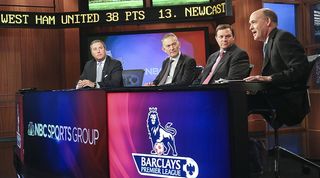 NBCUniversal, home to NBC Sports, NBC, USA Network, Telemundo and SyFy, has struck ratings gold with its decision to televise the Premier League. NBCUniversal outbid FOX and beIN Sports to win the rights to broadcast English football in the USA, with Comcast, NBCUniversal's parent company, paying close to $1 billion for the privilege according to the Daily Mail.
"We have always believed in this sport – this particular league, the finest in the world – had a growth trajectory," said Mark Lazarus, chairman of the NBC Sports Group. "We think that there's still plenty of headroom for this property to grow from an audience point of view, both on television and digital."
This decision has provided more Americans with access to the Premier League, with the games shown across NBCUniversal's network of channels. Matches are also covered via on-demand TV and online, so if you are a football fan you can pick and choose which Premier League game you want to watch.
Dan Masonson, vice president of communications at NBC Sports Group, revealed that more than 17 million viewers tuned into NBC's coverage of the Premier League in the first 11 weeks of the season, a 23% increase from last year's figures. According to other figures from NBC, their first year of Premier League coverage saw a 118% increase over the average ratings from games shown on ESPN, ESPN2 and FOX Soccer.
Part of the weekend
NBC Sports has also invested heavily in on-air talent on both sides of the Atlantic. Rebecca Lowe and ex-professionals Robbie Mustoe, Robbie Earle and Kyle Martino are based in a studio in NBC Sports Group's International Broadcast Center in Stamford, Connecticut.
NBC Sports also has Arlo White, Graeme Le Saux and Lee Dixon commenting on games in the United Kingdom.
NBC Sports' Premier League coverage has helped English football become part of the mainstream in America. Before, the Premier League was carried on FOX Soccer Channel, a channel dedicated to football, and ESPN; nowadays the English game can be seen on NBC and popular channels like USA and SyFy.
Steve Gera, a former NFL executive who has also consulted with Premier League clubs and sports teams across the globe, believes kick-off times have helped. "Most EPL games begin in the late morning, just after kids are awake and have finished watching cartoons or are laying around the house," says Gera, who also teaches sports business at Wharton Business School, San Diego State and Universidad Europea de Madrid.
"From a content standpoint, NBC found a natural and attentive audience. By having a smart plan for rolling out the game with young fans, NBC is driving much of the growth in popularity." Gera also contends that young fans find English football players more relatable than American football – largely because of the lack of helmets. "Players' faces are clear, a huge factor in creating attachment with youth fans. They don't have to work hard to figure out who their favorite stars are, they can just associate and cheer."
Hands on the dollars
Gera has been impressed with the economic clout of the Premier League too; according to The Wall Street Journal, NBC's contract is worth $80 million per year and has already been extended for another six years.
"MLS revenue has continued to rise as well, but the EPL is quickly becoming a behemoth, second only to the NFL," he said. "They've done this by sharing revenue and giving upstart teams, like Southampton and Leicester City, a chance to excel – especially early in the season."
Dan Lobring, who used to work in communications for Chicago Fire, is not surprised by the league's success. "NBC has done a nice job of creating destination programming for EPL games. Weekend mornings on NBC are now synonymous with the EPL," says Lobring, who works for rEvolution, a sports marketing agency.
"Ratings are successful for a variety of key reasons but it really boils down to this – if you want to watch the best soccer players in the world play, you watch the Premier League.
"And being on one broadcast channel here is huge. More casual fans now know that if I turn on the TV on Saturday or Sunday mornings, the chances are I can find an EPL game on."
Rise and rise
Football is a huge youth sport in the U.S., and with EPL games being shown every weekend and teams increasingly committing to summer tours, many American children are showing a big interest in Premier League clubs.
"Soccer continues to grow in popularity across the country, but most significantly on the coasts and in places like Kansas City where youth programmes are changing their names to mirror EPL clubs – another unique consequence of adults being exposed to more soccer," Gera tells FFT.
Lobring insists that NBC has now stamped its name on Premier League football. "NBC believes its model is working and they are demonstrating they are in it for the long haul," he says. "NBC has created soccer personalities and seen it translate to ratings growth, which points to a bright future for EPL on NBC."
Thank you for reading 5 articles this month* Join now for unlimited access
Enjoy your first month for just £1 / $1 / €1
*Read 5 free articles per month without a subscription
Join now for unlimited access
Try first month for just £1 / $1 / €1