How Neuer finally found love at Bayern Munich
By Alima Hotakie published
Think life is always easy for Bayern Munich players? Think again. Alima Hotakie sheds light on the Germany keeper's long struggle for acceptance...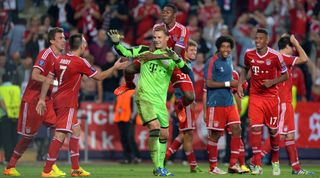 The young Manuel Neuer stood on Schalke's Nordkurve, watching his idol Jens Lehmann, dreaming of playing for die Knappen [The Miners]. When he did so, he caught the attention of a continent.
Now 27, Neuer is perhaps best remembered for his 'One-Man Show' displays in the Champions League against Porto in 2008 and Manchester United three years later, with the latter prompting high praise from Sir Alex Ferguson. "In my time at United it's the finest display of goalkeeping against us," declared the Scot. "I'm sure there have been other feats but tonight I saw a really good one. He was incredible."
Describing himself as an offensive goalkeeper, Neuer to some extent models his play on his other idol Edwin van der Sar, who did so much to benchmark the role of sweeper-keeper. While the German is aware that his dribbling away from the net frustrates some, he also knows that it's what makes him so good in one-on-one situations.
With his physical presence, quick reflexes and intelligent reading of the game, he's often a pseudo-playmaker and will gift a midfielder or forward up front with a long-range pass. At the Emirates Stadium three weeks ago, as Bayern bullied Arsenal, he patrolled the open spaces of his empty half, ready to collect and redistribute if the home side played a hopeful ball forward.
Although he is undoubtedly one of the world's best at the 'defensive' goalkeeping arts of shot-stopping, handling and aerial presence, it's Neuer's relationship with his defence that dictates the organisation of those in front of him. He's often seen talking, signalling or hand-gesturing to his team-mates, and it's that commanding presence which has made him one of the world's elite. Bayern even agreed to bring in his former goalkeeping coach from Schalke, Toni Tapalovic, who has a colourful history with Neuer and played a pivotal role in his development.
What's surprising is that 'Manu' fell into goalkeeping by chance. It's something he laughs about many years later, but the stereotype that the spot is usually filled by the 'dumb' or 'new kid' does carry with it a speck of truth. When Neuer started playing football as a child he was the fresh new face on the team, and since they didn't have a goalie he was put in the nets. It was a good move for all concerned, except presumably the frustrated forwards he thwarted.
Neuer was usually busier defensively at Schalke 04 than at Bayern. During a Bundesliga match last year he was caught heading the ball back and forth with substitute Thomas Müller. Not unusually, Bayern were leading by a large margin, and it was seen by some as an act of disrespect, but Neuer explained he did it to keep warm and maintain his focus. Admitting it's psychologically harder to keep his concentration at optimum levels when the game is largely being played without him, he has had to find ways around it.
"I'm always moving and I talk a lot with my defence," he says. "Ultimately, I'm responsible for how well we are defensively positioned. This communication keeps my concentration high."
Neuer understands as well as anyone how costly a lapse in concentration can be. He's not afraid to say his team were the better side in the 2012 Champions League Final against Chelsea, but "if you don't pay attention for one moment the title is gone."
Switching sides
Neuer has won the treble since moving to Bayern, but the transfer wasn't roses all the way. Schalke fans still haven't forgiven their star for leaving; he never received the farewell and appreciation he deserved. Under now-Fulham boss Felix Magath he was the only untouchable player, but when news emerged of his departure, there was a huge backlash and he was called 'Judas' by many Schalke fans.
Meanwhile, it's not even as if he could run for cover in Bavaria: many Bayern fans refused to accept their new signing. Banners held aloft during a pre-season friendly in Italy summed up the feeling of many: "You can save as many balls as you like, we will never accept you in our shirt". The club's ultras demanded he accept and follow a code of conduct (sample diktat: "Neuer may not kiss the Bavarian crest").
Club loyalty is always a sensitive subject in Germany, but leaving die Knappen was an emotional decision for Manu. His tears said it all, but sadly few Schalke fans reciprocated those feelings. Reactions were negative, and in one case even violent. After die Königsblauen won the DfB-Pokal in Neuer's last year with the club, Schalke players were parading through the streets of Gelsenkirchen when a fan took him by surprise and slapped him on the face.
The reception wasn't any warmer from some fans of FC Hollywood, who were riled that the club was signing an open Schalke supporter who had mocked Oliver Kahn's goal celebration. During a German Cup game in the Allianz Arena, hundreds of fans even held signs that read 'Koan Neuer', which means 'No Neuer'. Bayern's top management would repeatedly apologise to the keeper on behalf of their fans' behaviour, and it took some time for Bayern fans to warm to him.
Despite Schalke fans accusing him of leaving for money and titles, Neuer says the move was a career choice: "Money isn't a criterion for my transfer. It's about my personal development and about success in sport. Bayern is simply the best club in Germany, that's why I'm going there. It's about my career, I only have this one."
Hotbed
Whether or not the Schalke fans were justified in their feelings, the locals should take pride in the region's prolific production of talent. The Ruhr has unearthed some of Germany's finest footballers, not least some of their best goalkeepers in Neuer and Lehmann. Mesut Özil, Marco Reus, Ilkay Gundogan, Julian Draxler, Max Meyer, Leon Goretzka, and twin brothers Hamit (Galatasaray) and Halil Altintop (Augsburg) are among those to have come from the Kohlenpott [coal pit]. And those are just players who hail from the area, not including ones born elsewhere who came through one of the region's youth academies.
The Ruhr was once known for its coal mining, polluted waterways and air, not to mention the hovering black smoke - but today the region is undergoing a revival, and slowly transforming into a hub of culture. Its strong football tradition is fed by Schalke and Borussia Dortmund, and it is also home to Bochum, Essen, and Duisburg.
So when Özil faced national team-mate Neuer over a penalty in Arsenal and Bayern's Champions League first-leg clash a few weeks ago, it was not merely a divisive moment but testament to the region's combined muscle. Tonight they will face off again at the Allianz Arena, as Bayern - and Neuer - continue their bid for continued brilliance.
Thank you for reading 5 articles this month* Join now for unlimited access
Enjoy your first month for just £1 / $1 / €1
*Read 5 free articles per month without a subscription
Join now for unlimited access
Try first month for just £1 / $1 / €1
Quizzes, features and footballing fun
Get the best features, fun and footballing frolics straight to your inbox every week.
Thank you for signing up to Four Four Two. You will receive a verification email shortly.
There was a problem. Please refresh the page and try again.