How to clean football boots
A handy guide on how to return football boots back to their smart and presentable condition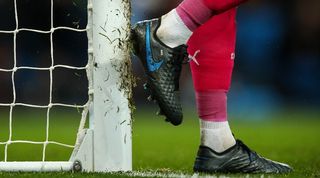 (Image credit: Getty Images)
There's nothing more annoying than finishing a game of football, looking down at your feet and seeing them caked in mud - or worse, waiting until the night before a game only to realise your football boots are sporting a new shade of brown, thanks to the dried dirt covering them.
But, no stress. With this handy guide from FourFourTwo, that arduous task of how to clean football boots should be made a lot simpler, giving you more time to look good out on the pitch.
If you don't yet have a pair of football boots, or fancy ordering yourself some new ones, be sure to check out our guide to the best football boots of 2022.
Looking for something more specific? We've got separate reviews for the best football boots from Nike, Adidas, Puma and Umbro, as well as a list of the best cheap boots and best boots for goalkeepers, defenders, midfielders, wingers and strikers.
Firstly, cleaning your football boots immediately makes your life a whole lot easier than leaving them until the next time you play. Dried mud is more difficult to scrub off than freshly dirty football boots, so running them under water as soon as possible should be your first port of call.
Grabbing a soft-bristled brush or toothbrush will make this process easier, too, because they'll help remove any stubborn pieces of mud stuck in the stitching or soleplate of the boot. Warm water is also useful to prise away dirt, although make sure it's not so hot that it burns you.
If you're in need of further cleaning to try and restore your football boots to their once-pristine condition, placing them in the washing machine with the laces removed will also do the trick.
Just make sure you pop them inside a mesh laundry bag or a pillow case and choose a cool wash programme to clean them. This way the fabric and integrity of the boots won't get damaged. Shoe laces should also be treated in the same way, with only a minimal amount of laundry detergent needed.
Now, once your football boots are clean, patience is the order of the day. Drying boots, especially ones made from natural leather, can take a couple of days, but that process can be sped up by placing newspaper into the boots. The newspaper absorbs excess moisture, while the boots are safe to air-dry thereafter.
Refrain from attempting to dry your football boots on a radiator - they'll dry out and become a lot tougher than you'd want when trying to play football.
Conditioning creams or polish are extremely useful once the boots are fully dry, too. Creams work well for synthetic boots, while polish helps to maintain protection of leather football boots.
Thank you for reading 5 articles this month* Join now for unlimited access
Enjoy your first month for just £1 / $1 / €1
*Read 5 free articles per month without a subscription
Join now for unlimited access
Try first month for just £1 / $1 / €1