Introducing Everton's French foes with a Liverpool player looking to bring them down
French football writer Andrew Gibney provides the lowdown on Everton's Europa League opponents Lille...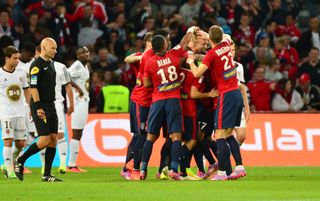 Who are they?
WHO ARE THEY?
Full name: Lille Olympique Sporting Club
Founded: September 1944
Nickname: Les Dogues (Great Danes)
Stadium: Stade Pierre-Mauroy (50,186)
League: Ligue 1
Honours: Ligue 1 - 1945/46, 1953/54, 2010/11, Coupe de France - 1946, 1947, 1948, 1953, 1955. 2011
Over the last few seasons, Lille's profile has increased due to the amount of exciting players that have made the jump over the channel to the Premier League. On Thursday night, Everton will discover if the club that gave England Yohan Cabaye, Mathieu Debuchy and Eden Hazard have any more surprises up their sleeves this season.
Under the guidance of the now AS Roma boss Rudi Garcia, Lille won the 2010/11 Ligue 1 title by playing some of the best attacking football in Europe. Only a handful of players remain from that wonderful team, and new boss René Girard has had to pick up the pieces from what Garcia left behind.

After notching 21 clean sheets last term, Lille finished third in the league. However, a lack of attacking quality has given Lille some problems this season, with two points in their opening two games of the Europa League campaign, Les Dogues will need to avoid defeat in their double header against Everton if they want to battle their way out of the group stage.

After World War II, Lille was one of France's strongest teams, dominating in the league and domestic cups.
Tougher times followed and in the eighties and nineties they mostly flirted with relegation. Under new president Michel Seydoux things started to improve, and since he became the majority shareholder in 2001, only once have Lille finished outside the top 10 in the first division. They have enjoyed four adventures in the Champions League and developed a reputation of nurturing and selling on their top players.
Strengths
Once Rudi Garcia moved on, the more defensive-minded René Girard took over and with a much tighter budget and lack of funds, the style changed dramatically. Girard was in charge of the Montpellier side that pipped Paris Saint-Germain to the title in 2012, and he has adopted the same principles that found success for La Paillade - starting with a well-organised defence.

Last season Lille had one of the best defensive records in Europe. Nigerian goalkeeper Vincent Enyeama nearly broke the all-time Ligue 1 record for minutes without conceding, helped by centre-back duo Marko Basa and Simon Kjaer. The foundation of stability built on the back is the basis of Lille's recent success.
Weaknesses
Statistics can be construed to fit most narratives this season for Lille, and unfortunately they don't lie. Goals have been hard to come by for the northern club and it is starting to effect their league position.

Last season's top scorer Salomon Kalou was sold to Hertha Berlin to reduce the club's wage bill, while there have been questions over his overall team ethic. The Ivorian striker took with him his 16 goals and Lille's attack has looked toothless this season. The only side in the league to score fewer goals in Ligue 1 is Guingamp, and they are in 19th place. To make things worse, the Breton side visited Lille on Saturday and beat LOSC 2-1. Eight goals in 10 games is the sort of strike rate that lands you in the bottom half of the table.
The gameplan
The usual formation of Lille is 4-3-1-2, but at times René Girard has also switched to 4-3-3 due to injuries. The midfield diamond depends on the fitness of one of their playmakers – Marvin Martin or Manchester City loanee Rony Lopes. Expect a similar setup to that which played against Wolfsburg in Germany. The 4-3-3 will sit back and close down all available space and look towards top scorer Divock Origi to hit with pace on the break.

Lille's only true pace comes down the flanks through Liverpool loanee Origi, Sebastien Corchia or Djibril Sidibe. The home fans will not enjoy their side sitting back and defending, but with the players Lille have available, it is the only real tactic they can utilise to their advantage.
Key player
Spending the season on loan from Liverpool, Divock Origi has had his hand in 50% of Lille's goals this season, plus he scored the penalty that helped the away side grab a point against Wolfsburg on matchday two.
Although he is much more dangerous as part of a two-man frontline, if Lille play 4-3-3 the pace and strength of Origi is critical in how Lille attack. He has a lot to learn, but the ability to create chances from nothing.
Look for the 19-year-old to cut inside from the left and fire off shots. His performances this season have been far from outstanding, but if Lille are to stand any chance, they will need to hope he rises to the occasion.
Famous for...
In terms of success, Lille is still a relatively new club. They first hit the news when they beat Manchester United 1-0 at the Stade de France back in 2005. Most recently they have become more known for developing and selling talented young players. Eden Hazard is now a star at Chelsea, Newcastle United fans still miss Yohan Cabaye and Arsenal signed Mathieu Debuchy this summer. All three came through the youth ranks at Lille, with Cabaye and Debuchy born only miles from the club's ground.

This is something the club has been doing for years, way before Hazard broke onto the scene. Both the Cheyrou brothers, Eric Abidal and Kevin Mirallas all graduated through this club.
Winning the league in 2011 seems a long time ago for this current Lille side, now the fans are waiting for the next wave of young stars to come through the academy.
Club legend
For a side that went without any real success for 57 years, it's hard to pick out a legendary player from years gone by. It wasn't until the turn of the millennium that Lille began to make their mark on the French league once again. Undoubtedly, the player that took them to the next level was Eden Hazard.

There are players that have played more games and scored more goals – Jean Baratte is the all-time leading goalscorer with 170 goals – but no player brought as much success to this club as the Belgian winger.

Hazard left Lille aged 21, but he left after leading the club to their first silverware in 57 years and helped establish Les Dogues as one of France's leading clubs. In the four seasons that Hazard played regularly with Lille, the club never finished lower than fifth, they played in two Europa League campaigns and enjoyed a trip to the Champions League.

As well as helping the club develop, Hazard improved season after season, ending his time at the club by scoring 20 goals in his final campaign. He couldn't have asked for a better send-off, scoring a hat-trick against Nancy in his final game. He will always be a legend in the eyes of the French support.
Thank you for reading 5 articles this month* Join now for unlimited access
Enjoy your first month for just £1 / $1 / €1
*Read 5 free articles per month without a subscription
Join now for unlimited access
Try first month for just £1 / $1 / €1