Isn't it time Garry Monk got more credit? All hail a valid Championship Manager of the Season candidate
Mike Holden argues that the Leeds boss has done a better job than the modest coverage would suggest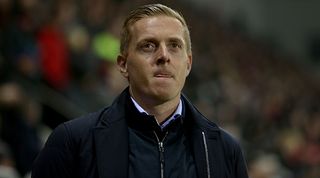 For only the second time since they were relegated from the Premier League in 2004, Leeds United have a genuine chance to return to the top flight.
With three-quarters of the season gone, they sit fourth in the Championship with an eight-point cushion above seventh place. If they beat QPR at home this weekend, Leeds will have 68 points with nine games remaining – just two wins shy of the average points total required to secure a play-off berth over the course of their 12-year exile. It's a remarkable feat that has developed without fanfare.
The Yorkshire club has been a decaying institution ever since administration in 2007, standing still – thereby, going backwards – in a league increasingly awash with money. To put the competitive environment into context, consider that eight of the 24 clubs in the second tier currently benefit from Premier League parachute payments, while five others have been boosted by significant external investment.
In the past five seasons, the Whites have never finished higher than 13th or lower than 15th. That's basically their station, exactly where they belong in the modern-day pecking order of wage bills and balance sheets. Throw in the caveat of a crackpot owner who operates in a whimsical world driven by superstition, not to mention the instability caused by seven permanent managers in barely three years, and it's easy to understand why the bookmakers rated their chances of promotion in August at no better than eight per cent.
Steady hand
Enter Garry Monk, the one-time future England manager and hero of Living on the Volcano, Michael Calvin's wonderful journey through the inner sanctum of football management. The chapter on Monk, then at Swansea, was the most enduring, the insight into his methods creating the biggest stir and leaving a lasting impression by dint of his attention to detail and the concrete manner in which he explained his methodology.
Given that Monk had guided Swansea into eighth position the previous season – the second-best finish in the club's 105-year history, and their best since 1982 – the clamour to acclaim this 'young British manager' in the summer of 2015 was understandable. However, four months after the book's release, with the Swans 15th in the Premier League following a run of only one win in 11 matches, Monk was out of a job.
That his initial achievements were forgotten to such an extent that he was made to wait 18 months for another opportunity says much about the disposable nature of today's society. In less than a year, Monk had gone from Next Big Thing to Forgotten Man, barely even mentioned as a contender for most Championship vacancies. That the opportunity he eventually chose to accept was Leeds says much about him.
Club comes first
Working for a trigger-happy chairman like Massimo Cellino, on a 12-month contract that offers next to no security, was a risk to say the least. You only have to look at the list of Cellino's victims – and where, if anywhere, they rocked up next – to understand that conditions are seldom taken into account in a results business. To those hiring and firing in the top two divisions, failure at Elland Road simply translates as 'big chance, blew it'.
Monk, though, is a traditionalist. According to the field of personality profiling, he is of the guardian temperament – the dependable, no-nonsense, co-operator who experiences a sense of abiding duty towards institutions, even crumbling ones like Leeds. To him, it's an honour to serve such a famous old club, akin to being called up for national service. And when he says he'll never be bigger than the club, he means it.
Monk's strong suit is logistics, the ability to break something down into component parts, make each one more effective, then put it all back together. When he talks about "putting our performance out on the pitch", there's nothing abstract about it; with him, everything is black and white. There's a right way and a wrong way to do anything. Players must be accountable, excuses won't be tolerated. 
Methods still work
Some big names in the United squad were black-balled almost straight away, with Monk relying on his special talent for observation, reading the body language of players and how they respond to instructions.
Now the proof is in the pudding and the anatomy of a Leeds performance can be seen through the prism of various statistics. No team in the entire Football League has conceded fewer first-half goals (10) and only Newcastle in the Championship have broken the deadlock more often.
A game against Leeds is like boxing an expert middleweight, as much about stamina, footwork and game-management than power or punching ability. You know in advance they won't be throwing haymakers at the first bell, but drop your guard and they'll punish you. Ultimately, though, they're trained to go the full 12 rounds. The longer the fight goes on, the more territorial they become and they begin to dominate the ring. With great conviction, they know the sheer clarity of their preparation gives them a huge advantage through the onset of fatigue.
Whether it will be enough to secure promotion at Wembley when they go toe-to-toe with the Championship's biggest hitters in the play-offs remains to be seen. But their consistency under Monk is arguably the most unheralded achievement of the 2016/17 campaign. And all those nice things that were said about him two years ago when his stock was highest are every bit as relevant today as they were then.
Quizzes, features and footballing fun
Get the best features, fun and footballing frolics straight to your inbox every week.
Thank you for signing up to Four Four Two. You will receive a verification email shortly.
There was a problem. Please refresh the page and try again.