Joe Calzaghe: Sing When You're Winning
By Luke Nicoli
"All my early memories are of kicking a ball – I didn't go into a boxing gym until I was 10"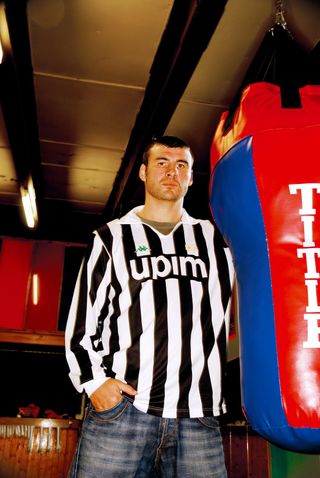 Joe Calzaghe's opening gambit, like most things Italian, is brimming with passion. "I'm pissed off," he begins, eye of the tiger locked firmly on a nervous FourFourTwo. "Milan seem to have escaped everything. Whether it's because of [former Prime Minister and Milan owner Silvio] Berlusconi I don't know, but it seems strange that they're still in the Champions League and that Lazio and Fiorentina have also been allowed back into Serie A while Juventus remain demoted. If you're going to prosecute, then prosecute all four. You can't make Juve the scapegoat and let Milan off so lightly. All the players are leaving, the club will be damaged financially and it's disgusting that they've given last year's title to Inter."
For a man who has defended his WBO Super Middleweight title 18 times and who is ranked by Ring Magazine among the top 10 pound-for-pound boxers in the world, defeat and injustice – perceived or otherwise – are unwelcome bedfellows. So it's with a heavy heart that Calzaghe will follow his beloved Juve's fortunes in Serie B this season, even though he expects the Old Lady to deliver a knock-out blow following their match-fixing escapades.
"Even with a 17-point deduction we'll be back," he boasts. "Del Piero's staying, Nedved's staying… we'll do damage and we'll be promoted. We're a huge club, like Man United and Barcelona. We'll always be at the top. It's a crisis, but it won't last long."
The serenity of Calzaghe's Newbridge Boxing Club, nestling amid the mountain splendour of the South Wales valleys, is a far cry from industrial Turin, where throngs of 'zebres' roam around the Stadio del Alpi on match day. An adjoining rugby club gives a truer indication of the region's sporting passions, but given his Italian roots – father Enzo was born in Sardinia and played for Serie D side Turris – young Joe had little choice.
"I dreamt of Joe being a footballer," says Calzaghe Snr. "When I saw him play, he looked like me; a classical midfielder and left footed. He was never going to be as fast, but he was definitely talented – a classy mover, with dummies and shimmies, just like he has in the ring. Football was his first passion."
QUICK QUESTIONS
Best moment?
Worst moment?
Fave Juve player?
Fave Premiership player?
Welsh heroes?
These days, Calzaghe Jnr's football forays are restricted to the occasional Soccer Six tournament or when he can bend enough arms in the gym to take on a local side, but there was a time when he ran opponents ragged for youth side Pentwyn-Mawr. "All my early memories are of kicking a ball around – I didn't go into a boxing gym until I was 10," he recalls. He continued playing until the age of 12, but a first ABA title victory at 13 was clear evidence that he was more adroit with his hands than his feet. Not that his love of football, or Juve, faded.
"I suppose Cagliari should be my team, but I've always been a Juventus supporter," admits the 34-year-old. "The first game I remember was a European Cup quarter-final in 1983 when we played Aston Villa. Juventus won 3-1 in Turin, then 2-1 at Villa Park when Roberto Bettega scored – they had six players from the 1982 World Cup-winning team, including Paolo Rossi. It was an amazing side.
"I got a little bit of stick as a kid, but fortunately we were successful so that put an end to it. I've watched Juve a few times since; when they came to Manchester United a few years ago… losing to Arsenal 2-0... I also got invited to watch the game at Highbury last season in Frank Warren's box. I'm so glad I didn't; we played absolutely shit and he would have given me loads of stick. Arsenal have become our bogey team."
Calzaghe grins as he recalls the European Cup success of 1996, the club's pinnacle, but Italy's World Cup adventures also stir his emotions. "I can clearly remember every one of Italy's games at the 1982 World Cup, even though I was only 10," he says.
The Azzurri's fourth World Cup success in Germany this summer was as unexpected as it was spectacular for the Calzaghes. Brother Sergio and dad Enzo decamped to Joe's plasma-dominated lounge for a month as the drama unfolded. "Since '82, Italy have always gone with big expectations but have ended up with so much heartache – penalty defeats, golden goals. This time I'd written them off," he admits. "But it was incredible, especially the semi-final against Germany. We had our backs to the wall, in the lion's den, but came out fighting. We played excellent football and when the second goal went in… there were only three of us, but it could have been three thousand with the noise we made!"
Having declined the opportunity to attend the final on 'superstitious' grounds – he was present at the 1998 World Cup quarter-final when France won on penalties – his Newbridge home again played host to raucous scenes as les Bleus were cut down to size. "That was payback time," he chuckles. "After '98, the way France also beat us at Euro 2000 was disgusting [Sylvain Wiltord grabbing an equaliser in the fourth minute of injury-time before David Trezeguet scored a golden goal], but halfway through this final I knew it would be our time. When it came to penalties, every one was beautifully taken. Maybe we weren't the most skilful side in the World Cup, but we showed character and had 10 or 11 different goalscorers."
Fabio Cannavaro, Andrea Pirlo and Rino Gattuso may have taken most of the plaudits, but for Calzaghe, Fabio Grosso was the main man. "I also think the scandal helped the unity in the team," he adds. "Gattuso even said that without the scandal, we wouldn't have won the World Cup."
All this talk of 'we' no doubt ruffles a few feathers in the Calzaghe household. After all, mum Jacqueline hails from Newbridge, where Joe has lived since the age of two. So where do his local allegiances lie: Cardiff or Swansea? He diplomatically side-steps the question, admitting that he keeps a close eye on both clubs. "I'm as proud of being Welsh as I am Italian, so I love to see the local teams do well," he adds. "I was really disappointed that Swansea lost the play-off final last season because they've been flying and Cardiff have also been doing pretty good in the Championship. If they could get promoted into the Premiership this season it would be fantastic."
It surely would. But you can bet it wouldn't be as wildly celebrated in the Calzaghe household as a Juve promotion party come May.
Interview: Luke Nicoli. Portrait: Leon Csernohlavek. From the October 2006 issue of FourFourTwo.
Quizzes, features and footballing fun
Get the best features, fun and footballing frolics straight to your inbox every week.
Thank you for signing up to Four Four Two. You will receive a verification email shortly.
There was a problem. Please refresh the page and try again.