Jurgen Klinsmann at Tottenham, 25 years on: dives, Maradona – and nearly dying
Steve Anglesey reflects on the games, goals and Alan Sugar-irking of Spurs' favourite German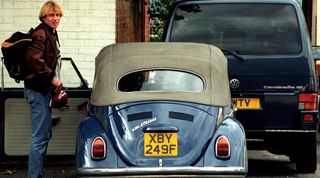 Thursday August 4, 1994. Outside White Hart Lane, hundreds are waiting for a glimpse of Tottenham Hotspur's controversial new signing. Inside the banqueting suite where the press will meet him, Alan Sugar and Ossie Ardiles exchange a nervous smile.
They know they have pulled off the transfer coup of the summer in signing – despite his age – arguably the world's best player, whose genius has just illuminated an England-free World Cup.
They know too, however, that this man is the very embodiment of what English fans hate; the public face of the old enemy, unforgiven for transgressions of the past. But they hear he's got a killer line ready to deal with that.
With Sugar and Ardiles flanking him, there's a hush as the legend sidles into the room and surveys his would-be assassins. "Maybe I can ask you the first question," says Diego Armando Maradona with a grin. "Are there any handball courts in London?"
At least, that's the way it might have panned out had a FIFA drug tester not beckoned the Argentine following his man-of-the-match performance against Nigeria in the USA. Once a positive test for ephedrine and a ban were confirmed for Ardiles's close friend, Tottenham went to back to the drawing board. Plan B didn't work out too badly.
Please note: This feature originally appeared in the February 2011 issue of FourFourTwo (opens in new tab) – our 200th
Signed shortly after his return from the USA, on Sugar's yacht in Monaco over what he remembers as "a really excellent cappuccino, true Italian", Jurgen Klinsmann was ready to "jump into a whole new adventure".
And what an adventure it turned out to be. In 10 months, he would change the face of the Premier League, ushering in the era of high-profile foreign signings. He would get knocked out cold on his debut, see his manager sacked, win the Footballer of the Year award, almost lose his life at Villa Park and finally walk out on the club, with Sugar furiously waving his shirt on national TV and declaring, "I wouldn't wash my car with this!" And, most importantly, he would win over a nation with a smile, a VW Beetle, 29 goals, one memorable celebration and 15 words: "Maybe I can ask you the first question. Are there any diving schools in London?"
RECOMMENDED
What's going on with Toby Alderweireld at Tottenham? A situation that suits nobody… (opens in new tab)
W (opens in new tab)hy Christian Eriksen wants to leave Tottenham – but is short of options for a move (opens in new tab)
With a boyish giggle, Klinsmann admits today: "I had no idea what to expect in London. I knew, though, that I had no issues at all with how the English and German cultures would look at one another. I knew some chants that I'd heard from England fans didn't bother me."
Still, he was determined early on to defuse the hysteria and 'Dive Bomber' headlines which greeted his signing. Televised news of the deal was accompanied by footage of his involvement in the dismissal of Argentina's Pedro Monzon in the 1990 World Cup Final – seemingly minimal contact which Klinsmann nevertheless insisted had left a 15cm gash in his leg. And then there was his agonised writhing following Milan defender Alessandro Costacurta's negligible challenge in their March 1994 European Cup semi-final defeat of Monaco, one of the German's final games for a side then managed by Arsene Wenger.
Meanwhile, 1990 semi-final opponent Paul Parker told the Daily Mirror: "When flesh meets flesh he's down in a flash", and former referee Keith Hackett warned: "He went down like a sack of coal in one World Cup match. That won't be stood for here. He won't get away with any nonsense."
At first, Klinsmann responded with an incredulity which seemed to border on arrogance, telling German newspaper Bild that "if necessary, I will show reporters videos of my games. They can see for themselves that I have never faked a penalty. Perhaps they are still upset because they lost against us in the semi-final."
Yet by the time of his press conference, the anger had been replaced by humour. "Making the joke helped begin to alter the perceptions," says Klinsmann. "It came from a German guy I'd met in Southern France who'd lived in England for many years. He said: 'When you meet the media, why don't you take a backpack and pull a snorkel and goggles out of it?' In the end, I only said the joke. It just worked."
Klinsmann remembers those early days in England as "very happy times. My wife and I, we fell in love with London, what we loved was that it was such a cosmopolitan place. There are so many cultures living next door to one another. You have a rich suburb next to a poor suburb, you have an African culture in one place living next to an English culture, say. Every area has its own park. In Stuttgart and in Milan, the culture was uniform and very much of that country. London was a truly international city and it raised the bar for me. It's one of the great cities of the world."
There were pleasant surprises at the training ground, too. "I had no real idea who these players were - Sheringham, Barmby, Anderton," says Klinsmann. "Others in the team too, Colin Calderwood, Gary Mabbutt, I had not realised how good and strong these players were. We did have an instant chemistry with one another.
"In training, it was a different way of doing things. With Arsene Wenger at Monaco, you would have two training sessions a day, all about technique, and because of that not with so much intensity. In Italy, practice was all about not hurting each other. There was a craziness, an obsession about the technical approach. In both those places, I felt that I had to do my own personal training on top to give me an edge.
"In England we took more risks. You'd come out of a scrimmage sore! We were told to take more risks, to keep the ball on a fast pace. It was a totally different approach. I didn't have to do the personal training any more, let's say that.
"It was different in so many ways. In Italy, after training you might have a club meal with some wine; here it was a beer or two in the players' lounge after the match. Although I never saw in Italy what happened when we played a friendly in Dublin. Ossie came in the dressing room after the game and handed us £20 or £30 each. He just said: 'Have a good time." So we all went to the pub. That was wonderful, the simplicity of getting together, getting us working as hard as we could and enjoying the company of everyone."
The match against Shelbourne was Klinsmann's second of the pre-season. His first, at Watford, had been enlivened by home fans in the crowd wearing gas masks. Now, when the Tottenham coach arrived at Hillsborough, Owls supporters had a surprise of their own. Klinsmann remembers: "We were welcomed at Sheffield Wednesday's stadium by all the diving signs - 5.9, 5.8, all that sort of thing - and we were laughing about it. Then Sheringham had the idea. He said: 'If you score today, we'll all dive.' And I said: 'OK, but we'll do it once.'
"Before the Everton game he said I had to do it again because his son Charlie, who was nine, hadn't come to Sheffield and he wanted to see. it. Incredible; Charlie was just a little boy then and now he is a player himself. Well, I didn't want to upset my team-mate's children. The wonderful thing was that the rival fans even laughed about it."
In truth, the whole afternoon had been stunning. Though Tottenham gave the Premier League its first sight of Ardiles' Famous Five - Klinsmann, fellow new signing Ilie Dumitrescu, Darren Anderton, Nick Barmby and a Sheringham now fully fit after a season of injury and frustration in front of goal - the manager had sounded a note of caution in pre-season, promising reporters a season of "adventure, flair and entertainment" before admitting: "The front is now looking good, but don't ask me about the back".
After Spurs raced into an early two-goal lead, the frailties were exposed as Wednesday drew level. Barmby gave Spurs back the advantage before Klinsmann's moment came in the 82nd minute. He lost Des Walker before delivering a powerful header, and that iconic celebration.
The Owls came back again before the end, with David Hirst adding a consolation to underline the faultline under Ardiles's tactics. At least Klinsmann didn't have to watch it. By that time he was back in the dressing room, unconscious after a clash of heads with Walker which left him prone on the floor and bleeding from a cut mouth. A worried Sugar rushed from the directors' box to find his new star beginning to stir. Says Klinsmann: "I had eight, nine stitches in my lip and even today I have a scar there. It makes me talk a little different. I don't remember the end of that match and as I get older I don't remember too much about individual games, but obviously that day was a memory I will always have."
The striker was not the only one dazed by his arrival in the Premier League. A cynical press was impressed by Klinsmann's 1967 VW Beetle, driven by a Spurs staffer from Monaco to London and spotted at tourist haunts around London as the player immersed himself in local history. Klinsmania struck N17, with Sugar apparently earning back his transfer fee and season's salary within two weeks on replica shirt sales. The club shop was so inundated by requests that they ran out of letter Ns and had to borrow some from Arsenal. Less official merchandise, available outside the ground, bore a Holsten Pils logo, altered to read 'Klinsmann Skills'. Shares in the club, then a public company, soared from 75p to 145p.
And there was no mention of the elephant in the room, one alluded to by journalist Matthew Norman on Klinsmann's arrival when, in calling him "beyond dispute the most notorious con artist the game has ever known", the Tottenham fan added: "It's never been much fun supporting Spurs but the signing of the notorious Jurgen Klinsmann is the final insult... his nationality is unlikely to endear him to the predominantly Jewish season-ticket holders at the Lane."
Says Klinsmann: "I had no knowledge about the club's fanbase but I quickly learned and I didn't know how the fans would react. My belief was that sport connects people, and that the people of London would realise, of course, that my generation had absolutely nothing to do with the events of 60, 70 years before – although it is a generation that knows we must never forget those lessons." That belief in understanding was justified when the Paxton Road scoreboard flashed a German flag with the slogan 'Wunderbar Jurgen'.
And Klinsmann was wunderbar. In his first six games he scored seven goals, the pick a Sheringham knockdown against Everton on his home debut that Klinsmann twisted to convert with a bicycle kick (below). He scored two that day, and six days later grabbed another brace at Ipswich in a game described by Ardiles as "the football I have dreamed of playing" and "the beginning of something special at this club". The manager added: "It's a wonderful feeling to sit on the bench and know we'll always score goals."
Yet opponents knew they would always score them too. By the time Spurs went to Maine Road on October 22, they had failed to keep a clean sheet in 10 league games, winning and losing four apiece. Says Klinsmann: "At first they were saying we could win the league. But we didn't have the defensive consistency and that began to show. Then, when we played Manchester United and Liverpool, I knew that maybe only fifth, sixth, seventh, eighth was possible. Maybe in terms of 11 vs 11 we could match them, but these teams were strong throughout the squad, and this was when I started asking Alan Sugar, could we improve and strengthen?"
Rather than make new signings, though, Sugar began to focus on Ardiles. "We were tactically bad defensively," he writes in his autobiography What You See Is What You Get. "With my naivety about football management, I couldn't understand what was going wrong. Clearly something was, inasmuch as the team was poorly organised from a defensive point of view and this was making the players lose spirit."
Against a mediocre Man City side, the rump of which would be relegated one year on, Spurs were torn apart and lost 5-2. Sugar shelved his naivety about football management to make the perceptive suggestion that former Arsenal and England defensive guru Don Howe should be brought in to staunch the flow of goals. But though Ardiles's assistant Steve Perryman appeared to back the plan, the Argentine rejected it. "Even if someone could guarantee that by playing the long ball and putting in two more defenders we would win, no, I still wouldn't do it," he said.
Says Klinsmann now: "I felt incredibly sorry for Ossie. As a team the only thing we were missing was a consistency in our defensive approach and in fact what Gerry Francis did when he came, which was to pull one of the Famous Five back, Ossie was trying to do and would have succeeded in doing. I had no issues with Gerry Francis and he did a fine job, but I think Ossie could have turned it round."
He wouldn't get the chance. A Coca-Cola Cup date against Notts County four days later was expected to put Tottenham into the last 16 and give Ardiles breathing space. Instead, it choked off his air supply. Spurs went two down inside 20 minutes, and by half-time Klinsmann had been booked and Dumitrescu dismissed for two yellow cards. County added a third inside the second half, and Klinsmann ended his evening without a shot on target as Tottenham fans chanted "We want Ossie out" and thumped on the sides of the team bus before it slunk away from Meadow Lane.
"They slaughtered us and made us look stupid," wrote Sugar. "This was the final straw. I remember sitting in the directors' lounge afterwards, concluding that Ardiles would have to go."
The beleaguered manager would, in fact, be given one more game - a valedictory 3-1 win against West Ham at the Lane in which Klinsmann scored for the first time in seven league appearances. But the die was cast, and hardly improving Sugar's mood were the appearance of stories on the morning of the Notts County game linking Klinsmann with a summer move to Bayern Munich.
The Tottenham chairman was one of the few who knew that when they had concluded contract negotiations in late July 1994 ("Jurgen asked when I was going to be in Monaco," said Sugar. "I told him, 'If you stick your head out of the window, mate, you'll see my blue boat bobbing about in the harbour'"), Klinsmann had insisted on a one-year get-out clause. Sugar agreed, on the grounds that it could be triggered only if Spurs were relegated. But the deal finally signed by all parties did not mention demotion, and though Klinsmann made positive noises about his love of London and willingness to stay, the rumours brought further uncertainty at the worst possible time and Tottenham's share price dropped in reflection.
After an abortive move for David Pleat, Sugar hired Francis, who had lately resigned at QPR over their desire to appoint Rodney Marsh as chief executive with responsibility for transfers. With Francis came with more defensive stability, and in only his second game - the first was an Ardiles-style 4-3 home defeat to Aston Villa in which Klinsmann scored twice - they recorded their first clean sheet of the season, drawing 0-0 at home to Chelsea. They won six of the next nine after that, while a court case overturned a six-point penalty for financial irregularities under a previous regime and won Tottenham readmittance to the FA Cup just in time for the third-round draw.
But their new talisman was getting itchy feet amid signs that his love affair with England was coming to an end. Klinsmann had gone down in front of the Kop to cries of "cheat, cheat" - although Neil Ruddock's elbow may have been responsible - and a collision with Mark Bosnich at Aston Villa had again knocked him unconscious. "The first time I was knocked out that season, by Des Walker, was pure accident," he says. "The second time, I'm not sure it was. The doctors told me that it had been a matter of inches. That if he had hit me in a slightly different place I would have been dead."
Four days later, however, Klinsmann was back with two goals at Roker Park as Tottenham stormed into the fifth round of the FA Cup. When Southampton were beaten 6-2 in an extra-time replay at The Dell, it seemed that a year which had begun with Tottenham out of the trophy might end with them winning it. Then the draw sent them to Anfield.
"Again, I don't remember too much about individual matches, but for importance that has to be the one," says Klinsmann. The German had set up Teddy Sheringham's glorious curling equaliser before his partner returned the favour, sending him one-on-one with David James in the 89th minute and watching as he lifted the ball into the net. "At the end," says Klinsmann, "even some of the Liverpool fans stayed to applaud. One of the reasons I had come to England was the passion of the crowds that I saw on German TV, watching the big Liverpool teams of the 1970s.
"It was very different to Monaco. I had an amazing coach in Arsene Wenger but there was not the passion. There, you were not driven by your environment and you had to develop an inner drive. In England, you run 20mph automatically because of the crowd. You have a lot more drive from them to give it all you have got."
At Elland Road in the semi-final, however, Tottenham were thumped 4-1 by Everton's dogs of war, a Joe Royle side which was the very antithesis of Ardiles's dream football. It was, says Klinsmann, "shattering" and now the only thing left for Tottenham to play for was the retention of their talisman. Yet, says Klinsmann, "it was clear that we had to spend if we were going to compete at the top but Alan Sugar had spent so much money, and wisely, on the infrastructure of the club and on White Hart Lane that he couldn't do it."
Announcing his decision to leave for Bayern with a month of the season remaining, Klinsmann suggested that in thanks for adhering to the terms of his get-out clause, he would offer Sugar a signed shirt. When a Sportsnight interviewer proffered one to Sugar immediately afterwards during an on-camera meeting at Amstrad's Essex offices, Sugar said he "got up, grabbed the shirt and threw it at him, saying he could go and clean his car with it as far as I was concerned. Not one of the moments I'm proud of."
Klinsmann looks on their bitter fall-out as "maybe something to do with how football is in England. The intensity and passion of the English game makes you act like little kids sometimes. We made it up later, of course. When I'm in England next, I might even watch The Apprentice."
The pair would be reconciled four years later when Klinsmann made a brief return to White Hart Lane, an injury-hampered second stint in which the striker scored four goals in a 6-2 win against Wimbledon which helped secure survival under Christian Gross. But in 1995, the only thing left for him to do was accept the Football Writers' Player of the Year honour and tell a few friends to follow in his footsteps. "I found England really fascinating," he says. "When I came to England, there was Cantona but there really were few foreigners. I don't know if I was a pioneer, but word spread out and soon you had Gullit, Zola, Bergkamp, Vialli. It was an exciting time. I played with some of those guys and I was able to tell them 'this is cool, this is special'. And soon they came."
Those arrivals were one of two ways Jurgen Klinsmann changed English football for good and forever. He considers altering the mindset of fans and media to be the other. "I was extremely lucky in my career to get to know different cultures and in all of them to treat people the same," he says. "Throughout that season I saw what football can do to bring a different perspective on attitudes that have been deeply held for years. Football is the perfect tool to correct false perceptions of different people, of different cultures. Really, football reminds us we are all the same."
This feature originally appeared in the February 2011 issue of FourFourTwo – our 200th.
NOW READ...
ACTION REPLAY Manchester United's mad 1999 trip to Australia
REMEMBERED The Rumbelows Sprint Challenge: When English football's fastest footballers raced for £10k
While you're here, why not take advantage of our brilliant subscribers' offer? Get 5 issues of the world's greatest football magazine for £5 (opens in new tab) - the game's greatest stories and finest journalism direct to your door for less than a pint in London. Cheers!
New features you'll love on FourFourTwo.com (opens in new tab)
Thank you for reading 5 articles this month* Join now for unlimited access
Enjoy your first month for just £1 / $1 / €1
*Read 5 free articles per month without a subscription
Join now for unlimited access
Try first month for just £1 / $1 / €1