Lazar Markovic's references didn't actually mention football, Fulham realise
Claudio Ranieri just presumed his new signing was good at football, Back of the Net can reveal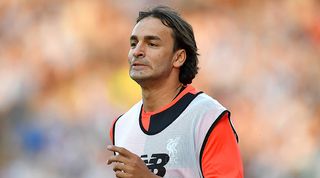 Fulham boss Claudio Ranieri has realised with a jolt that while Lazar Markovic had glowing references, none of them explicitly praised his ability to play football.
The Cottagers swooped for the forgotten Liverpool man on deadline day, encouraged by Aleksandar Mitrovic, who was effusive about Markovic's flair for comedy impressions, his ability to host barbecues and how clean he keeps his car.
When researching their new signing, Fulham scouts received several reports of Markovic's easy bonhomie, affable repartee and witty, yet measured jibes, but it was only after the deal was done when it became apparent that nobody had mentioned whether or not he was able to kick a football in the desired direction.
"I suppose we just presumed [Lazar Markovic was good at football]," Ranieri told FourFourTwo.
"We know for a fact that he's good at Uno and yet not smug with it. We know that he always brings an umbrella when he goes out and will happily offer it to someone else who doesn't have one.
"We know that he always asks how other people's days were and really listens, asking insightful questions before discussing his own day.
"We know that he's happy to do the washing up, even if he's cooked. We know that he always brings his own bags to the supermarket rather than taking plastic ones.
"We know that he does a superb karaoke version of How The West Was Won And Where It Got Us by R.E.M. We know that he's a generous and patient lover.
"But when it comes to football, nobody's really sure if he's any good at that."
First impressions
Markovic immediately made himself popular with his new team-mates thanks to his self-deprecating humour in the dressing room, before presenting each and every one of his new colleagues with a thoughtful gift.
"Anyone who can get a copy of the programme from my first game as a manager framed and signed by everyone who played that day can surely whip in a dangerous cross, right?" Ranieri reasoned.
"Granted, nobody we spoke to could actually remember a single time they'd seen him play football, but the guys at Liverpool were adamant that we should sign him and that must count for something."
At the time of publication, Markovic was looking in mild bafflement at a football in training while whistling a note-perfect version of Otis Redding's (Sittin' On) The Dock Of The Bay.
Thank you for reading 5 articles this month* Join now for unlimited access
Enjoy your first month for just £1 / $1 / €1
*Read 5 free articles per month without a subscription
Join now for unlimited access
Try first month for just £1 / $1 / €1