James Brown's Leeds United column: Goals, drizzle, hopes, moaning and noise – the season is well underway
Leeds are top of the Championship, Patrick Bamford is scoring and despite social media concerns, the Whites seem to be heading in the right direction again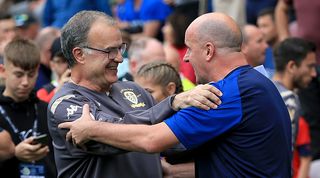 I always think you should give it five games before you start to get a feel for a season, but if you're on Twitter you can throw that notion right out the window. The second-by-second ultra-glare of the little blue bird, with its never-ending torrent of people to agree or argue with, has made the five-game measure fanciful to say the least. Football is judged constantly now, social media fans are permanently on, and for Leeds United it's been intense from the off. 
Imagine smashing your face into the glass bowl screen of a washing machine and seeing the words PONTUS! ANDREA! KALVIN! VILLA! ROOFE! MONEY! VICTOR! EDDIE! going round and round, minute by minute, for weeks on end. That's what LUFC Twitter has been like recently. The goals couldn't come soon enough, but even then they sparked more debate: "The wrong type of goals?" A mate of mine has been supporting Leeds since the late '60s and he has no social media. I envy him.
As I said in my previous column, I find Patrick Bamford's goals-to-chances ratio as frustrating as the next man, but it has been fantastic to see him take three in the six-yard box where he missed a lot of opportunities last year. One cracking header so well timed and judged that it looked like he'd started leaping for it before Pablo Hernandez had even crossed it. Two scruffy opportunistic goals putting Wigan to the sword. He's answering his critics with valuable contributions.
He's started to rub away some of the hurt that was hanging over from last season – that underlying sense of reluctance, that there was no point getting excited this year because we managed to snatch defeat from the jaws of certain victory so recently. 
Right now, however, four games in, there are now nothing but positives for me. That's a big turnaround from the cautious reluctance I felt three weeks ago, writing on the eve of the first game. That's what happens – three wins and a draw and already I'm blinded by the white. Or charcoal and pink, as its been away from home. 
From the first XI going unbeaten, to the kids winning a tournament in Belfast, LUFC are doing well right now. The owner has his movie out which I'm still too raw to watch yet – but it's gone some way to change the conversation from "Where's all the money gone from the clear-out?" to "I love Kalvin even more". 
The shifting of unwanted players seems like a good thing to me. Every year we have to sacrifice at least one decent player, and there are certainly questions to be asked about fees we've accepted, but the wider clearing of the decks makes good business. If they weren't going to make an impact this year they've largely moved them out. I liked Kemar Roofe and I wish we could have kept him – but we didn't go up, and had we done he would have stayed. 
I get the impression that the owner is either tightening up for simple operational reasons or because he will sell come the end of the year if we don't get promoted. Marcelo Bielsa has been something else, but he and his guys cost far more money than the likeable Tommy Christiansen or Paul Heckingbottom, Bielsa's predecessors, and we've increased wages retaining people, so our outgoings are naturally greater. And, most significantly, it's a business to the owners of football clubs. That's a different relationship to the fans. They sell players to cover costs, and maybe to take out something for themselves. Why do we continue to be shocked by this? Disappointment is understandable but as fans we are so often like needy kids, sometimes, like now when things are going well we have to sit back and enjoy. I'm glad we still have Pablo Hernandez and Kalvin Phillips. 
INSIDE STORY A year with Marcelo Bielsa: the inside story of Leeds United's revival
The players who especially need commending so far this term are those that do the work between the flashes of brilliance from Pablo, Kalvin & Co. Stuart Dallas has continued his form from the end of last season, where he was one of the few to emerge with credit. Adam Forshaw has finally shown us what he's good at – nipping and driving and buzzing around the middle, and against Wigan very nearly scoring. Away at Bristol City was the best I've seen him play. 
Jack Harrison is another who routinely gets slammed for not being Eddie Gray, who has upped his game from 7s to 7.5s. All of this, and Helder Costa and Eddie Nketiah have yet to come into the first team for full league games. Their combination for the first goal against Salford in the Carabao Cup after Jamie Shackleton's defence-splitting pace was something else. The club is in a much better place than it was under the Madman or Bad Santa.
Years ago I sat next to the Leeds bench at White Hart Lane, when George Graham was in our dugout and Gerry Francis in Tottenham's. George, along with sidekick and future manager David O'Leary, spent a large part of the game shouting at the ref, doing diving movements with his hands and pointing at David Ginola, who was in wonderful form sailing through the stiff Leeds side of the day. 
Ginola looked fantastic, but all of the Spurs fans I was sitting among were moaning. They couldn't see what beauty they had in their midst and how lucky they were. I remember thinking "I'm glad we're not like that". But social media has opened us up to every opinion under the sun and moaning has been in abundance. The simple way to avoid it is to just step away from it. Sometimes I just long for a time when football was on Saturdays and my friends and I spent most of the week pretending to be the Leeds first team players when kicking a ball about in the street. 
On the subject of childhood, I took my son Billy to his first game against Forest. I'm not sure if he will ever remember it as he's five and, in all honesty, more into his Imaginext Super Heroes than Super Leeds, so I explained that it was like a battle: we were the good guys in white and the enemy were the team in red. He seemed to understand – and then got stuck into his computer game 10 minutes in. 
On the pitch there was evidence once again of our strengths and weaknesses of last season – a lot of possession and control, and not enough goals to show – but as a spectator it had a lot more than just the football going for it. A visible drizzle, plenty of noise from both sets of fans and a walk down and back up that famous hill before and after the game. 
When we scored and we hit the crossbar, the crowd were so loud that Billy put his hands over his ears and looked up, his eyes wide in amazement. And that's what I'll take away from the start of this season. The sound of the crowd at Elland Road, never let it drop. 
James Brown is the editor in chief of @FourFourTwo and author of Above Head Height: A Five-A-Side Life. He will be writing a regular column this season about the challenges of supporting Leeds United.
While you're here, why not take advantage of our brilliant subscribers' offer? Get 5 issues of the world's greatest football magazine for £5 – the game's greatest stories and finest journalism direct to your door for less than a pint in London. Cheers!
NOW READ...
OPINION Danny Mills and the art of lazy punditry
QUIZ Can you name the 33 Premier League goalkeepers who've saved three or more penalties?
LIST 9 players who came to the Premier League too late in their careers
Quizzes, features and footballing fun
Get the best features, fun and footballing frolics straight to your inbox every week.
Thank you for signing up to Four Four Two. You will receive a verification email shortly.
There was a problem. Please refresh the page and try again.