The lively Lorient star who could be Arsenal's long-term left-back solution
Andrew Gibney introduces Ligue 1's promising Raphael Gurreiro, whose Portugal debut is only just the beginning...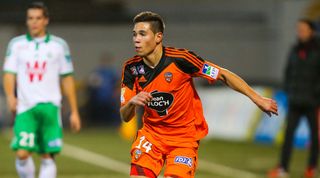 The 60-second story
FACT FILE
Date of birth: December 22, 1993
Place of birth: Le Blanc-Mesnil, France
Height: 5ft 7in
Position: Left-back/midfield
Current club: FC Lorient (61 apps, 6 goals)
International: Portugal (2 caps, 1 goal)
With around 12 million people living in the Île-de-France region of France, it is impossible for Paris Saint-Germain to catch every developing footballer in the area who shows promise. Raphael Guerreiro was born in the Le Blanc-Mesnil area of Paris, and just like Newcastle's Moussa Sissoko, is set to go from the Parisian suburbs all the way to becoming a Premier League star.
Like most of the best kids that impress in Paris, Guerreiro was sent to the INF Clairefontaine academy on the outskirts of the city. There he was spotted by Ligue 2 side Caen, and hasn't stopped rising since. His ascent has been swift. After a few years in Caen's youth side, the left-back was given his debut at the beginning of the 2012/13 season, aged 18. Now still only 21, Guerreiro has moved from Caen to Lorient and even enjoyed his first caps for Portugal.
When Caen failed to win promotion back to Ligue 1 in 2013, Olympique de Marseille and Lille were heavily interested in the left-back, but savvy businessman Loic Fery stole in to seal his signature for around €2.5 million.
Just like the deals for Kevin Gameiro, Laurent Koscielny and Vincent Aboubakar, Fery knows when to buy low and sell high. Guerreiro's performances this season make him the next likely candidate to earn the Lorient president another tidy profit.
Why you need to know him
This season, Guerreiro started in his regular left-back role, but after a poor start to the campaign, Lorient's new coach Sylvain Ripoll made an amendment. The young coach kept his 4-4-2 formation, but moved the left-back further forward into midfield.
In his last 12 games, Guerreiro has blossomed to a new level, scoring six goals, adding two assists and transforming himself into one of Ligue 1's most dangerous weapons.
Although born in Paris to a French mother, the player's father is from Portugal and last season Guerreiro made the decision to play for his paternal country.
Eight caps for the under-21s put his name on the radar, but his upturn in form as an attacking midfielder caught the eye of Fernando Santos and Premier League scouts.
The 21-year-old was linked with Arsenal and Manchester City in the summer, and now with every goal the fee is rising. As a member of Santos's Portugal side, it seems only a matter of time before Guerreiro is headline news in England.
Strengths
From his time as a left-back, Guerreiro is sound at the back. For both Caen and Lorient, his defensive game was impressive. Rarely caught out of position, he has the legs and the stamina to get up and down the flank with ease, and the lightning pace to recover and attack.
Playing further forward and given more freedom, Guerreiro has shown a different side to his game. He has a tenacity to break into the box and unleash his left foot, which has helped him demonstrate a goalscoring instinct that no one knew he had. He only netted his first Ligue 1 goal against PSG in November.
It's clear that Guerreiro is a very quick learner, and steps up to any challenge he is tasked with. Every rung of the ladder so far has been reached with relative ease.
Weaknesses
The move further forward has helped contain Guerreiro's shortfalls as a defender. At 5ft 7in he is a little on the short side, and can be exposed at the back post against larger attackers. He doesn't win much in the air, but in France that is rarely a problem.
When Guerreiro is faced up against bigger, stronger opponents, he always finds a way to cope with the challenge and performs well with the mismatch. He has a strong upper body, and that is a part of his game that is developing.
For someone with as dangerous a left-foot as Guerreiro, Lorient would have hoped for more assists during his two-year spell. With every game he plays in an attacking role, however, the youngster continues to improve. Don't be surprised if he doubles his tally of three by the end of the season.
They said…
Like most young footballers, Guerreiro has ambitions of greatness, and they don't stop with playing for his adopted country: "My father is a Benfica fan, and I'd love to play for them.
"But my dream is to play for Real Madrid," he said in an interview with Eurosport. "When you're a footballer you can't be indifferent to the history of that club."
Guerreiro's next step will likely be the Premier League, but his ambition to become the best won't stop him reaching his goal. Impress in England, and it won't be long until Los Blancos come calling.
Did you know?
Guerreiro netted in only his second appearance for Portugal, after coming on for Tiago Gomes after 51 minutes at Old Trafford. He had made his international debut against Armenia only four days previously, but this was a night he would never forget.
The crowd in Manchester endured a laboured friendly that was supposed to re-ignite Cristiano Ronaldo and Lionel Messi's personal goal battle, but in injury-time Guerreiro stole the show by sending a flying header past Argentina's Nahuel Guzmán. It was the first header he'd ever scored in his professional career.
What happens next?
It would be no surprise to see Guerreiro leave France this summer. His stock has never been higher and he is improving with every week. With Premier League interest increasing, a move to England seems like the most obvious choice. However, for Guerreiro to take the next step in his career, he needs to decide what type of player he wants to become.
TALENTSPOTTER RATINGS
Shooting 7
Heading 5
Passing 7
Tackling 7
Pace 8
Dribbling 7
Creativity 7
Work-rate 8
He has the pace and guile to play as an attacking wide player, but also has all the qualities to play as a forward-thinking wing-back.
Guerreiro would make the ideal modern-day full-back in the Premier League, and with Nacho Monreal yet to really convince in an Arsenal shirt, could be an ideal long-term solution for Arsene Wenger. If he was given full license to push forward, the young Parisien would still be guarded and defensive enough to cover his duties at the back.
Guerreiro has been one of the most exciting players in Ligue 1 this season, and is a joy to watch in full flight. Once the summer comes, the 21-year-old will be ready for the next step.
Thank you for reading 5 articles this month* Join now for unlimited access
Enjoy your first month for just £1 / $1 / €1
*Read 5 free articles per month without a subscription
Join now for unlimited access
Try first month for just £1 / $1 / €1
Get FourFourTwo Newsletter
The best features, fun and footballing quizzes, straight to your inbox every week.