David Moyes at Everton: a lost legacy underneath the glass ceiling
The Scot's six-year contract at Manchester United was supposed to end today; instead, his is now a career sneered at. Evertonian Nathan O'Hagan weighs up his defining time at Goodison Park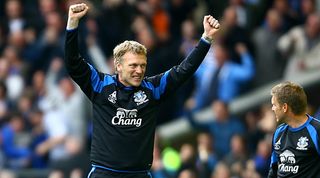 Given the tepid end to his time at Everton, and the disdain many Toffees fans now view him with, it's easy to forget that David Moyes first arrived at Goodison Park in March 2002 on a wave of euphoria. 
Admittedly, that was largely borne of the desperation most Evertonians felt after enduring four seasons of Walter Smith in charge. The Scot was finally sacked after failing to achieve a single top-half finish during his entire tenure. 
In fact, by the time Moyes arrived, Everton had finished in the top half just once over the preceding decade; a sixth-placed relative triumph under Joe Royle in 1995/96. Following Royle's departure, club legend Howard Kendall's disastrous third stint in charge and four years of Smith's dire football (albeit partly due to the club's desperate financial straits), Moyes – hard as it may be to believe now – seemed young, progressive and dynamic by comparison.
In his first managerial post, Moyes had taken over Preston North End with the team struggling near the bottom of the old Second Division. Within four years he'd taken them to the brink of Premier League promotion. Having revived one once-great club, chairman Bill Kenwright hoped he could do the same for another. 
Early signs were encouraging. Moyes made all of the right noises, referring to Everton as "the people's club" during his first press conference. The phrase instantly struck a chord with fans, and still adorns the club's ground, website and merchandise. 
In his first game at home to Fulham on March 22, 2002, Moyes was granted a reception that can only be generated by 40,000 football fans who have spent well over a decade starved of success and sick of existing in the lower reaches fighting relegation. 
Optimism is not something Evertonians possess in abundance, but the hope was palpable. It was also only enhanced when David Unsworth put the Toffees ahead after just 27 seconds, in a game Everton went on to win 2-1. Another win, 4-3 at Derby the following week, offered further encouragement. Despite only two more victories in the run-in, relegation was avoided with relative comfort and a 15th-place finish. 
Moyes already had a reputation as a strict disciplinarian, indicated by an incident at Preston where he allegedly decked two of his own players after they became embroiled in a scuffle. One of the biggest cheers of his early days at Everton was reserved for his public dressing down of Jesper Blomqvist on the touchline after the Danish winger had thrown a minor strop after having been substituted. 
Coupled with the encouraging signs of what he seemed capable of doing with the dreadful squad he'd inherited, Moyes helped to lift the gloom at Goodison and went into his first full season having been able to make his first signings for the club. Arsenal goalkeeper Richard Wright and Nigerian centre-back Joseph Yobo signalled his intention to move away from Smith's transfer policy of luring faded stars like David Ginola and Paul Gascoigne, reduce the average age of the squad – and its wage bill. Another early indication that the new manager would be looking to the future was his decision on the opening day of the season to debut a 16-year-old academy product called Wayne Rooney. 
So far, so good
Early signs were encouraging, as Everton lost only seven times before Christmas. Hardly Roy Of The Rovers stuff, but it had to be viewed in the context of what fans had endured in previous seasons. This period included a 2-1 victory at home to Arsenal, ending the Gunners' 33-game unbeaten run with Rooney's now-iconic winner, curled over David Seaman from outside the area. 
These results were achieved largely with the same players Smith had struggled with. For the most part they were unspectacular, journeymen pros, but Moyes seemed able to raise their games; at times he even deployed holding midfielder Lee Carsley as an unorthodox right-winger. 
His ability to extract the maximum from these workmanlike players, as well as adding some much-needed young blood into the squad, by now had most supporters singing his praises. "If I came home and found Moyes in bed with me bird, I'd probably just tuck him in," one admirer eulogised on a local radio phone-in. 'In Moyes We Trust' became a buzz phrase on fan forums.
The 2003/04 campaign, in true difficult second album style, proved to be the worst of his spell at Everton; they finished a single place outside the relegation zone, then lost Rooney to Manchester United in acrimonious circumstances. 
But fears that the early hope had been misplaced were quickly dispelled in 2004/05, when Everton inexplicably broke into the top four and secured a place in the Champions League – an achievement which best summed up Moyes's ability to do a lot with little. In fact, it was only a terrible decision from the supposedly-infallible Peirluigi Collina – who disallowed a perfectly good Duncan Ferguson goal against Villareal – that meant the Merseysiders fell at the first hurdle.
Following on from their short Champions League campaign, Everton finished outside the top eight only once during Moyes's time at the club. It was a significant improvement on what had gone before him, and even now his win percentage is marginally higher than all subsequent Everton managers. 
Red mist
After 12 years with Everton, Moyes made his ill-fated move to Manchester United and assume the impossible task of succeeding Sir Alex Ferguson. 
Upon his first return to Goodison in 2014, his reception was less than welcoming. But was it deserved? Moyes served the club for over a decade without winning any silverware, but he inherited a poor, ageing squad and reduced the average age by giving debuts to four of Everton's five youngest players. 
Many modern Blues favourites were signed by him; Leighton Baines is still at the club, and Phil Jagielka has only just left. Moyes had a knack for unearthing gems from the lower divisions, signing both Joleon Lescott and John Stones from the second tier before they were sold to Manchester City for huge profits. Arguably his best was Tim Cahill, whose £1.25m price tag must rank him as one of the best value-for-money buys in the Premier League era. But perhaps not quite as good as Seamus Coleman, who cost, as the song says, 60 grand and went on to become one of the best right-backs in the league for several seasons. 
So how did we get from 'In Moyes We Trust' to boos at Goodison? And how will history view his time at Everton? While the above are examples of his shrewdness in the market, attempting to sign Felliani and Baines on the cheap when arriving at United showed a lack of respect, as well as a certain lack of imagination in the transfer market that many Evertonians had long since suspected. 
United fans would come to know it. There he was managing Manchester United, probably the biggest club in world football and, with the world his oyster, tried to raid his old club for two players he'd already signed.
In a recent interview with Sky Sports, Moyes claimed his Everton side were a striker away from challenging for the Premier League title. A fanciful claim perhaps, but most would agree that the lack of a proven frontman was something that held Everton back during his era. 
The first-choice strike force when Moyes took over was Tomazs Radzinski and Kevin Campbell. Radzinski, though pacey, never managed more than 11 goals in a Premier League season, let alone 20. Campbell, whose goals were so vital in keeping the club above water in his first season-and-a-half, was an experienced centre-forward who could be relied on for double figures but needed a more prolific finisher alongside him to benefit from his intelligent hold-up play. Duncan Ferguson was at the end of his career, and Rooney's first professional spell at the club was all too brief.
Moyes's own efforts in the transfer market, so shrewd in many areas, were uneven when it came to signing strikers. A defining aspect of his time at Everton was his ability to work within a tight budget, but it's worth remembering that, despite crying poverty, the Scot broke his club's transfer record three times for strikers alone (and again to sign midfielder Fellaini). But did he always spend right? 
His first captures were loans: American Brian McBride made eight appearances and Francis Jeffers briefly returned from Arsenal. Moyes didn't make a permanent addition to his frontline until 2004, when the nomadic Marcus Bent was recruited as an unlikely replacement for Rooney. Bent's contribution to the unlikely fourth-place finish was significant, but his goal return made Radzinski look like Ruud van Nistelrooy. 
Striking gold?
Bent's singing was indicative of the financial constraints in place at the time, but a greater statement of intent was made when Moyes first broke Everton's transfer record to sign James Beattie from Southampton for £6m in 2005. 
Beattie had finished 2002/03 as the league's top-scoring Englishman with 23 league goals, and netted 17 times the following season, but his form had been inconsistent in the preceding seasons. Nevertheless, Moyes took an uncharacteristic risk in signing him while he was injured. Beattie was overweight when he eventually featured, and managed to get himself sent off in his fifth appearance for headbutting William Gallas. Some would argue that this was the most effective use of his forehead during a spell which yielded just 15 goals in 86 appearances. 
Recognising Beattie's lack of pace, Moyes paid a club record £8.6m to Crystal Palace for Andy Johnson the following season. Johnson started his Everton career well, scoring on debut and netting twice in a famous 3-0 home victory in the Merseyside derby. Despite starting so well, Johnson later endured a 13-match barren spell, not helped by Moyes sporadically playing him out wide or forcing the striker to chase long balls into the channels. Johnson lasted only two seasons before being sold on to Fulham. 
In August 2007, Moyes spent bigger – this time £11m on Yakubu from Middlesbrough. He wasn't exactly an archetypal Moyes signing, given his reluctance to do anything other than put the ball in the net, but the Nigerian had been a proven goalscorer with Boro and Portsmouth. Sure enough, he became the first Everton player to reach 20 goals in a league season since Peter Beardsley in 1992. 
Moyes finally had his elusive sharp-shooter; the missing piece he later claimed was the only thing stopping him challenging for titles. Everton finished fifth in 2007/08, 22 points behind champions Manchester United – a more-than-respectable result, but one that belies his claim. 
Yakubu's first season proved to be his best for the club and, hampered by injury and loss of form, he never got near that mark again. There was always a sense that, regardless of how many goals he scored, his lack of hard work meant he was never fully trusted by a manager with more than a touch of the secondary school P.E. teacher about him. 
Louis Saha had been ravaged by injuries at United and, while he provided moments of brilliance for Everton when fit, the Frenchman was only ever going to be a short-term solution. Nikica Jelavic made a superb start to his Everton career after joining from Rangers, and it looked as though the club may have finally found the striker they'd been yearning for. 
Though not blessed with Johnson's pace, the Croatian was more mobile than Beattie and Yakubu, his movement intelligent and finishing deadly. "I can see in my head pictures and directions of where I think we should be going," Moyes said at the height of Jelamania, "and which players we need to get; which players can help us progress again. Jelavic is a massive piece."
The striker's first six goals for the club were all first-touch finishes. Having signed in the January transfer window of 2011/12, Jelavic scored 11 goals in 16 games. But after a prolific first half-season with the club, the goals quickly dried up in his first full season. 
Jelavic had been played as a lone striker upon his arrival, and benefited greatly from crosses and pull-backs from the likes of Leon Osman, Leighton Baines and Steven Pienaar. But then Tim Cahill joined the New York Red Bulls that summer, and Moyes saw fit to push Fellaini forward from his natural position at the heart of midfield. 
While Cahill was happy to work tirelessly and selflessly for the benefit of others, Fellaini's instincts were less so (as his tally of eight goals in the early part of the season suggested), Jelavic often found the 6ft 4in man mountain occupying the spaces in which he himself had previously flourished. Confidence sapped, he notched just seven league goals in his final two seasons with Everton. 
In many ways, it felt symbolic of Moyes's failings; having finally found his elusive striker, the Scot instead placed more faith in a totem pole midfielder than the natural finisher he'd planned to build his team around just months earlier. 
A common criticism of Moyes at Everton is that he didn't quite know how to best utilise flair players. When talented midfielder Mikel Arteta was signed from Real Sociedad, Moyes tended to play him wide on the right rather than in the middle of the park, where he was clearly best suited. It was several seasons before Arteta was allowed to make the central midfield place his own. 
This was something Moyes also did with Osman and Pienaar, both clever No.10s pushed wide. (In fairness, this did result in Pienaar forging a formidable left-wing partnership with Leighton Baines which crafted most of the good football Everton played for a few seasons.) 
When it all boils down
Ultimately, Moyes restored a lot of lost pride to Everton. He provided the club with some fine moments, such as the 3-0 derby win. He broke the top-four cabal by securing a Champions League play-off in 2005, and beat Manchester United in the FA Cup semi-finals. 
And yet the lasting impression for many Evertonians is of a manager who, having stabilised the club and established them as a top-seven side, was then unable to break through the glass ceiling. One who didn't quite know what to do with creative players, and who was too often guilty of bringing a knife to a gun fight against the top teams. 
Moyes may have lasted 12 years at Everton, but many felt he should have departed two or three seasons before, having taken the club as far as he could. Many of his loyalists argue that, given a chunk of the money subsequently thrown at Ronald Koeman and Marco Silva in recent seasons, he could have had the club in the Champions League and possibly even challenging for titles regularly. Others argue that working within budgetary constraints worked in his favour, providing him with an in-built excuse whenever his teams came up short. 
An ignominious 3-0 FA Cup defeat to Wigan in 2013, when Everton were cut apart by a side managed by Roberto Martinez – Moyes's eventual replacement – was the final straw for many. His defining moment, though, perhaps came in the FA Cup semi-finals against Liverpool the previous year. 
Having gone behind through a poacher's goal from Jelavic, a poor Liverpool side – struggling in the league, and with Jamie Carragher, Daniel Agger and Martin Skrtel shaky in defence – were there for the taking. Instead, Moyes's natural conservatism prevented him from going in for the kill. Baines, one of the best attacking full-backs in Europe at that time, barely crossed the halfway line. It wasn't until Andy Carrol had put Liverpool 2-1 up with minutes to go that he finally brought on Victor Anichebe, by which time it was too late. 
A famous victory was in his grasp. Close, not close enough. Ultimately, David Moyes's legacy at Everton. 
While you're here, why not take advantage of our brilliant subscribers' offer? Get 5 issues of the world's greatest football magazine for £5 – the game's greatest stories and finest journalism direct to your door for less than a pint in London. Cheers! 
NOW READ
QUIZ Can you name the top three Premier League assisters from these nations?
OPINION Why 2019/20 will spell the end for the Premier League top six as we know it
Quizzes, features and footballing fun
Get the best features, fun and footballing frolics straight to your inbox every week.
Thank you for signing up to Four Four Two. You will receive a verification email shortly.
There was a problem. Please refresh the page and try again.