Losing a testicle in a reserve game, kicking giant rats and voluntarily going to borstal: Dixie Dean, the one striker who Erling Haaland can't match
Before scoring bucket loads of goals, Dean grew up in slightly less familiar circumstances than today's professionals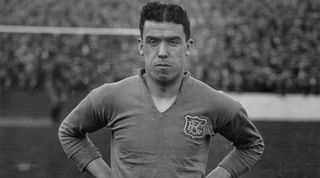 (Image credit: Getty Images)
William 'Dixie' Dean was the epitome of the rugged British centre-forward: strong as a rhino, and often playing like one.
While his goalscoring record has gone down in English football history as simply unbeatable – just ask Manchester City striker Erling Haaland – if you want to know how rough the game was in Dixie's era, consider this: playing in a reserves match for Tranmere when he was 16, Dean was challenged so ferociously that he lost a testicle.
He just laughed it off (not literally). Still, that wasn't so surprising.
After all, this was a lad who had voluntarily gone to Borstal – a type of youth detention centre in the United Kingdom – at the age of 11 because the football facilities in the school for young delinquents were the best in Birkenhead.
"I told the other lads that I'd got done for stealing, so I fitted in," he later recalled.
Dean had jet-black hair, a dark complexion and a wide, toothy grin. Contrary to a popular myth, his nickname seems to have been the corruption of a childhood tag, 'Digsy', rather than an allusion to the Confederate states of the American South.
His strapping torso was set atop a pair of legs that might have been carved from tree trunks, giving him a powerful shot that Dean reputedly honed by kicking giant rats against a wall during night shifts as an apprentice fitter.
All that culminated in Dean notching a ridiculous 60 goals in the 1927/28 Division 1 season, a total no other player has managed to match in the century since. Haaland has tried his best, but he has still 'only' managed 35 Premier League strikes this season.
Granted, the Norwegian is a lot closer when all competitions are included, with his astonishing 52 goals over the course of the 2022/23 campaign a lot closer to Dixie Dean's 63, though the former Everton marksman didn't have the League Cup or Europe to add to his tally like Haaland does now.
Thank you for reading 5 articles this month* Join now for unlimited access
Enjoy your first month for just £1 / $1 / €1
*Read 5 free articles per month without a subscription
Join now for unlimited access
Try first month for just £1 / $1 / €1
Get FourFourTwo Newsletter
The best features, fun and footballing quizzes, straight to your inbox every week.
Chris joined FourFourTwo in 2015 and has reported from 20 countries, in places as varied as Jerusalem and the Arctic Circle. He's interviewed Pele, Zlatan and Santa Claus (it's a long story), as well as covering Euro 2020 and the Clasico. He previously spent 10 years as a newspaper journalist, and completed the 92 in 2017.