Louis van Gaal's friends and foes: a who's who guide
Liam Canning divides up the modern footballing world...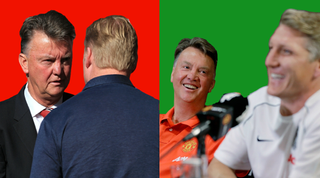 It's fair to say that Aloysius Paulus Maria (that's 'Louis' to you and us) van Gaal has earned his marmite reputation. You either love him, and share a special bond with him, or hate him and talk to the media about the injustices the Dutch boss treated you with when in charge. FourFourTwo takes a look at the Manchester United's friends and foes. Buckle up...
Friends of LVG...
Thomas Muller
"Van Gaal and I have a relationship that goes beyond that which is normal between a player and a coach."
After handing Thomas Muller his debut in 2009 with Bayern Munich, Van Gaal and the Germany international have stayed close ever since. The manager knew his player's potential even from a young age.
Van Gaal has definitely made quite an impact on people's careers – whether good or bad, that depends on the player – but, for the World Cup-winning German, the guidance from the Manchester United coach has been priceless to him and has set him off on a trophy-winning career. Muller once stated: "Van Gaal also had a huge effect on my development. I am very grateful to him." It's well documented that the Dutch boss has tried to lure his former protégé to Manchester. 
Jose Mourinho
Louis van Gaal: "Mourinho thought he'd been promised the youth academy job [at Barcelona] and even that he might be the next manager and hadn't been told. He was so angry and shouted so much about not being consulted that I was impressed. On that day he was a Special One and because of that I hired him."
Jose Mourinho: "Our families are really close too, so we have much more than football."
Van Gaal and Mourinho first met at a press conference while the Dutch manager was being unveiled as the new Barcelona manager. The now-Manchester United chief stated that he was impressed with Jose's fight and passion towards football – a major factor in why Van Gaal immediately hired him. They worked together for three years and then eventually went their alternate ways. However, Mourinho claims that they still keep in touch and they're more than just 'football friends'. 
FEATURE When Jose met Louis: how the pair learned to love one another at Barcelona
Xavi Hernandez
Xavi: "Van Gaal taught me a lot. He told me, 'You are better than Zidane'. I told him thanks, but not to get carried away. I have had great coaches. We were very unjust with him, he was a great coach."
Van Gaal gave the football world a Xavi Hernández. And for that, we are eternally grateful. In 1998, against RCD Mallorca, Xavi was set free in a Barcelona strip on the football field. Van Gaal was unpopular at Barça and didn't form many long-lasting relationships there, but he made a close friend in Xavi and formed a companionship which has held strong until this day. Xavi's former manager featured in his farewell video as the Barcelona veteran said his goodbyes to set off for a new adventure with Qatari club Al Sadd.
Daley Blind
Daley Blind: "I do have a special relationship with Van Gaal, but that is because we worked together for the Dutch national team. Last summer, we spent a lot of time working together at the World Cup, but he never said a word about his plan to bring me to United."
Blind was taken to the 2014 World Cup by Van Gaal, and following the tournament, the Manchester United manager bought the versatile player for £14 million. Blind was trusted for the Netherlands and started in every game, grabbing assists against Spain (two) and Australia, then scoring in the third-place play-off match against Brazil. Their relationship was brewed at Ajax and has now flourished with the national team and United, while Van Gaal is also very close to Blind's father, Danny, whom he coached at Ajax from 1991 to 1997 and now leads the Netherlands. 
Tony Pulis
Van Gaal: "Now I'm the guy who wants always to drink a glass of wine. And I only drink wine with the manager of West Bromwich Albion [this season], he's a nice guy."
Before Van Gaal took his first steps in the Premier League, there was already talk of the Dutch boss creating a tense atmosphere due to his flavoured personality. It has to be said that he does have a strong persona and his ideals are… different, but, when it comes to Tony Pulis, it seems as if they've formed a special bond which needs to be explored over a glass of fine wine. Van Gaal rarely shared the enjoyment of a drink with any manager last year, so he must have really enjoyed what the Baggies boss had to say. 
Bastian Schweinsteiger
Van Gaal: "Bastian is, of course, no stranger to me. I worked with him during my time at Bayern Munich and I am truly delighted he is joining Manchester United."
Van Gaal holds responsibility over Schweinsteiger's reputation of being a world class central midfielder. When managing Bayern, the Dutchman retuned the Germany international from wideman to a midfield dominator, showing him the way to dictating play and showing his authority on the game. With this type of restructuring, Schweinsteiger developed into the world class midfielder that Van Gaal had envisaged. 
Read on for Louis' foes... of which there are many
Foes of LVG...
Zlatan Ibrahimovic
Zlatan Ibrahimovic: "Van Gaal was a pompous arse. He was like a little Co Adriaanse. He wanted to be a dictator, without a hint of a gleam in his eye."
It's not rocket science to understand that Ibrahimovic is a colourful character with strong opinions that rarely matches others'. Just like Van Gaal. So it was perhaps no surprise that the two of them didn't see eye-to-eye at Ajax. Ibra claims that his former manager 'stuck his oar' into a conversation with the Swede and Robert Koeman when discussing the prolific forward's performances.
According to Zlatan, the striker was accused of purposefully trying to injure Rafael van der Vaart during an international match between Sweden and Holland by the Dutch boss – something that he didn't take lightly. The feud ended with Van Gaal telling Ibrahimovic: "I am the dictator here."
Rivaldo
Rivaldo: "I don't like Van Gaal, and I am sure that he doesn't like me either."
Van Gaal: "I like the Rivaldo from before he won the Ballon d'Or, in 1999. I loved that Rivaldo. I liked him a lot, because he was the best. But from that moment onwards, he couldn't handle the new situation."
Van Gaal's time at Barcelona was troubled. Players at the Catalan side regularly fell out with Dutchman... or vice-versa. In 1999, his latest victim was none other than Brazil's most worshipped superstar, Rivaldo.
The former Barcelona striker had just won the World Cup with his country and returned to be treated with less than the perceived respect he wished for. Rivaldo left Barça soon after – much to the dismay of the club president – and joined Milan, who won the Champions League later that year. Rivaldo thought Van Gaal's negative energy towards him stemmed from jealousy that the Brazilian had won the World Cup. 
It is widely thought that Van Gaal's apparent distaste for Brazilian players stems from his relationship with Rivaldo. Coincidentally, the Manchester United manager has also let Rafael, another Brazilian and United fan favourite, leave the club this summer for French side Lyon. 
Franck Ribery
Ribery: "The first contact with him [LvG] was poisoned. Van Gaal was a bad man. I cannot say that I have much fun with him or that I have a special relationship with him. Our relationship was crushed."
Although Ribery praised the Dutchman's strategies on the field and said that he can do great things off it, there was a whole different story. Van Gaal took over at Bayern in 2009, and within a couple of months, caused a stir with the France international. Ribery claims Van Gaal and he had 'problems on a human basis' and admitted that he wanted to leave while he was in charge. 
Lucio
Lucio: "Van Gaal hurt me more than anyone else in football."
The former Bayern centre-back was sold by Van Gaal in the first summer he took charge of the Bavarians. A move to Inter was arranged, which didn't end well for King Louis when the Brazilian helped to defeat Van Gaal's Munich in the 2010 Champions League Final. Another Brazilian, another falling-out. Lucio explained that Van Gaal "treated me disrespectfully". In truth, perhaps Van Gaal didn't do much wrong here: he simply sold a player he thought was surplus to requirements and Lucio obviously didn't agree. 
Giovanni
Giovanni: "Van Gaal is the Hitler of the Brazilian players; he is arrogant, proud and has a problem. He knows nothing about football."
The most aggressive and puncturing quotes out of the lot. When Van Gaal took over Barcelona in 1997, he relegated Giovanni to a bit-part player who would rarely feature week in, week out. The former Copa América winner claimed Van Gaal didn't get on well with Barcelona's samba stars and was "always trying to find an excuse that we [Brazilians] were not training well".
Luca Toni
Luca Toni: "Van Gaal simply didn't want to work with me. He treats players like interchangeable objects."
The Italian striker joined Bayern in 2007 from Fiorentina, and in his first season at his new club finished as top scorer with 24 in 31 games. Everything was smooth sailing; Bayern were winning trophies. That was, of course, until Van Gaal took the helm. Under the Dutchman, Toni only made four appearances in 2009/10 and the following may now seem predictable: he left for Roma in search of appreciation elsewhere. 
The Barcelona media in general
Van Gaal: "You're very bad! Saying I broke my pact with Rivaldo? I never broke my pact. You're very bad. Very, very bad. No, no, no, you're very bad. Very bad! ALWAYS negative. NEVER positive. ALWAYS negative."
To say that Van Gaal and the media don't get along would be an understatement... especially those of Catalonian persuasion. The biggest outburst of Van Gaal's at Barca was aimed at a fellow countryman, a Dutch journalist. After insinuating that Louis had lost the dressing room and broke an agreement by expressing why he dropped Rivaldo, Van Gaal's iron heart was most on show. Ears ringing, smoke pouring out and with a scornful look that you don't want to be on the receiving end of, the Dutchman erupted.
Victor Valdes 
Van Gaal: "He doesn't follow our philosophy. There is no place for someone like that. For example, he refused last season to play in the second team."
Van Gaal found a victim in Manchester fairly easily. The reason: well, that's rather unclear. Van Gaal professes that it was because of the Spaniard's reluctance to play in reserve games, yet Valdes responded via Twitter by claiming he did all that was required of him.
Things exploded on United's pre-season tour in America, with the worst yet to come. When Louis and the rest of the team got back to Manchester, the United manager reportedly emptied Valdes's locker and threw his kit in with the reserves which, incidentally, upset fellow Spaniards Juan Mata and Ander Herrera. The shot-stopper has somehow remained with the Red Devils, though his days seem numbered.
Hristo Stoichkov 
Hristo Stoichkov: "[Van Gaal] makes the players suffer, as he was such a mediocre player himself. He is destroying all the players, as he is so mediocre – look at the players who have left because of him. First he destroyed Barcelona in that era, then it takes many years to rebuild."
Speaking about the future of Barcelona forward Pedro, Hristo Stoichkov urged the Spaniard not to join United while Van Gaal was in charge. The former Bulgaria international labelled the Dutchman as 'scum' earlier in the year and said he would "never be under the orders" of him. Louis trained Stoichkov in the '90s when at Barcelona, and quite clearly, they didn't get on. So badly, in fact, that the former Ballon d'Or winner felt the need to urge Pedro against heading to Manchester. 
Albert Celades
Van Gaal: "You [Albert Celades] aren't sharp! You aren't sharp!" mocked the Dutchman to his player's face. "You have to work, too! I've read the press!"
Meet Albert Celades, a product of Barcelona's famous youth academy at La Masia, who was destined for greatness. That was before Van Gaal sold him after another 'incident'. Funnily enough, the manager didn't take Celades's subsequent comments to the media lightly. The former Barcelona midfielder told local media that he was struggling to find match sharpness due to inconsistent playing time, much to the former Barça boss's disgust. Celades didn't end up too badly, though, as he found himself at Real Madrid a year later and went on to win the Champions League, UEFA Super Cup and La Liga twice. 
Ronald Koeman
Koeman: "We had some problems in the relation between his job and my job. First he left Ajax and after three-and-a-half years I left too. It was difficult because it was a problem in the relation in football. But you know, if there is a problem in football relations then there is also a problem outside of football. Never more was there the contact that we had before. Sometimes a little bit fighting [dispute] between each other."
Van Gaal: "Top coaches immerse themselves in other disciplines, but not Koeman. What the farmer doesn't know, he doesn't eat."
Having already worked together at Barcelona, where Van Gaal was coach and Koeman his assistant, the pair joined forces again in 2004 at Ajax. This time, however, Louis took up a director of football role while Koeman was charged with leading the team day-to-day. But from the off, Van Gaal began to meddle with the first tean – which in turn angered Koeman. At training, the former would sit on a chair and observe training, applauding the players he rated. Then he arranged meetings to discuss tactics.
Then he sold Zlatan Ibrahimovic. Then he grumbled about not playing 'the Ajax way'. Koeman, furious, demanded the board do something about his superior's antics... and so they did, sacking him. But Koeman didn't last much longer, and left under a cloud in February 2005.
FEATURE Louis van Gaal vs Ronald Koeman: a history of Dutch beef and bickering
Quizzes, features and footballing fun
Get the best features, fun and footballing frolics straight to your inbox every week.
Thank you for signing up to Four Four Two. You will receive a verification email shortly.
There was a problem. Please refresh the page and try again.