Louis van Gaal vs Ronald Koeman: a history of Dutch beef and bickering
Elko Born explains the long-standing rivalry between the Premier League's managerial duo...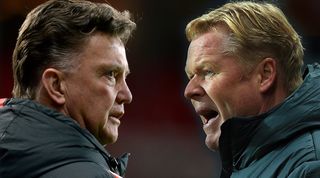 When Southampton travel to Manchester United in the Premier League on Saturday, there'll be much more than the result at stake. Quite apart from what will happen on the pitch, the two managers will undoubtedly have their mind on another matter. You see, Louis van Gaal and Ronald Koeman locked horns long before last season. The two Dutchmen have been in battle before, and it's safe to say it didn't end without bloodshed.
Who's the boss?
Having previously worked together at Barcelona, where Van Gaal was coach and Koeman his assistant, the pair linked up again in 2004 at Dutch giants Ajax. At first, the arrangement seemed clear: Koeman was manager, Van Gaal was director of football. This meant Koeman had to handle all matters connected to the first team, like any manager would, while Van Gaal had to interact with scouts and attract new players. That way, Koeman could to focus on matches without having to worry about transfers. Simple, right?
Not to Van Gaal. The now-Manchester United manager has always been a bit of a control freak, and his stint as director of football at Ajax was no different. Almost immediately, Van Gaal started meddling with Koeman's business and interfering with the first team. These interferences soon started to get on the manager's nerves.
As Koeman explains in his self-titled biography, at every training session Van Gaal would take a chair from his office and take a seat right next to the training pitch. There, he'd sit and judge the players Koeman was coaching. On a few occasions, the director of football would start applauding the players he liked most.
Koeman was irritated. After all, he was Ajax's manager. As director of football, Van Gaal was there to help him, not to undermine his authority in front of his own players. Concluding transfers and making deals in the boardroom, that was Van Gaal's job. He wasn't supposed to stick his nose into Koeman's training methods.
But that wasn't all. Things went from bad to worse when Van Gaal started arranging meetings with Koeman to discuss tactics. Again, Koeman felt like Van Gaal was undermining his authority. Why was Van Gaal trying to tell him what to do? Wasn't he the manager, and wasn't he the one calling the shots when it came to tactics?
The sale of Zlatan
Then there was the small matter of Zlatan Ibrahimovic. The star striker, who had been brought in by Van Gaal's predecessor, had made a name for himself by tearing up the Dutch Eredivisie for Ajax. He also made an impression during Ajax's Champions League campaigns, so in the summer of 2004, it was obvious big clubs were going to make bids for him. Koeman, however, was determined to hold on to the Swedish star.
Much to the manager's horror, Van Gaal seemed to think otherwise, and on transfer deadline day the director of football accepted a bid from Juventus. Zlatan was off, and because the transfer window was about to shut, Koeman had no time to buy a replacement.
Koeman was livid. Sure, it was Van Gaal's job to handle the transfers. But to sell Ajax's star player on deadline day without consulting the first team's manager? Who was going to replace Zlatan? Who was going to score the goals for him now? How was Koeman supposed to improve Ajax now they'd lost their best player?
RECOMMENDED Fight Club: Zlatan's bonkers time at Ajax (featuring scissors and leg-breakers)
Him or me!
Koeman and Van Gaal's rivalry reached boiling point when the latter proclaimed publicly that Ajax were no longer playing 'in the Ajax way' (these days Van Gaal must just be rewriting 'the Manchester United way'). At the Amsterdam-based club, where there's constant pressure from fans and club legends like Johan Cruyff to retain an attacking philosophy in the tradition of Total Football, this must have felt like a stab in the back for Koeman. Furiously, he demanded the board of directors take action.
And so they did. Soon after this final humiliation, the board listened to Koeman and sacked Van Gaal. Maybe the rivalry had taken its toll on Koeman as well, because after Van Gaal's departure, Ajax's performances started to drop. In February 2005, the board was forced to sack Koeman too. Suddenly, Ajax were without Van Gaal, Koeman or Zlatan. It had ended in a bloodbath.
Ever since their hectic time at Ajax, Koeman and Van Gaal have never reconciled. As Manchester United and Southampton do battle again, both managers will surely give it their all to get one over on their rival, and show the world who knows best once and for all.
This won't just be about football. This will be personal.
RECOMMENDED
Thank you for reading 5 articles this month* Join now for unlimited access
Enjoy your first month for just £1 / $1 / €1
*Read 5 free articles per month without a subscription
Join now for unlimited access
Try first month for just £1 / $1 / €1
Get FourFourTwo Newsletter
The best features, fun and footballing quizzes, straight to your inbox every week.