Manchester City team-mates not sure Sterling's disguise will work
The former Liverpool man is insisting that angry fans won't recognise him, Back of the Net can reveal...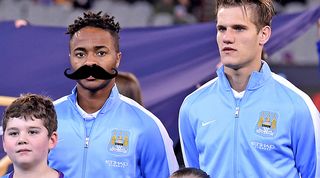 Raheem Sterling seems unconcerned about facing Liverpool, but team-mates have revealed that his confidence may be ill-founded.
The England international upset many as he pushed to join Manchester City in the summer, illustrating his point by burning a Liverpool shirt on the sidelines during games and writing a personally insulting letter to each and every fan in the Kop.
But the Reds visit the Etihad Stadium this weekend and Sterling has been forced to take radical measures to avoid repercussions.
"Raheem came into the dressing room looking like he'd seen a ghost," Joe Hart told FFT. "He told us that we were playing Liverpool next, and then suggested that the chances of that were a million to one.
"While we were on England duty he kept retiring to his hotel room. We thought he'd made his money bed again, but we could hear the unmistakeable sound of handicrafts.
"Then yesterday Raheem turned up for training with a crudely fashioned fake moustache sellotaped to his lip, and a pointy paper nose that almost immediately fell off.
Braheem
"When we asked what he was doing he put on this odd voice and tried to pretend he had no idea who Raheem Sterling was," said City captain Vincent Kompany. 
"He insisted he was actually a new signing called 'Braheem Berling'. I was disappointed that was all he could come up with after a week of preparing his alias.
"We all made out he'd fooled us, except for Martin Demichelis who genuinely didn't seem to know who he was, but I'm frankly quite worried if this is his plan to avoid being booed." 
However, Sterling will be heartened by team-mate Fabian Delph, who was unrecognisable to Aston Villa fans without the look of haunted frustration and frequent exasperated gestures that marked his time at Villa Park.
Quizzes, features and footballing fun
Get the best features, fun and footballing frolics straight to your inbox every week.
Thank you for signing up to Four Four Two. You will receive a verification email shortly.
There was a problem. Please refresh the page and try again.