Marko Pjaca: Why Croatia's gem is luring Liverpool into a European tug-of-war
The 21-year-old Dinamo Zagreb midfielder shone for his country before they were knocked out of Euro 2016 – and now there's no shortage of interest, writes Nemanja Grbic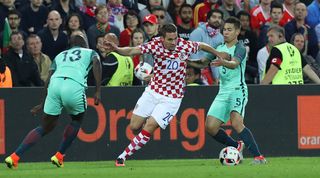 The 60-second story
Croatia won many hearts with some impressive performances at Euro 2016, and were largely considered dark horses of the tournament after topping their group ahead of Spain.
They were eliminated by Portugal in the last 16 deep into extra time, but despite the disappointing exit, one player who will bear the fruits of their shortened campaign is Marko Pjaca.
FACT FILE
Born: May 6, 1995
Place of birth: Zagreb, Croatia
Height: 6ft 1in
Position: Winger
Current club: Dinamo Zagreb
Former clubs: ZET, NK Lokomotiva
The Dinamo Zagreb winger has been on the radars of many big clubs across Europe for some time now, but after his displays in France the race for his signature has intensified. The likes of Milan, Liverpool, Tottenham, Inter, Juventus and Napoli have all been linked with the youngster, the latter having made a joint £29m bid for Pjaca and his 20-year-old international team-mate Marko Rog.
Why you need to know him
Born and raised to a judo state champion mother and former wrestler father, Pjaca grew up with two sisters in Zagreb and quickly realised that he wouldn't follow the footsteps of his parents.
"They were never disappointed that I didn't choose some of the martial arts they were good at, even though those were the expectations of many people around me," the attacking midfielder revealed. "I always wanted to be a footballer. Nobody knows who the best wrestler in the world is. In football things aren't like that – everybody knows who the best are and half the world knows the good ones. My parents understood this."
Pjaca made his choice and became one of the many promising and talented footballers to come through the ranks of Dinamo Zagreb, succeeding the likes of Mateo Kovacic, Luka Modric, Vedran Corluka, Dejan Lovren, Alen Halilovic, Milan Badelj and Sime Vrsaljko.
Despite spending five years at Dinamo's academy between 2004 and 2009, though, Pjaca had to take a couple of detours before breaking through at Croatia's most successful club. He returned to ZET, the club at which he kicked a ball for the very first time.
"I didn't want to sit on the bench," Pjaca recalled. "When I found myself in such situation at Dinamo, I decided to return to ZET. There I could play and continue my development. I was thinking then and I am thinking the same now, it is better for me to play in a smaller team than warming the bench in a bigger and more famous club."
After ZET he moved to NK Lokomotiva, making his professional debut for them in 2012. Over the course of the next two seasons he made 51 appearances for them and netted nine goals, before finally returning to Dinamo in the summer of 2014.
It was a comeback he'd have wished for: Pjaca netted in his first two matches for Dinamo, kept improving and soon cemented his place in their starting lineup. He became one of the team's key figures.
Whispers of a new Croatian gem emerging became more frequent after Pjaca dazzled against Celtic in the Europa League. The young winger was a menace for the Scottish side, constantly tormenting them with his electric pace, skills and a devastating hat-trick.
"I'm not a modest guy, but I have to admit that I surprised even myself tonight by scoring three goals in a Europa League game," Pjaca said after the game.
Pjaca seals his hat-trick against Celtic
In his two full seasons so far at Dinamo, Pjaca appeared in 60 games and netted 26 goals for them in all competitions. His undeniable talent didn't go unnoticed by Croatia head coach Ante Cacic, who gave him a first chance to represent his country in September 2014 against Cyprus. There will be plenty more to come.
Strengths
Pjaca likes to cut inside onto his stronger foot in search of space to get a shot on target, or to create other possibilities for himself and his team-mates.
Blessed with neat technique and capable of quickly changing direction when in possession, Pjaca can be a real nightmare for opposition defences with his fast and direct runs. He likes to take responsibility and is usually brimming with confidence, always looking for the ball and a way to make a difference.
In the final Group D match against Spain at Euro 2016, Pjaca showed his fearlessness against the reigning champions by completing seven dribbles in a standout display.
The youngster has also showed he's capable of making timely and intelligent runs behind the defensive lines, and his future team-mates should take notice of the quality he possesses here.
As if that wasn't enough, Pjaca is a strong player who stands tall at 6ft 1in, which separates him from many other wingers. With that kind of physique, most lightweight full-backs are often at a disadvantage against him.
Pjaca can also trouble keepers with shots from distance, but he still needs to work on his precision.
Weaknesses
Pjaca is fairly a selfish player. He is often too focused on creating an opportunity for himself by trying to take on an opponent instead of attempting a one-two combination with a team-mate, or choosing a simpler solution. As such, it leads to him being accused of making some poor decisions on the pitch.
Even though he is regarded as a versatile player, Pjaca's best position is on the left wing, though he can impress on the right too. He was also used often as a No.10 or second striker, but it was evident that his positioning and passing weren't imaginative enough to play in those positions.
Pjaca should also look to improve his aerial ability too, as he has the height and required strength to pose a threat from that area.
Croatia's top flight can't be rated among the better ones in Europe either, and Dinamo have dominated it for years, but Pjaca still isn't consistent enough. He's still young, however, and would benefit from some top coaching in future.
Did you know?
Pjaca sends his wage to his parents.
"I give all of my money to my parents as I don't have a 'big appetite', not even for my one and only weakness – cars," he shrugged.
His idol, meanwhile, is Ronaldinho. "He played real football," said Pjaca. "His style was recognisable and he played it with a smile on his face. That should be the sheer essence of this sport."
They said...
Following Bayern Munich's 2-0 victory over Dinamo Zagreb in the Champions League last season, Pep Guardiola took a moment to praise Pjaca, labelling him an "exceptional talent" and that he has no doubt a "big career" awaits the youngster.
Not bad, eh?
MORE FFT FEATURES
5 reasons why it has all gone wrong for Ronaldo at Euro 2016
Antonio Sanabria: The Tottenham-targeted Paraguayan who turned his back on Barcelona
What happens next?
Pjaca is definitely leaving Dinamo this summer and that has alerted many clubs in Europe, especially in Serie A and the Premier League. Milan, Fiorentina and Juventus have been tracking him for a long time, but many other clubs including Liverpool have joined the race for his signature according to various reports.
Pjaca is an incredibly gifted player with plenty of room to develop further, and any club that eventually signs him will have a real gem in their ranks.
More features every day on FFT.com • Football's hottest prospects scouted
Thank you for reading 5 articles this month* Join now for unlimited access
Enjoy your first month for just £1 / $1 / €1
*Read 5 free articles per month without a subscription
Join now for unlimited access
Try first month for just £1 / $1 / €1
Get FourFourTwo Newsletter
The best features, fun and footballing quizzes, straight to your inbox every week.