Antonio Sanabria: The Tottenham-targeted Paraguayan who turned his back on Barcelona
Having broken several La Liga records last term, Antonio Sanabria is raising the roof of his potential. David Cartlidge gives you the lowdown on Paraguay's hottest new prospect…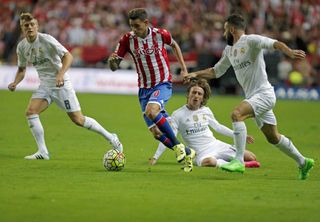 The 60-second story
FACT FILE
Born: San Lorenzo, Paraguay
Place of birth: March 4, 1996
Height: 5ft 11in
Position: Striker
Current club: Roma
Former clubs: Barcelona B, Sassuolo, Sporting Gijon (loan)
International: Paraguay (6 caps, 0 goals)
Few have the audacity to walk away from Barcelona, but one of those is Antonio 'Tonny' Sanabria. Scooped up by the club at just 13 years old after moving from his native Paraguay, Sanabria took up his development at La Masia a year later following time with Sitges-based club La Blanca Subur CF.
Upon arriving at La Masia, he carved out a fierce reputation as a player set to break the mould at the famous youth academy. In a system that churns out midfielder after midfielder, Sanabria established himself as one of the most exciting striking prospects to come out of the club.
He became a prominent feature at Juvenil A level, before landing a call-up to first-team training on numerous occasions when Barça were being guided by the late Tito Vilanova. A move to the B team followed, but after limited opportunities Sanabria decided it was time to leave.
The Premier League inevitably came calling but Sanabria was enticed by a move to Serie A, where he joined Sassuolo until the end of the season before completing a move to Roma. However, it wasn't until his loan to Sporting Gijon last season that Sanabria truly showed his potential, hammering in 11 goals to help the club retain their La Liga status.
Why you need to know him
Last season Sanabria was one of the youngest player in Europe's top five leagues to register more than 10 goals. It's an impressive feat in isolation, but even more so considering the 20-year-old has rarely been looked at as a traditional goalscoring striker.
His 11 goals over the course of the season meant he became only the third player under 20 to score more than 10 in a season – the other two being Sergio Aguero and Lionel Messi. Sanabria scored at least four more goals than the next U21 player in La Liga last season too, and showed an uncanny talent for taking any chances that fell his way.
Take his hat-trick against Las Palmas in August for instance, when he scored three goals from just four shots. In turn he became Sporting's youngest-ever hat-trick scorer in history, while also becoming the fourth-youngest scorer of a hat-trick in La Liga at just 19 years and 277 days. Not content with that, he went and bagged another in January.
Strengths
Sanabria's 2015/16 La Liga
Appearances: 29
Minutes: 2,265
Goals: 11
Assists: 1
Man of the Match awards: 3
His impressive eye for goal stood out in 2015/16. With Sanabria offered few chances in a relegation-threatened team, the Paraguayan looked to make the best of what he was afforded. Sanabria's season tally of 11 goals came despite his average shots-per-game count of 1.7.
Of the players to have scored more than 10 goals in Europe's top five leagues this season, his conversion rate of 37% was the best. His ability to position himself correctly, and arrive in the right place at the right time, was vital in Sporting's survival bid.
While Sanabria's goals came in gluts as opposed to spread out, he remained a threatening presence in attack. His movement is particularly sharp off the frontline, as he makes dashes into the penalty area but can also drive in from wide areas.
Sanabria is blessed with the instincts of a predator in the penalty area. He can play off the shoulder of a defender or look to latch onto through balls, but he's also got natural poaching instincts. If there's a rebound to be snaffled, or a loose ball in the box, you can count on the young striker to sniff it out. With continued progress, he could develop into the next lethal South American striker in Europe.
Weaknesses
While being just 5ft 11in, and from South America, you'd perhaps think Sanabria to be bundle of skill and explosive pace. He doesn't pack either – instead he's a direct player who does the simple things well. His build-up play needs work, however, as he can become isolated from play too much.
Sporting have certainly shaped him for the better, teaching him the values of teamwork and unselfish play, but he still needs to learn how to hold up the ball more efficiently and when to use wide areas to his advantage. Sanabria has the ability to stretch defences on his day, but can often get jammed in central areas as he's so desperate to score.
Positively, though, Sanabria showed an even better attitude to these aspects of his play as the season went on for Sporting. With the right coach, he could add a lot more to his already-impressive game.
They said…
"I believe that Tony has a brilliant future. Along with Leandro Paredes, they have something more than others and I am convinced that they can have a bright future." – Francesco Totti
"He's a player that can offer brilliance, and in the last 30 metres that can make all the difference. However, he must learn to work as part of a team." – Rudi Garcia.
Did you know?
In 2013 he made his international debut for Paraguay, replacing an icon and the man many envision him succeeding as the nation's talisman: Roque Santa Cruz. At 17 years and five months he became his country's second-youngest player, coming on against Germany.
Sanabria also replaced a famous name on his Roma debut, leaving the bench for none other than Totti.
What happens next?
After featuring for Paraguay at the Copa America, attention now turns back to club future for Sanabria. It's a key moment for him this summer, especially considering he has declared it a dream to play in Serie A. Now officially back as a Roma player, a decision needs to be made as to where is the best place for the next stage of his development.
A Barça return has been mentioned along with a Roma stay, while suitors from the Premier League include Spurs, who have allegedly been told to up their £11 million offer. One club that can be ruled out is Rubin Kazan, who Sanabria has already rejected this summer.
Thank you for reading 5 articles this month* Join now for unlimited access
Enjoy your first month for just £1 / $1 / €1
*Read 5 free articles per month without a subscription
Join now for unlimited access
Try first month for just £1 / $1 / €1