Meet the miraculous Bundesliga table-toppers with no money and an ex-con star
Newly promoted Paderborn lead the way after four games ahead of Tuesday's trip to face Bayern Munich the Allianz Arena – but that's only the tip of the iceberg, writes Archie Rhind-Tutt...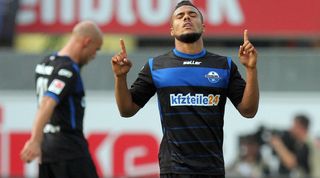 They lack a proper training ground, they don't have a scouting department and celebrated their first top-flight victory by going for burgers and chips. SC Paderborn 07 may sound budget on a few levels, but in their first-ever season at the highest level of German football, the newly promoted minnows top the Bundesliga after four games.
"This only happens once in a lifetime," chimed coach André Breitenreiter after Saturday's 2-0 win over Hannover took them to the summit. It's a miraculous rise for Breitenreiter too, given that 16 months ago he was still in his first senior coaching role at fourth division side TSV Havelse.
You can also apply that once-in-a-lifetime notion to the goal scored by Moritz Stoppelkamp on Saturday. With Paderborn 1-0 up in injury-time, the new boys successfully defended a free-kick for which Hannover had sent their goalkeeper upfield. Stoppelkamp – their most expensive summer signing at €700,000 – controlled the ball on his chest.
From just in front of his own penalty area (82 metres from Hannover's goal, to be precise – very nearly 90 yards) he somehow hit home to spark wild scenes inside the Benteler Arena, unsurprisingly the Bundesliga's smallest-ever stadium at 15,000 capacity. Stoppelkamp's effort was officially the longest-range goal in Bundesliga history.
"I didn't know I could hit it that far," said the midfielder, whose goal ensured that Paderborn topped the Bundesliga table on goal difference, unbeaten after four matches.
It is nothing short of astounding – much like the club's position this time last September.
Going there to come back
President Wilfried Finke was fuming. Paderborn, then of the second pision, had lost in the German Cup to FC Saarbrücken, second from bottom of the third tier.
The result cost them around €500,000 in potential TV money. Finke said that full-back and cult hero Daniel Brückner, ever-present in the Bundesliga this season, had played like he was wearing a ballet dress. He spoke of wanting to get rid of eight players after the performance.
That reaction was mirrored by coach Breitenreiter, who criticised his squad in a post on Facebook calling for a strong reaction in their next game. Paderborn went on to lose 3-0 at home to Union Berlin, meaning nine games in they were third from bottom in 16th place. Bild called it a crisis.
Six months down the line, however, striker Mahir Saglik was calling it the turning point. By May, he was proved right as they went on to gain promotion.
It was fitting that Saglik should play such an important role in Paderborn's rise, having been born in the city and begun his career there. In what was his fourth spell at the club, the frontman ended the season as both his club's and the division's top scorer with 15 goals.
You could call it the Alban Meha effect, though. After nine points from nine games, Paderborn's next 25 had brought 53. Albanian midfielder Meha missed all but one of those first nine games, before playing in all but one game in those remaining 25. The Kosovo-born star contributed 12 goals and three assists.
Yet after helping Paderborn reach the Bundesliga, injury has prevented both Saglik and Meha from playing in the two wins and two draws which have sent Breitenreiter's side to the top.
Inside man
Instead, the likes of Stoppelkamp, Elias Kachunga and Süleyman Koç have been the poster boys of Paderborn's sensational start.
Yet Koç wouldn't be playing football now, let alone in the Bundesliga, had he served the full prison sentence he was handed in December 2011: he was put behind bars for three years and nine months for a string of casino robberies.
Former club Babelsberg gave him a second chance upon early release in 2012. Paderborn too were prepared to give him an opportunity, and signed him from the fourth tier this January before Koç helped them kick on for promotion.
On Saturday, he played alongside a man once labelled 'Mini Drogba' for how he idolised the Chelsea striker. But Kachunga is certainly making more of an impact than his idol is in England at the moment; the 22-year-old is Paderborn's top scorer, with goal No.3 coming at the weekend against Hannover. His form also earned him a first call-up to the Germany U21 team earlier this month.
Kachunga's modest tally of six goals in the 2. Bundesliga last season when on loan from Borussia Mönchengladbach now seems all the more curious. Had club legend and first-choice striker Saglik been fit, he wouldn't have even been playing.
Half a world away
On Tuesday he'll be something close to the first name on the teamsheet for Paderborn as they travel to champions Bayern Munich for what Bild are calling "the most unequal top game".
Financially, the two clubs are in different worlds: the entire playing budget for Paderborn, apparently around €15 million, is only marginally more than Bayern stars Franck Ribéry and Mario Götze's reported yearly earnings of €12.5 million. Each.
The table doesn't lie, and Bayern must take Paderborn seriously. Given their sub-standard performance in their 0-0 draw at Hamburg on Saturday – their second draw in four games – Pep Guardiola's side will be hungry for a return to winning ways. But as Breitenreiter says, Paderborn won't be going to the Allianz Arena for photos with Bayern's world champions.
Paderborn striding out as league leaders at the German champions' home will provide quite the image, not least when considering that just a year ago, president Finke was having to offer assurances that Breitenreiter's job was safe. Next came automatic promotion on the second-smallest budget in the second division. Now it's a case of the coach assuring Finke he'll be staying at the club as Paderborn look to stay in the top flight.
Four games into his maiden top-flight voyage, the former Bundesliga striker is unbeaten in his dugout days. Going into the Bayern match, the only thing he's lost since the season began are the wheels to his car (opens in new tab)...
#scp07 Diebe klauten Breitenreiters Autoräder/ Lackschaden , Rahmen verzogen-mehrere tausend Euro Schaden! pic.twitter.com/7JyCLNIPg0
— BILD SC Paderborn (@BILD_Paderborn) September 12, 2014
Thank you for reading 5 articles this month* Join now for unlimited access
Enjoy your first month for just £1 / $1 / €1
*Read 5 free articles per month without a subscription
Join now for unlimited access
Try first month for just £1 / $1 / €1