Mexicans, Kenyan dance and a giant baby: England vs Iran finally kicked off the World Cup 2022 madness
Chris Flanagan was in Doha to see the Three Lions open their World Cup with an emphatic 6-2 triumph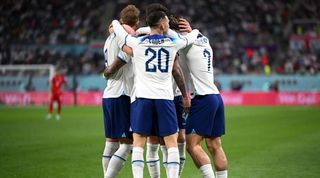 (Image credit: Getty Images)
It was when what sounded like a Mexican mariachi band snaked slowly through passport control that Qatar's border guards knew the World Cup 2022 had arrived.
The bemused look on their faces suggested that this wasn't a usual occurrence in Doha, as scores of sombrero-wearing Central Americans enthusiastically announced their arrival, at 3.30am on a Monday morning. A group of Tunisians followed closely behind, chanting and banging a drum - who knows how they managed to fit that into an overhead locker of the plane.
FourFourTwo had just joined them all on a flight from Cairo, the final leg of our journey from London to the World Cup, in what was less a three-hour flight, more a party at 30,000 feet, as the Mexicans competed with a group of Tunisians for who could sing the loudest, while Brazilians played samba tunes, and Argentines wearing 'Messi 10' shirts joined in wherever they could.
Few events bring the planet together quite like football's biggest tournament, and this is a World Cup unlike any other before. Even before we'd left Heathrow, the sounds of Mariah Carey's All I Want For Christmas Is You playing over the speakers was a stark reminder of that – you tend not to get that sort of thing in June.
This is also the first World Cup where 32 sets of fans are all not just in the same country, but in the same city – as was obvious when FFT departed Doha airport, along a road lined by giant footballers in the colours of each nation, and headed to our overnight accommodation.
It's a village of rows and rows of apartment blocks in Al Janoub, on the very southern outskirts of the city, and it's already teeming with supporters from just about every nation you could imagine, "They only opened this two weeks ago," our Indian taxi driver tells us, before informing us that he'll be supporting Germany at this tournament, still not over England's recent T20 Cricket World Cup semi-final victory over his homeland. "I liked David Beckham before," he adds. "Very good player, very handsome player."
The tap water briefly running yellow might have been an indication of just how new the apartments are, but otherwise they're smart enough and air conditioned, a far cry from the scare stories of the tent village, where the heat inside the tents has been unbearable during the day.
Despite it still being the middle of the night, a call to prayer wafts through the air from the mosque in the middle of this apartment village – a few minutes later, it's Ed Sheeran blaring out from some nearby speakers. Even in the Middle East, there's no escaping him.
After cool overnight temperatures, it's 28 degrees as England's first matchday begins. Underneath a cloudless sky, we head along dusty roads in this spacious city – past many a building adorned with a Qatari flag, and even a 60ft sculpture of a giant baby – to the tournament's central media centre at the Qatar National Convention Centre. France boss Didier Deschamps and skipper Hugo Lloris are in the building, giving their pre-match press conference for Les Bleus' match against Australia tomorrow night.
Then FFT moves onwads to the Khalifa International Stadium, venue for the 2019 World Athletics Championships, where Dina Asher-Smith won 200m gold for Great Britain. The venue's visible for miles around, marked out by the nearby 980ft Aspire Tower.
England fans seem to have arrived from all around the world – a group of Japanese fans sport Three Lions shirts with Kane on the back; even collection of locals sing "It's Coming Home". A few hundred yards further along, for no obvious reason, there's a 'Kenyan Dance' zone, where seven men and women carrying sticks and shields jump around rhythmically to music – until the speakers briefly cut out, they all look around wondering what's happening, the sound quickly returns and they jump straight back into the rhythm. Seamless.
Iranians are here in reasonable numbers, and plenty of England fans too, if not the sort of overwhelming amounts seen at some previous tournaments on foreign soil. Indeed, for a stadium that holds 45,000 people, it's not as busy outside as you would expect – Qatar's opening match defeat to Ecuador probably hasn't done much to maintain enthusiasm among the locals, and they seem in short supply as we head inside the stadium ahead of kick-off.
The top tier remains quite a way short of being full when the teams emerge, even though temperatures are considerably more comfortably inside the stadium than outside, largely thanks to the air con units that line the pitch - it even gets the point where FFT have to put a coat on.
Such temperatures suit England down to the ground - Iran's fans are making a din in the opposite corner of the stadium to the Three Lions fans, even if their team give them precious little to cheer.
A 5-4-1 formation suggests low block, but they forget to do the blocking part of it – England have 83 per cent even before Jude Bellingham, Bukayo Saka and Raheem Sterling hit them with the 1-2-3 combination before half time, again justifying Gareth Southgate's decision to start Saka ahead of Phil Foden, like he did midway through the Euros to superb effect.
England don't usually make opening World Cup fixtures look so easy – when the supporters band strike up with a rendition with Jingle Bells, it adds to the surreal nature of it all. What do Iran really want as they trudged off at 3-0 down at half time, then? A fancy lights show from the stadium floodlights, of course – and that's what they get, as darkness falls in Doha.
Boss Carlos Queiroz at least responds in the way any manager who needs a goal (or three) should react, by bringing on a bloke called Gholizadeh, to add to pleasingly-named substitute goalkeeper Hossein Hosseini introduced early in the first half, after a head injury to Alireza Beiranvand prompted the world's longest stoppage, at what seemed like 63 hours and 14 minutes.
It doesn't do much good: 19-year-old Bellingham continues to boss the midfield, prompting ever louder chants of 'JUUUUUDE!' from the England support. Saka adds a fourth, while Southgate watches serenely on from the dugout, despite it being the best part of a mile from the pitch, behind a ginormous square technical area that's near enough bigger than the neighbouring state of Bahrain.
Mehdi Taremi's consolation goal arguably draws the biggest roar of the match, as the Iranian fans burst back into voice. When their team surges forward again two minutes later, the excitement and chants of "I-RAN! I-RAN!" are such that anyone would have thought it was next goal wins. Even if it was, it would still be still bad news for them: seconds later, Marcus Rashford comes on; seconds after that, he scores, and the Iran fans are silent once more.
Taremi nets a second from the spot after Jack Grealish makes it 6-1, but even 6-2 is still England's second biggest-ever World Cup win, after the 6-1 triumph against Panama four years ago – little wonder that "Football's Coming Home" gets an airing among the England fans in the closing stages. After England's 4-0 win over Ukraine at Euro 2020, Southgate has now masterminded England's biggest-ever victory at Euros, plus their two biggest victories at a World Cup.
It's proved to be a rather more entertaining match than perhaps many inside the Khalifa International Stadium initially expected – even if eyebrows are raised when a capacity crowd of 45,000 is announced over the PA system. Perhaps some of the empty seats bought their own tickets.
Qatari excitement may not have yet reached fever pitch, but the World Cup has arrived - if this result was anything to go by, so have England.
Thank you for reading 5 articles this month* Join now for unlimited access
Enjoy your first month for just £1 / $1 / €1
*Read 5 free articles per month without a subscription
Join now for unlimited access
Try first month for just £1 / $1 / €1