Míchel Salgado: My Secret Vice
By Nick Moore published
"Surfing is not just a sport but a lifestyle, a mentality, an attitude"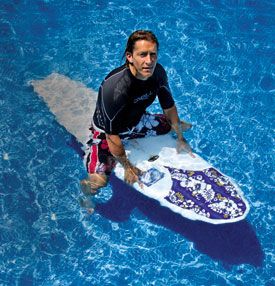 We Galicians have the sea in our blood, so maybe I was destined to end up passionate about surfing, even though I only started a few years ago. When I was a kid growing up in Vigo, there were some great beaches nearby and people did surf there but I never joined them - probably because I was too busy playing football. In life, you're defined by what you do and maybe if I had discovered surfing earlier I would never have been a footballer. And, you know what, I wouldn't have minded at all.
Football gives you very little spare time but one summer, three or four years back, I decided to give surfing a go just across from Vigo in northern Portugal. Even if you're a sportsman and in good condition, surfing is tough and to start with it's not nice at all. In fact, it can be horrible. Your teacher explains how to set up, how to judge the wind, how to chose the right waves, and you try and try and try, really struggling, but still you don't achieve anything. You can be swimming for two hours and only get on the board once, in a tiny bit of surf - not even a wave. But the day you manage it, the feeling is fantastic and you're hooked for life.
It took me three days to get up properly on the board. Not up on a real wave, not even a little one, but the feeling was amazing, truly unique. You climb up on the board, look around and it's just you and the sea. You get a feeling of liberation, of being close to nature. And then when the wave comes and takes you, you get a release of adrenaline, a real rush. All that work, all that effort, all that the time waiting for the right moment, the right wave, and then an explosion of joy.
When you go to a beach and see a guy who really knows what he's doing on the crest of a wave, it's a wonder. I'd love to be able to fly along in the curl of a wave, but there's a long way to go for that. Let's not push it; it's little waves for me still. When you see a wave in a photo you think: "Ah, that's nothing!" But when you're there with your board at water level and you see a wave coming -- even just a small one, say half a metre or a metre -- it looks huge. I've been thrown about a few times, taken some hits, but I'm not at a level where I could do myself real damage yet.
I am improving though. This summer, I was out in Morocco with two English guys and it went really well. I thought I would have forgotten more of it since the last time I had surfed but I managed to pick up from more or less from where I left off. Trouble is, to really progress you need continuity and that's my problem right now: I hardly get any at all. You need to be doing double sessions every day, morning and afternoon, and I can't. Without that intensity, you can't reach the next level. When I retire from football, I'll do that.
I haven't been lucky enough to have been to the very best places to surf but I have been to some nice ones. In Australian there's a shark problem, but it would be fantastic to try surfing there. And in Hawaii, of course.
There are some good ones in England and, although I tend to go to Portugal, there are nice places in Galicia on the north-western coast, near El Ferrol and Santiago de Compostela. Spain's coast is mostly horribly overdeveloped, so Galicia, which has this reputation for raining all the time which simply isn't true, is a welcome change. It's wilder, more natural, and that suits surfers. They like the beaches not to be packed; what they're looking for is tranquillity and a good waves.
When I go surfing, no one talks to me about Real Madrid or football. They might know who I am, but they don't care. Most surfers don't even like football. I thought some of them might not accept me, that they might think, "here comes that show-off footballer", but actually they've really tried to help me learn. I like the fact that the relationship is very natural: once you're out there, football doesn't count. The only thing that counts is the water. They talk about the beach, the waves, the wind, anything but football.
Football and surfing are completely different worlds. Sadly, football can be very materialistic: from an early age, you're caught up in this huge business and if you're not intelligent, that can affect you. Surfing is the opposite and that appeals to me. For me, surfing is not just a sport but a lifestyle, a mentality, an attitude and I love that. Even those surfers who want to be professionals don't do it for the money and they're not interested in publicity. They want to be professionals so that they can spend their lives on the sea.
A surfer's life is to jump into their van and answer the call of the waves, to follow nature. Right now I can't do that, but I will. When I retire I'm going to get a van and disappear for six months. I'll rent a house in Hawaii and surf every day; do something really intense, properly go for it.
That's the dream, anyway. I have a family to look after but I'll definitely go somewhere. Take my son surfing, buy a van and go to the Moroccan coast with him; get my wife and kids and go to the Maldives or Hawaii. Get a house right on the beach. Wake up in the morning, run out onto the beach and there's the board, propped up in the sand, waiting for me, ready to go out and catch a wave.
Five Bitching Beaches
Australia
The sharks are a problem but I'd love to visit there.
Maldives
When I retire I'm going to buy a van and take my son surfing there.
Afife, Portugal
My regular haunt – that's where I first learnt the basics.
Morocco
I surfed there last summer and it went really well.
Galicia, Spain
It's got a bad reputation for being too rainy but who cares when you're already wet.
Thank you for reading 5 articles this month* Join now for unlimited access
Enjoy your first month for just £1 / $1 / €1
*Read 5 free articles per month without a subscription
Join now for unlimited access
Try your first month for just £1 / $1 / €1
Quizzes, features and footballing fun
Get the best features, fun and footballing frolics straight to your inbox every week.
Thank you for signing up to Four Four Two. You will receive a verification email shortly.
There was a problem. Please refresh the page and try again.