"My name is Hardlife": How losing my hand didn't stop me being a professional footballer
By Hardlife Zvirekwi published
He may have tackled Sadio Mané, Riyad Mahrez and Mo Salah, but Zimbabwe defender Hardlife Zvirekwi's biggest challenge has come off the pitch. Despite losing his left hand in a car crash, it hasn't ended his career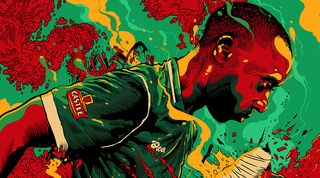 As I was driving back home on the freeway, a car on the other side suddenly swerved across into my lane.
I tried to avoid crashing into it, but then all hell broke loose. My car went off the road and overturned. Everyone outside was screaming, trying to pull me out. My left arm was bleeding and I started to feel a lot of pain.
At the hospital, I was told they would have to amputate the hand. At that moment I could only think, 'But what about my football career?' I thought that was the end – career done. But I was wrong. I got a second chance.
Growing up in a ghetto
My name is Hardlife Zvirekwi – a nod to the difficulty my parents faced while raising me and my siblings.
I was the first born of three boys and two girls, so life for my parents was extremely hard. They always needed to hustle and run around to ensure they could put a roof over our heads, and food on the table. Where I come from in Zimbabwe, it wasn't easy to do that. That's why they called me Hardlife. A few years ago, my mother tried to change my name after finding a new faith, but in the end that didn't happen.
I started playing football when I was young. I grew up in a ghetto where we played on the streets with a ball made out of hard plastic. While I was at school, I got scouted by the Agatha Sheneti Soccer Academy. I graduated through the age groups – from the under-15s to the under-17s, then the under-20s, under-23s and finally to their professional team, Harare United.
After that, when I was waiting to get my A-levels at school, I joined Gunners FC. I think the owner of the club was an Arsenal fan, though I support Manchester United. I had many childhood heroes like Eric Cantona, David Beckham and Wayne Rooney.
At Gunners FC, we got promoted to the Zimbabwe Premier League, then finished 7th in our first season in the top flight. Things just kept getting better and better.
In the second season, in 2009, we won the league. It was a massive achievement, down to sheer determination. We wanted to make sure our rivals knew about us – we wanted them to know we weren't just there for the ride. We were there to win.
Pictures: Aaron Ufumeli
Breaking through
In 2013 I made my debut for Zimbabwe, in a 2-1 victory against Botswana. Then I played against Egypt in a World Cup qualifier, a big match for us. I'm a defender, and I was facing players like Mohamed Aboutrika and Mohamed Salah. When I saw the potential and ability that Salah had, I knew he was destined for great things.
Four years later, I was representing Zimbabwe at the Africa Cup of Nations in Gabon. It was an honour, and such a humbling feeling. It was the first time we'd qualified for 11 years, a historic achievement, and we almost won the first match against Algeria, drawing 2-2 after Riyad Mahrez equalised with eight minutes to go.
Algeria were the best team in Africa at the time. It was a learning experience for us and something we took back to Zimbabwe, having faced players from top level clubs in Europe. We also played Senegal in our group and Sadio Mané scored – he was so fast.
I played around 60 matches for the national team and things were going smoothly. I was enjoying my club career in Zimbabwe – I was the captain of CAPS United, we were crowned champions in 2016 and I was the Zimbabwe Premier League's Player of the Year. I played in the African Champions League against Zamalek of Egypt, USM Alger of Algeria and Al Ahli of Tripoli in Libya, scoring in a 4-2 defeat against the latter. To play in that tournament was a great feeling. My career just kept moving forwards.
SEE ALSO 100 Best Bargains in Premier League History (opens in new tab)
The crash
Then in March 2018, after a Sunday afternoon training session, a friend of mine arranged a small party in downtown Harare. We had grown up together, playing with those plastic balls on the streets, and had both gone on to become professional footballers. Late that night, as I drove home, the accident happened.
I don't remember much about it. The screams of the people outside the car are the only thing I remember clearly. I didn't know the extent of the injury at first. It was about 45 minutes after the accident when the pain in my left arm started to kick in. I was taken to hospital and informed that I needed to undergo surgery. By now it had been nearly 12 hours since the crash.
Amputating my left hand wasn't easy to accept – not for me, nor for those around me, my family and friends. But the doctors explained it was the only thing that could be done at that point to save me. They couldn't save the hand. It had to be done. I thought about my football career and how my daily life would change.
After the surgery, I was thinking about how to adjust and focus on having another business to make a living – being a footballer wasn't guaranteed any more. However, the doctors told me that if I had the will and determination, I could still play on.
Obviously, things had changed forever. I wasn't born this way, with one hand. I was born with two, and I was finding it hard to imagine how different life would be. At first I couldn't do the simplest things, like buttoning my own shirt. There was no other hand to hold the left side of the shirt as I tried to press in the buttons with my right hand. It took me some time to adjust, but now I can do a lot of things. I can even drive around normally again, without any issues.
Back on the pitch
As soon as the doctors said I could still play football in my condition, I was motivated to get back on the pitch. I was passionate about it and felt some sort of force deep inside me, telling me I was able do it. I thought, 'If the doctors believe I'm capable of making a comeback, why shouldn't I? Maybe this is a new beginning being written for me'.
My family and friends have been great. I've had so much support, especially from my two young boys. My team-mates at CAPS United have been really supportive, too. They stood by me and encouraged me to start playing football again.
Even when I wasn't playing, I was still the leader of the team. After my injury, I went to watch every match. I was always doing my best for the team, fulfilling my duties in the dressing room – I was there at kick-off, at half-time and full-time. Even if I wasn't on the field, I could do my job as team leader.
I was looking forward to training again – in fact I was back in action only four weeks after the accident. I didn't return to the pitch straight away, though. At that stage, it was unclear how long I was going to be out for, so the club registered another player in my place. I had to spend a lot of time doing other things in order to play again, such as visiting a therapist regularly and making sure my fitness was at the right level, so I'd be ready when called upon.
It wasn't a walk in the park for me to get back into the starting XI. No manager will donate you game time, even if you've had a terrible accident, and I had to fight my way back into the line-up. You've got to prove yourself, train hard and be brave through it all.
READ THIS NEXT: 8 great players we've all forgotten about
Nothing is impossible
In July I was ready to play, and I remember my first game back so clearly. We were up against Harare City and I came on as a substitute for the last few minutes. It was wonderful – the whole stadium was on their feet, cheering me on. That was emotional and overwhelming.
I was grateful to God for helping me to make this dream come true.
I was eased back into the side. I wouldn't play 90 minutes to begin with, sometimes 45, but I've played several full games now and even scored a couple of goals.
Even with one hand, at the age of 31, I'm convinced I can play at the same level of football as I've always done. I have to soldier on to prove all of my doubters wrong. They will always be there, and that won't end with me. They were there before me and they will be there after me, but I've surprised them by being courageous.
I need to fight and try to inspire other people to do the same. That's the goal. I've been inspired by other athletes, too. Nwankwo Kanu had heart problems, but he overcame them to enjoy a successful career.
I had my faith in God before the accident, and I still do afterwards. If you don't have faith, you don't have anything to believe in. You will never be able to overcome such situations without faith. I had to rely on my faith, despite what happened to me. I had to take the positives from the negative situation I was in, and I had to believe there was a greater power. I couldn't just do that out of the blue.
I got a lot of support after my accident. I inspired many people and that was my aim. If I could dust myself down and get back on my feet, I could also inspire others to recover from whatever negative situation they're facing. I wanted to make history.
My story shows you that nothing is impossible. If you're determined, you can do anything.
Interview: Marwan Saeed • Illustration: Tim McDonagh
This feature originally appeared in the January 2019 issue of FourFourTwo.
Subscribe (opens in new tab)!
Thank you for reading 5 articles this month* Join now for unlimited access
Enjoy your first month for just £1 / $1 / €1
*Read 5 free articles per month without a subscription
Join now for unlimited access
Try first month for just £1 / $1 / €1