Naby Keita's remarkable rise from Lorient reject to Liverpool star
Journeying from Guinea to France as a teenage footballer brought rejections, setbacks and challenges – yet Liverpool's new signing fought through them all, as Michael Yokhin explains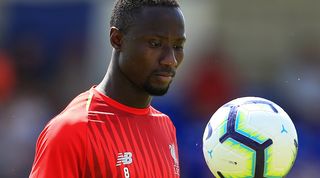 The most remarkable thing about Naby Keita is his versatility. In his case, versatility doesn't mean an ability to fill a number of positions, but rather the difficulty in precisely describing his role on the pitch at all. Keita is everywhere, and he brings diverse qualities to each part of the playing field. He's not a classic box-to-box midfielder, but rather a playmaker, a winger and a destroyer – all at once.
The 23-year-old is a one of a kind street footballer. He never studied at an academy or had any tactical lessons before moving to Europe. In fact, that's why he had significant difficulties in trying to fulfil his dream early on . While his talents with the ball were unmissable (he was nicknamed 'Deco' as a child), some coaches didn't see him as a potential professional because he didn't understand widespread football terms. For the young Naby, those instructional words were a mysterious jargon.
That's what happened when Keita tried to join Lorient as a 16-year-old. His parents were afraid to allow the teenager to make such a long journey, but he had good recommendations. Pascal Feindouno, the Guinea national team's all-time top scorer and Keita's idol, used to play for the French club and told them to check out this sensational prodigy. And yet, he was forced to return home disappointed; Lorient told him that he was not good enough.
The next stop was even more traumatic. Le Mans actually believed in Keita; hardly surprising given their track record in raising African stars, including Didier Drogba. However, just when the midfielder thought that his efforts would finally be rewarded, it turned out that the club was going bankrupt.
Balde to the rescue
Yet Keita refused to give up. He stayed in France to take part in an amateur tournament organised by the former Celtic defender Bobo Balde, who used to represent Guinea even though he was born in Marseille. That connection proved to be crucial. Scouts from side Istres, advised by some Le Mans colleagues, went to witness the youngster and were impressed. Keita was immediately given a three-year contract and started playing for the second-division club in November 2013.
From there, it took him roughly three years (and two moves) to become one of the most talked about and sought-after midfielders in Europe. The rise has been fast, and some of the credit must go to Jerome Leroy.
Relatively unknown outside of France, Leroy is remembered as hot-headed maverick as a player. That's why his career didn't develop as expected at Paris Saint-Germain or Marseille, but Leroy continued playing until the age of 40, and became wiser as time passed. That's why he liked to take debutants under his wing, and Keita – then less than half the age of his new mentor – listened.
"Jerome gave me a lot of advice and taught me that it is necessary to work hard in order to fulfil my potential. I often think about that," Keita remarked after he moved from Istres to Red Bull Salzburg.
Red Bull gives him wings
The Guinean had excelled at tiny Istres, but was unable to prevent them from getting relegated to the third division in 2014. He would probably have stayed otherwise, but now a move was needed. Gerard Houllier came to the rescue. The former Liverpool manager worked as a consultant to the Austrian club at the time, and – having followed Ligue 2 closely – highly recommended Keita.
Unearthing talents at unfashioned clubs is a Red Bull speciality. The group might be criticised for establishing 'artificial' clubs, but their business plan is actually impressive. They give chances to those who might have disappeared in other circumstances. Sadio Mane, signed to Red Bull Salzburg in 2012 from Metz after they too were relegated to the third division in France, is an excellent example.
When Keita joined the Senegalese forward two years later, they became close friends, even though their time together was limited to weeks rather than a full season.
Mane was sold to Southampton, but Keita made it all the way through the Red Bull clubs. His first season at Salzburg was inconsistent because he was positioned too deep, but the second was outstanding, with 12 goals, nine assists and a remarkable defensive contribution. The coaches soon understood that limiting Keita to a strict position is counterproductive. He should use his instincts as a street footballer to pop wherever he likes.
Instant impact
This is exactly how manager Ralph Hasenhuttl used him at RB Leipzig, after Keita was 'promoted' to Red Bull's biggest club in 2016. Initially, he wasn't set to be a certain starter, but the midfielder entered the pitch as a substitute for his debut against Borussia Dortmund – and immediately scored the winner.
Leipzig were a very tactical team under Hasenhuttl, but finding the exact role of Keita was impossible. He was one of the best players in the Bundesliga both as far as dribbling attempts and tackles were concerned. "He does crazy things with the ball at his feet," Hasenhuttl remarked, but some would argue that Keita is even more effective without the ball. That's why almost every top club was linked to the man who suddenly became a superstar.
Liverpool should be delighted that Keita chose the club, because he had his pick of dressing rooms. He chose Anfield for a number of reasons. Firstly, Jurgen Klopp's style most definitely suits him, and he can be certain that he won't be limited with what he's allowed to do on the pitch. Secondly, his father is a die-hard Liverpool fan. Thirdly, Mane remains his favourite playing partner – they refer to each other as "brothers".
Now, he could take the Premier League by storm. On the one hand, Keita is still humble, remembering only too well all the troubles at the start of his career. On the other hand, he is fearless and extremely ambitious. Taking the number eight shirt that belonged to Steven Gerrard shows that he is not afraid to be compared to legends. That's the kind of attitude Liverpool need. They still love street footballers at Anfield.
Quizzes, features and footballing fun
Get the best features, fun and footballing frolics straight to your inbox every week.