Only world's greatest minds can understand Nations League, UEFA confirms
The new UEFA competition is so complex that it requires years of study to gain a basic understanding, Back of the Net reports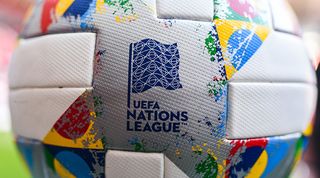 UEFA has reassured fans that the new Nations League should make perfect sense as long as they are willing to dedicate themselves to studying it day and night.
At a press conference designed to launch the tournament, UEFA officials pressed play on a PowerPoint presentation and then sprinted from the room.
Nearly six hours later, shell-shocked journalists left none the wiser but with a weighty reading list ranging from the Rules and Procedure of the UEFA Congress, through to Flann O'Brien's surrealist masterpiece The Third Policeman.
"The Nations League will provide excitement for all, but the more you put in to it, the more you will get back," a UEFA statement to FourFourTwo reads.
"To that end we've produced an introductory 400-page textbook which leads on to Intermediate Nations League, and then the Advanced Nations League tomes, which are available as reference books only from our headquarters in Nyon.
"Anyone who can demonstrate advanced mastery of the Nations League would then be advised to go on a retreat in the mountains with one of the grandmasters, but before anyone does that they should be able to give at least three ways that Gibraltar can qualify for Euro 2020."
Common misconceptions
UEFA have also insisted that the tournament is in no way linked to or based upon the League of Nations, an intergovernmental organisation that set out to prevent war through mediated dispute resolution between 1920 and 1946.
"It's a common misunderstanding," a UEFA statement reads.
"The League of Nations was an ultimately misguided international project that ended up proving unworkable and confusing, so it's nothing like the Nations League."
However, some insiders suggest that even UEFA are scared by the Nations League and are struggling to get a handle on it.
"The truth is that even the world's keenest intellectual minds can only grasp around a tenth of what's going on with the Nations League," a source at UEFA headquarters told FFT.
"They set in motion this format and it's become more and more complex with every passing day. Every time someone from UEFA examines it there are new games between Macedonia and Gibraltar to be played and nobody fully understands why."
England's players will take on Spain to open their inaugural Nations League campaign knowing that a win is important for reasons they will probably never fully comprehend in their lifetimes.
Quizzes, features and footballing fun
Get the best features, fun and footballing frolics straight to your inbox every week.
Thank you for signing up to Four Four Two. You will receive a verification email shortly.
There was a problem. Please refresh the page and try again.