13 Premier League relegation specialists who (apparently) loved going down
The sorry stars who've suffered the drop more times than they care to remember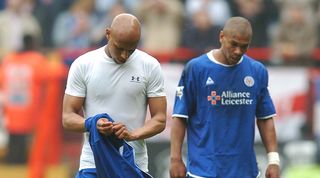 Rob Green
Goalkeeping veteran Rob Green has been relegated with three of the four clubs he's played for. His first fall from grace came with Norwich in 2004/05, before he suffered a similar fate at West Ham in 2010/11 and twice at QPR in 2012/13 and 2014/15.
Green, who will be forever remembered for his infamous clanger against the USA at the 2010 World Cup in South Africa, now plies his trade as Chelsea's third-place goalkeeper. Despite the ill-feeling around Stamford Bridge, he should be safe from such ignominy again.
Hermann Hreidarsson
The imposing Icelandic defender is one of only two players in Premier League history to have been relegated with five different clubs: Crystal Palace, Wimbledon, Ipswich, Charlton and Portsmouth all dropped into English football's second tier while Hreidarsson was on their books.
The 6ft 3in man-mountain, who won 89 caps for his country, now manages Kerala Blasters India after stints with both the men's and women's teams of hometown club Fylkir... who were relegated in his final season. They should have learned.
Nathan Blake
Alongside Hreidarsson, Blake holds the record for the most relegations in Premier League history. The Wales international was first demoted with Sheffield United in 1993/94, then twice at Bolton in 1996 and 1998, at Blackburn Rovers the following season and again at Wolves in 2004.
Blake got on the wrong side of the law by stealing from a fruit machine in his youth, but has been more sensible and successful in his post-football career. He's set up his own property development company and won an award for Best Supporting Actor at Film Fest Cymru for his role in a short film called The Homing Bird. Beats going down to the Championship for a sixth time.
Steven Caulker
Caulker, a product of the Tottenham academy, impressed in his first full Premier League season with Swansea in 2011/12. Since then, though, the centre-back's career has been haunted by personal problems, injuries and more.
His move to Welsh rivals Cardiff City in 2013/14 didn't work out well, as the Bluebirds (then playing in red) dropped down to the second tier. A move to QPR the following season brought the same result. Caulker has subsequently spent time on loan at Southampton and Liverpool, where he was at times used as an emergency striker. He's now at Alanyaspor in Turkey after a successful stint with Dundee.
Curtis Davies
In 2016/17, Davies became the 13th player to feature in at least four Premier League relegation campaigns when sorry Hull suffered the drop.
The centre-back's fine form for Luton had earned him a £3 million move to West Brom in 2005, but a debut year in the top flight ended in relegation. His tour of the West Midlands continued with Birmingham, where he signed in January 2011 and then suffered the drop months later. Hull later brought more of the same – first in 2014/15, and then again two seasons later after the Tigers were promoted straight back up via the play-offs.
Marcus Bent
Before an incident in which Bent received a 12-month suspended jail sentence for remonstrating with police officers while in possession of a meat cleaver, he was a useful centre-forward for top-flight clubs of a certain stature.
Bent scored a total of 40 goals in the Premier League, represented 16 professional clubs across his career – and was relegated on four occasions. Alongside Hreidarsson, the striker went down at both Crystal Palace and Ipswich, before following that up with disappointment at Leicester and Charlton.
David Wetherall
Wetherall's career highlight came in 1999/2000, when his goal proved decisive as Bradford beat Liverpool to remain in the Premier League. But aside from that joyous moment, the new millennium was a nightmare for both the defender and the Bantams.
Wetherall remained a loyal servant at Valley Parade, but the club plummeted from the top tier in 2001 to the fourth in 2007. The centre-back made over 300 appearances for the Yorkshire outfit, briefly becoming caretaker manager in League One when Colin Todd was dismissed. Wetherall, acting as player-manager, was in charge as the club was relegated at that end of that season.
Paul Dougherty
Dougherty has the unenviable record of having been relegated for three seasons in succession while at the same club. The midfielder, who was still in his teens at the time, played sporadically during each of Wolves's plunges down the divisions between 1984 and 1987. He was joined by his team-mate at Wolverhampton Geoffrey Palmer, although the right-back did at least manage to escape for a year on loan at Burnley in 1984/85.
Dougherty spent most of the rest of his career in the US, where he picked up a journeyman tag after playing for 16 different teams.
Paul Garner and Tony Kenworthy
Between 1975 and 1981, Sheffield United fell from Division One to Division Four. Garner and Kenworthy remained at Brammall Lane throughout this period and, remarkably, both helped the Blades back up to Division Two by 1984.
In the 1986/87 season, Kenworthy went close to registering a complete set of three promotions and three relegations. However, United fell from their handsome position of second – which they held at Christmas – to seventh, and narrowly missed out on promotion back to the top flight.
Fabio da Silva
Fabio has failed to beat the drop on three occasions. After suffering his first demotion while on loan at QPR in 2012/13, the former Manchester United full-back suffered the same fate at Cardiff in 2013/14, before again falling into the second tier when Middlesbrough went down in 2016/17.
His twin Rafael has never been relegated and currently plays for Ligue 1 outfit Lyon. Not much of a sibling rivalry there, sadly.
Brad Guzan
The American goalkeeper has a habit of attracting clubs on the verge of becoming embroiled in a relegation battle. Guzan, who was at Aston Villa between 2008 and 2016, spent many of those years flirting with the drop before eventually succumbing to it in 2015/2016.
He followed a similar path with Middlesbrough, before the Teessiders disposed of him to future MLS champs Atlanta United. Way to go, Brad.
Roger Johnson
Veteran centre-half Johnson, who was linked with a shock move to Arsenal in 2010, is another who's struggled to shake the relegation bug.
After demotion with Birmingham in 2011, Johnson's career followed a downward trajectory. The defender suffered a double drop from Premier League to League One with Wolves, then dropped into the Championship with Charlton in 2016/27 after an ill-fated spell at The Valley.
His next club? Bromley in the National League.
Subscribe to FourFourTwo today! 6 issues for £19
Thank you for reading 5 articles this month* Join now for unlimited access
Enjoy your first month for just £1 / $1 / €1
*Read 5 free articles per month without a subscription
Join now for unlimited access
Try first month for just £1 / $1 / €1