A princely endeavour: Meet Chelsea's rising star who's Bruneian royalty
By Gary Koh published
Bruneian football royalty... and he plays for Chelsea's academy too. Gary Koh talks to Brunei U23's Faiq Jefri Bolkiah about getting advice from Mou, helping the Young Wasps at the SEA Games and making it in England...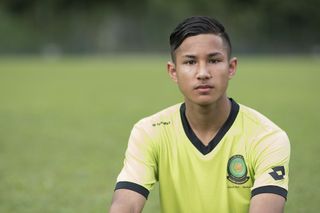 There's something special about Faiq Jefri Bolkiah. Two things in fact.
The unassuming 17-year-old is actually Bruneian royalty, nephew to the country's ruling monarch, Sultan Hassanal Bolkiah. He's also a first-year academy player with Chelsea Under-18s.
The Blues have enjoyed a hugely successful season at youth level, with the kids having scooped the double of an FA Youth Cup and the UEFA Youth League to complement the first team's domestic domination.
Teen dreaming
Now with the Brunei Darussalam national under-23 side, Faiq is looking to help the Tebuan Muda work their way towards the top of the Southeast Asian football ladder.
As they prepare to kick off their SEA Games campaign against Vietnam at Bishan Stadium on Friday, the promising forward told FourFourTwo how success at his club has spurred him to aspire to greater heights for club and country.
"The way Chelsea work as a football club sets a bar for them to go for success in both the senior and youth sides," says Faiq, who featured 13 times and scored two goals for the Junior Blues as the under-18 side finished third overall in the just-concluded FA Premier League Trophy. "I'm always learning about how to improve my game at club, whether it's from my academy coaches or first-team manager Jose Mourinho."
What was it like training with the first team? Turns out there was little time for gawking at the likes of John Terry and Didier Drogba as Faiq worked on his game with Mourinho watching on. The Portuguese tactician even took time to point out areas in his game that needed improvement.
"When our youth team played against the senior team in one instance, Jose pointed out to me that sometimes I was in the wrong position at the wrong time, and how I could improve that," Faiq recalls. "It's a good learning experience to be learning from the senior players in the first team as their tempo and quality are much higher at the elite level."
All those Cobham training sessions and Mourinho's advice seem to have paid off, as Faiq looked a cut above the rest of his team-mates at training this week, holding off markers and placing shots with well-gauged accuracy and power.
Regularly deployed as a winger, Faiq has not only been entrusted to lead the front line as a centre-forward by the Tebuan Muda head coach Stephen Ng, but will also don the captain's armband come Friday.
The youngster looked calm and composed during attacking drills, asking for the ball often and distributing it to wingers Azwan Ali Rahman and Aminuddin Zakir. The latter duo, together with Ak Yura Indera, are from the sultanate's sole professional club, DPMM FC, which is owned by Faiq's cousin Prince Al-Muhtadee Billah, the Crown Prince of Brunei.
Faiq feels the overall improvement Brunei football has made with DPMM and the national team is making the Young Wasps a stronger proposition than their predecessors in previous Games.
"From what I've heard and watched in the DPMM games, the team have improved tremendously under the guidance of Steve Kean," he says. "Having a manager that has experienced the top flight of English football has given the young players in the team a massive boost."
Lethal weapon
Despite Faiq's tender age, his ability to pose a threat in front of goal will likely cause concern for his Group B opponents.
However, he is unfazed by the prospect of being double-teamed and is relishing helping Brunei surprise in the Games even though they're rank outsiders for the tournament.
"With the players we have, we always have a good enough chance as any other team to qualify for the semi-finals," Faiq declares.
"We just need to believe in the plan and play as a team. Our plan is to try to put me up against as few defenders as possible so that I can score goals, as we have two good wingers."
He attributed the ability of the young Bruneians to play as a unit down to the astute guidance of Ng, who was part of the 1994 Malaysia Cup-winning squad with Singapore.
"Stephen conducts good training sessions," says the 17-year-old. "That's in the way he coaches and how the training sessions are set up, not just in football in general but also tactical. He covers everything a good English coach will do."
Looking beyond the Games in Singapore, Faiq wants to eventually establish himself as a good attacking player in an English top-flight club and follow in the footsteps of Singapore football legend Fandi Ahmad, who was and still remains the region's most successful export to Europe. Suffice to say, he's looking forward to pushing his game up another level when he returns to Chelsea for pre-season training.
"My goal is to try to make a regular starting place in a Premier League football team and just get as high as I can get in my football career," he admits. "I'm setting small realistic goals at the moment, slowly and step by step. While I am still young at 17, next season is going to be important for me at the club."
Photos: Weixiang Lim
Thank you for reading 5 articles this month* Join now for unlimited access
Enjoy your first month for just £1 / $1 / €1
*Read 5 free articles per month without a subscription
Join now for unlimited access
Try first month for just £1 / $1 / €1
Quizzes, features and footballing fun
Get the best features, fun and footballing frolics straight to your inbox every week.
Thank you for signing up to Four Four Two. You will receive a verification email shortly.
There was a problem. Please refresh the page and try again.