Rachel Brown-Finnis: "The 1988 Sherpa Van Trophy final was the first ever game I went to…"
Rachel spent 16 years playing for England and was part of the team that reached the Euro 2009 Final. Speaking at the launch of this year's BT Sport Pub Cup, she hails Condoleezza Rice and explains the majesty of Kelly Smith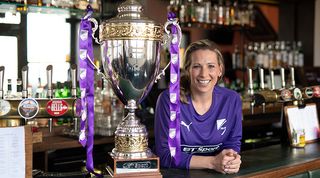 My hero growing up was... Peter Schmeichel. He was the first one I looked up to as a goalkeeper. I've always been a Burnley fan and the first goalkeeper I remember there was Chris Pearce – the 1988 Sherpa Van Trophy final was the first ever game I went to, and he was in goal. I got to meet him a few years ago!
The one thing I would change about football is... Players rolling around. Being involved has always been so exciting, but that's the only thing I don't like, simulation. Boring, get over it, stop doing it.
I knew I'd made it as a player when... Olympics, 2012. Beating Brazil 1-0 at Wembley in front of 80,000 people. That's childhood dream sort of stuff.
The day football broke my heart was... Tearing my cruciate for the first time, because I felt I never quite got back to how I was before that. That broke my heart and kept niggling at me for the next 10 years afterwards.
I've never told anyone this before but... When I was seven, the ball did cross the line in the Cadbury's Mini-Champions Five-a-Side Tournament, and I was adamant that it hadn't! I was a natural-born winner, I couldn't help it. I was too competitive!
If I could have dinner with anyone, it would be... Michelle Obama – her and Condoleezza Rice. My husband's involved in the golf world and Condoleezza has broken down a lot of barriers. I spent time in Alabama in the deep south when I played in America, and I understood that real deep-rooted racism. I think both Michelle and Condoleezza have done a lot to counter that. Condaleeza was the first ever female member at Augusta, and that was a huge step. I'm just really interested in that drive they have, and not accepting that what has always happened is right.
The best player I ever played with was... Kelly Smith, definitely. She was a wizard with that left foot. The first time I played against her, I'd just turned 15 and I didn't know who anyone was. I'd signed for Liverpool and the first game was in August against Arsenal at Anfield.
There was this similarly young girl who'd just started playing; she was 17 or 18. The ball was crossed over and she volleyed it from 23 yards, outside of her left foot into my top-right corner. I was like 'Bloody hell...' Playing against her was always a nightmare but playing with her was unbelievable because she also had that raw fight, grit and nastiness  – you wanted to play with her for England.
The funniest player I ever played with was... Sammy Britton, who I'm still really good friends with. She used to play for England and just used to say anything that no one would say – you'd think, 'Don't say that!' Cringeworthy stuff. Nothing that was ever printable – effing this, effing that and making people feel uncomfortable – but it lightened the mood for everyone.
And also Jill Scott, who's in the current squad – she's similar, although not quite as coarse! Both are still really good friends of mine and I'd always pick them for my team.
Rachel Brown-Finnis will manage one of the teams in the women's tournament at this year's BT Sport Pub Cup. To enter your team into the competition, go to www.btsportbusiness.com/pubcup. Entries close on Sunday, March 31.
Quizzes, features and footballing fun
Get the best features, fun and footballing frolics straight to your inbox every week.