Rafa Benitez's Real Madrid dilemma: how do you get the best out of Toni Kroos?
A year on from the German's domineering display against Brazil at the World Cup, Kiyan Sobhani evaluates how Rafa Benitez can release the shackles imposed by Carlo Ancelotti at the Santiago Bernabeu last season...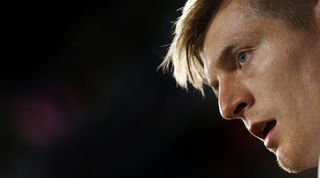 Toni Kroos' first season with Real Madrid (opens in new tab) was hugely understated. Aged 25, the immensely talented German has already won the Champions League and a World Cup, not to mention his various domestic trinkets and individual accolades at youth level.
Pep Guardiola indirectly appointed him the 'Xavi' of Bayern Munich upon his arrival in Bavaria, by assigning him the same role the Spanish wizard played in the Catalonian tactician's system the year before.
In Germany's historic World Cup run last year, there wasn't a single central midfielder who outshone him – even if Javier Mascherano and Paul Pogba were imperious at times. The dismantling of Brazil in Belo Horizonte a year ago to the day was orchestrated by Kroos, the engine and instigator of that historic night.
In that match, Kroos played alongside Sami Khedira and Bastian Schwiensteiger who provided some relief from his defensive duties, which in turn allowed him to pressure high up the pitch. Kroos has a brain that can dissect an opposing defence with quick, intricate passing that's impressive in its simplicity. It's the same simplicity that Xavi and Andrea Pirlo – the best central midfielders of their generation – played with. He, with Luka Modric, forms the glue that holds Real Madrid together and helps ease the transition from midfield to attack in a side riddled with attacking talent. But the burden has been overwhelming.
Looking for Luka
Kroos under Carlo Ancelotti last season was overworked and overplayed; more than 4,500 minutes of football in a position he's unaccustomed to. It was expected that the German would slot into a more advanced role, but the arrival of James Rodriguez and the unexpected – and untimely – departure of Xabi Alonso meant he would have to fill the void as a defensive midfielder.
Under Pep, Kroos gained experience as a deep-lying playmaker, but playing as a lone defensive midfielder is a whole different scenario altogether. It's one that requires a bundle of defensive work and has a cap on how much you can venture forward. Certain teams can get away without fielding a defensive midfielder, as the more traditional 'box-to-box' man gains momentum in today's tactical systems. But in order for that to work, you need to have several central midfielders to clog the middle and distribute the workload.
ALSO ON FFT.COM
For the majority of last season, Real Madrid didn't have such luxuries and Kroos suffered because of it. Asier Illarramendi is fragile and was never trusted, Khedira had little desire to play and Lucas Silva is as raw as they come. This left just one capable midfielder, Modric, who could alleviate the burden on Kroos.
Due to the Croatian's various injuries, the Modric-Kroos pairing was possible only a handful of times. It's no surprise that when they played together, both thrived, Real Madrid looked unstoppable and on course to become the first team to retain the Champions League since Milan kept the European Cup in the late '80s.
Barça-roamer
Los Blancos' best performance of the season was in the first Clasico back in October, where they outplayed and outworked a frustrated Barcelona (opens in new tab) side that had no answers to the relentless pressure and quick, direct football stemming from Real Madrid's midfield. Kroos was everywhere. He completed 56 of his 60 passes; only Andres Iniesta and Dani Alves managed more that night. Iniesta completed 57 of 65; Alves 64 of 67, 63 of which were short passes to either Lionel Messi, Ivan Rakitic, Sergio Busquets or Luis Suarez.
That kind of efficiency from Kroos, though, requires a proper supporting cast. The 25-year-old was surrounded by Modric and Isco, and the former boasted a 100% pass-completion rate.
Both those midfielders were providing easy outlets to Kroos, and also tracking back to help pressure Barcelona's midfield. All three pressed high together, and were always close in proximity to make easy passes to each other. But this was a luxury that Real Madrid didn't often have.
Fast-forward to a big game against Juventus in the Champions League semi-final first leg. Kroos' passing rate remained at a steady 93%, but his makeshift central midfield partner wasn't nearly as helpful as his Croatian counterpart. Sergio Ramos was that man, who completed 84.6% of his efforts.
That doesn't tell much of a story in this case. In that match, Ramos's positioning and movement off the ball weren't conducive to Real Madrid controlling the midfield, and the Spaniards were completely overrun defensively. It's that lack of support which has far too often drilled Kroos straight into the ground, caused fatigue and had fingers pointing at him – unjustly.
Rafa's role
In the 2014/15 season, Real Madrid played seven times against their elite rivals (Barcelona, Atletico Madrid, Valencia, Juventus) and managed to win just two of them, drawing another two.
Such a record is one of the main reasons Ancelotti was sacked, but it points to a deeper issue. In every loss for those big matches, Modric was unavailable and Kroos was overburdened, having to play alongside either Ramos, Illarramendi or Khedira.
Real Madrid's main problem last season was the lack of proper depth at the defensive midfielder position – a problem well out of Ancelotti's control. It's a problem that affects the whole team, starting from central midfield, and stems all the way to the front three of Gareth Bale, Karim Benzema and Cristiano Ronaldo. They can only function well with a working unit behind them – one that's defensively stable and can properly supply them the ball.
ALSO ON FFT.COM
Have Real Madrid recognised this? So far new boss Rafa Benitez has said all the right things, stating that Kroos needs to play in a more advanced role, which requires the purchase of a new defensive midfielder.
Lazio's Lucas Biglia has been touted, but the club is at least taking the right steps to add depth by bringing back Casemiro from his loan spell at Porto – a tough, rugged destroyer who won't back down from a challenge. He's not the most polished midfielder, nor is he known for his football IQ, but a solid player in his position nonetheless. Benitez's next conundrum is who gets dropped to accommodate Kroos' new advanced role. Over to you, Rafa.
Thank you for reading 5 articles this month* Join now for unlimited access
Enjoy your first month for just £1 / $1 / €1
*Read 5 free articles per month without a subscription
Join now for unlimited access
Try first month for just £1 / $1 / €1
Get the FourFourTwo Newsletter
The best features, fun and footballing quizzes, straight to your inbox every week.