Ranked! The 10 biggest howlers of the 2017/18 season
By Jon O'Brien published
Jon O'Brien reviews the campaign's most comical cock-ups, from forgetful keepers and farcical red cards to premature celebrations and pitiful penalties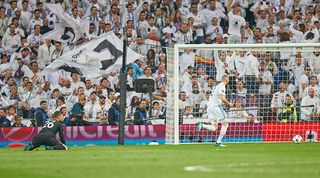 10. Butland's fumble
Jack Butland looked to have charred his chances of a place in England's World Cup starting XI with a nightmare error during Stoke's 1-1 draw with Leicester.
The 25-year-old, competing for the Three Lions' No.1 shirt alongside Jordan Pickford, Joe Hart and Nick Pope, gifted the Foxes an equaliser in February when he parried Marc Albrighton's weak cross into his own net.
He did, however, somewhat redeem himself with a handful of outstanding saves to earn his side a point and remind Gareth Southgate that one howler does not a bad keeper make.
9. Zentner's air kick
A fine trilogy of German keeper blunders began back in October when Mainz shot-stopper Robin Zentner attempted to pass the ball to a nearby team-mate, only to find it had rolled a few yards behind him.
Borussia Monchengladbach's Lars Stindl attempted to capitalise on the footballing equivalent of an air guitar, but Zentner managed to beat him to the ball – which he later admitted he'd confused with the penalty spot.
8. The premature celebration
A cup tie between Thailand's Bangkok Sports Club and Satri Angthong wouldn't typically be a source of worldwide interest.
But thanks to an exhausting penalty shootout, gravity and proof that you should never count your chickens before they hatch, its denouement made headlines across the globe.
Bangkok looked to have missed their 20th spot-kick when the ball bounced off the crossbar and rocketed towards the sky. But as the dejected taker stood motionless and the opposing keeper celebrated wildly, the ball dropped back down to earth and slowly bounced towards the line.
Cue a wild scramble back towards goal from said net-minder – but by then it was too late. And it got worse: Satri Angthong missed their next penalty.
7. You Watt?
From Graham Poll's three yellow card fiasco to Reading's 2008 phantom goal against Watford, referees have been responsible for their fair share of bizarre howlers over the years.
Dean Hulme joined that list in March after giving Hemel Hempstead Town's Sanchez Watt his marching orders – simply for answering his name.
The former Arsenal prospect was doing little more than identifying himself after receiving a booking against East Thurrock United. But in a scene which resembled a Two Ronnies sketch, Hulme mistook his shouts of "Watt" for "what?" and upgraded his yellow to a red for dissent.
Thankfully, the ex-Leeds man's dismissal was quickly rescinded when Hemel Hempstead captain Jordan Parkes helped Hulme realise that Watt isn't a particularly uncommon surname.
6. Morata's triple miss
Roman Abramovich may well have been scrambling around for his receipt after £60m signing Alvaro Morata wasted three glorious opportunities during January's 2-2 draw against Arsenal, in a severe case of the New Year blues.
Each one of the two-time Champions League winner's lame efforts could quite easily feature here, but we've opted for his first one-on-one against Petr Cech in which he hit an advertising hoarding slogan that, appropriately enough, read "a better way to spend money".
At 00:45 seconds in
5. Sterling's sitter
Morata faced stiff competition for the Premier League's miss of the season from Manchester City title-winner Raheem Sterling.
At Turf Moor, the 23-year-old should have put a Man City victory beyond doubt when he found himself in front of an open goal from just four yards out. But the striker lost his nerve and inexplicably fired wide, keeping the scoreline at a narrow 1-0.
A dejected Sterling missed out on the chance to make amends when a ruthless Pep Guardiola substituted him immediately – and to make matters worse, Burnley equalised just moments later.
4. Dodo's pitiful penalty
Brazilian midfielder Dodo almost made Diana Ross look like a spot-kick maestro with a Turkish Cup tie penalty which must surely rank as this season's most pathetic.
The 30-year-old had a golden chance to equalise for second-tier Giresunspor against top-flight Fenerbahçe in the 52nd minute of their fourth-round encounter. But following a run-up slower than a tortoise on Ambien, Dodo hopelessly failed to properly connect with the ball and served up a painfully weak effort which trickled past the wrong side of the post.
It was so bad, in fact, that even one of his opponents offered a reassuring pat on the back.
3. Ulreich's backpass blunder
Perhaps there's something in the German water that's making its league keepers temporarily lose all of their spatial awareness.
Sven Ulreich – who'd otherwise enjoyed a stellar period deputising for the injured Manuel Neuer – was all set to pick up a backpass from Corentin Tolisso during Bayern Munich's Champions League semi-final second leg against Real Madrid before suddenly remembering the rule that had only been in place for the last 26 years.
Instead of surrendering the far better option of an indirect free-kick, the 29-year-old brain-farted and let the ball bypass him completely, allowing Real Madrid's Karim Benzema to score the simplest and most bizarre goal of his career. It gave Madrid a two-goal lead that Bayern couldn't overturn.
2. Ronny Rosenthal tribute
There were definite shades of Rosenthal's legendary 1992 miss against Aston Villa with this epic fail from the Netherlands' fourth tier.
Harkemase Boys' Dennis van Duinen had done all the hard work, latching onto a ball in midfield, outrunning several Capelle players and scrapping beyond the oncoming keeper to present himself with a clear open goal.
However, the 20-year-old then somehow blazed the ball over the bar and into an empty standing area behind the net. To compound Van Duinen's misery, his balls-up appeared to spark Capelle into action – they overturned a two-goal deficit to win the game 3-2.
1. Real-life FIFA glitch
Surely the most surreal incident this season: Dutchman Mark Flekken's moment of madness was akin to a pixelated anomaly on your games console.
The Duisburg keeper hadn't realised that a 'goal' at the other end was disallowed, so turned his back on the game to look for his water bottle – at the exact moment that team-mate Gerrit Nauber attempted to head the ball back to him.
Ingolstadt striker Stefan Kutschke – who just minutes earlier had seen his spot-kick saved by Flekken – was subsequently gifted the easiest goal in 2. Bundesliga history, turning the thirsty keeper into a viral sensation for all the wrong reasons.
Thankfully for the 24-year-old, Duisburg still ran out 2-1 winners. He also managed to see the funny side, auctioning off the offending water bottle for charity.
Now read...
RATED! YOUR Premier League club's best and worst player of 2017/18
RANKED! The 10 best Premier League teams EVER
QUIZ! Can you name the 60 highest-scoring Fantasy Premier League players of 2017/18?
Thank you for reading 5 articles this month* Join now for unlimited access
Enjoy your first month for just £1 / $1 / €1
*Read 5 free articles per month without a subscription
Join now for unlimited access
Try your first month for just £1 / $1 / €1
Quizzes, features and footballing fun
Get the best features, fun and footballing frolics straight to your inbox every week.
Thank you for signing up to Four Four Two. You will receive a verification email shortly.
There was a problem. Please refresh the page and try again.