Review: Championship Manager 17
Notts County fan and video game expert Alex Dale gets to grip with the latest football management edition on mobile…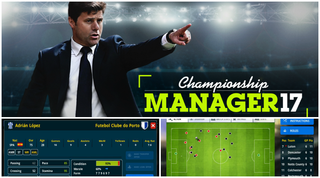 £89 million for Pogba! £45 million for Mane! The Duchy of Luxembourg for Benteke! Top flight managers sure aren't shy when it comes to spending other people's money, are they?
But you have to wonder if they'd have the same cavalier attitude to team building if the chairman told them they had to finance their second-choice left-back from their own bulging off-shore bank accounts. Such is life in Championship Manager 17, a free-to-play management sim where success is largely predicated on your willingness to dig deep into your own pockets.
'Free-to-play', as we know, is often a misnomer. What it tends to mean is 'free-to-start', with the publisher then recouping the cost of making the game by tempting the player into making bite-sized purchases during play that either compliment or expand upon the core experience.
Big spender
Now, there are good ways to do this, and there are bad ways. An example of a good way would be, you deliver a fun game that people like, and then once you've built up a big userbase, you can sell them optional bolt-ons, such as extra leagues or competitions.
But if you fancied going down the bad route, you could, just as an example, devise an in-game currency, purchasable with real-world money, and then make it practically impossible to succeed without getting on first-name terms with your bank manager.
On the scale of good to bad then, Championship Manager 17 weighs in at 'Carlos Tevez'. It is, as much as you could expect on mobile devices, the full-fat footy management experience. The classic 2D match engine is present and correct, there's a pleasing number of leagues and teams to pick from and when it comes to making your team better, there are a wealth of options open to you, from pre-match drills to individual training, to selecting backroom staff, to making big picture decisions about your club's wider strategy, such as deciding whether to invest in youth policies.
There's a problem, though – all of this costs money, and we're not talking about the chairman's. Championship Manager 17 has two in-game currencies that exist side-by-side, and they're used to purchase all of the above 'luxuries'.
Club facilities
Now, it is possible to accrue money organically in play – you get a lump sum after each match completed, plus a bonus amount for completing additional criteria, such as keeping a clean sheet. But these amounts are so paltry compared to the prices quoted, that you begin to wonder if it's trying to sim football management, or getting on the London property ladder. Even if you are willing to splash the case, the pricing is obscene – properly upgrading your training facilities, for instance, can cost over a tenner on its own!
Other upgrades are more insidious, gifting you an instant transfer fund injection or allowing you to do away with the transfer window altogether. I mean, I'm no saint by any means – I hammered the escape button as much as anyone when a play-off final wasn't going my way in the Champ Man 97/98 days. But doesn't the idea of artificially inflating your transfer budget seem a bit hollow to you? Can you really feel satisfaction from building a team through brute financial force rather than quality scouting and wheeling-and-dealing? Wouldn't it be just as satisfying (and a lot more cost-effective) to just shut your eyes and imagine you led Morecambe to the Champions League?
It's not just that Champ Man 17's obsession with nickle and diming the player makes progression a slog – it makes certain things, like player development, feel extremely false and contrived. Take my misfiring star striker, Jon Stead, as an example. Once I'd treated him to a cash injection, as if I were syringing a growth hormone into his thigh or something, suddenly he was rolling back the years (wait – did he have good years to roll back to?) and prancing through the Yeovil defence like he was Maradona in his prime.
Screen play
Even without such acts of self-sabotage, Championship Manager 17 leaves a lot to be desired. The screen simply tries to pack too much information on the screen at one time, making it a chore to play on mobile devices (it fares better on iPad). The interface is fiddly and unresponsive, too; particularly aggravating is the 'drag and drop' method used to make substitutions or swap player positions, which is such a faff you'll actively dread making changes.
More games
Although with all of that said, at times some of the classic Champ Man magic shines through the wall of nagging transaction prompts that Championship Manager 17 insists on putting up. Matches rattle through at a decent pace, making it ideal for portable play, and it runs swiftly and smoothly, even on older phone models. There's enough going on here to suggest there's room for a cheap and cheerful rival to Football Manager, if next year's game can streamline the interface to make it more mobile-friendly, and reign in the overbearing microtransactions.
But overbearing they are, and it all adds up to a management sim that I'm happy to go on record as saying offers the most realistic matchday experience yet – in that most matchdays see you spend the best part of a tenner on a cold sausage roll and a can of Fanta, before sitting back down in your over-priced, birdshit-caked seat to watch your forwards show no discernible signs of progression whatsoever.
Score: 2/5
Quizzes, features and footballing fun
Get the best features, fun and footballing frolics straight to your inbox every week.
Thank you for signing up to Four Four Two. You will receive a verification email shortly.
There was a problem. Please refresh the page and try again.