11 times Ronaldinho did something absolutely ridiculous
Happy 39th birthday to the godfather of flair! During his time at the top he tricked and flicked his way to worldwide adulation – and Jack Lang's picked out the best bits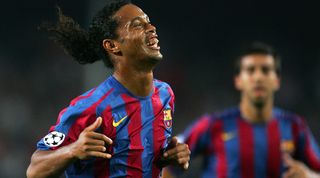 1. Making a fool of Dunga (1999)
Growing up, Ronaldinho dreamed of following in his brother's footsteps and playing for Gremio. He achieved it with great distinction too, making his debut as an 18-year-old and swiftly becoming a fan favourite courtesy of his ebullient, entertaining style.
An early-career highlight came in the final of the Rio Grande do Sul state championship against Internacional, Gremio's most bitter rivals. Ronaldinho scored twice in the three-game series and also found time to humiliate Dunga, Brazil's 1994 World-Cup-winning captain, with two outrageous pieces of skill.
"I wanted to do more but he escaped!" he revealed years later. "I had trained those dribbles. They were reserved for him."
2. "Olha o que ele fez!" (1999)
Ronaldinho was called up to the Brazil squad for the 1999 Copa America and was already the talk of the dressing room thanks to his exploits against Inter. The teenager featured in a warm-up friendly against Latvia, but it was Brazil's tournament opener against Venezuela that really served up a moment to remember as Ronaldinho sealed a 5-0 win with a stunning individual goal.
The strike is perhaps best remembered in Brazil for the commentary that accompanied it. Globo stalwart Galvão Bueno (think John Motson but far more keen on the sound of his own voice) got so carried away with Ronnie's genius that he hollered the phrase "Look what he did!" repeatedly into his microphone.
All together now: "Olha o que ele fez! Olha o que ele fez! Olha o que ele fez! Olha o que ele fez!"
3. *That* goal against England (2002)
You've probably read enough about this one to last you a lifetime, but suffice to say, Ronaldinho has always insisted that he meant it. "I don't know how many times I have been asked this, but it's easily over a thousand," he said in 2012. "My response is always the same: I was shooting."
4. Running riot against Guingamp (2003)
This stunning effort at the Stade de Roudourou in Brittany was perhaps the pièce de résistance of Ronaldinho's two-year spell at PSG. It showcased both his explosiveness and his otherworldly balance, leaving a trail of defenders – including a young Didier Drogba, who tried in vain to hack him to the floor – eating dust.
"He was so quick with the ball," former Guingamp midfielder Christophe Le Roux recalled in an interview with France Football last year. "He used every part of his foot to bring the ball forward. When you search for the greatest goals on YouTube, that one is often included. I can tell my children that I was there for it!"
5. Welcome to Barcelona (2003)
They say you never get a second chance to make a first impression, and Ronaldinho was clearly in no mood to test the theory after swapping PSG for Barcelona. Just four days after his debut for the Blaugrana (a 1-0 away win against Athletic Bilbao, history fans), the buck-toothed bag of tricks laid his cards on the table in sensational fashion against Sevilla.
Due to a dispute over the kick-off time, it was was 1:30am when the Brazilian picked the ball up on the halfway line. But if anyone at the Camp Nou was beginning to nod off, we must assume they perked up pretty swiftly at the sight of Ronnie sashaying past José Luis Martí and Francisco Casquero. The subsequent shot might have beheaded Sevilla goalkeeper Antonio Notario had he managed to get anywhere near it. Quite the way to announce yourself.
6. Osasuna swooner (2004)
Competing for La Liga was not enough for Ronaldinho in his first season in Spain; he was also running his own personal Goal of the Season competition on the side. This inventive effort against Osasuna certainly had plenty going for it, garnering rave reviews. Sport dubbed it "a cinema goal", while Barça boss Frank Rijkaard said it was "beautiful, technically perfect".
7. Taking a punt (2005)
This was an optical illusion of a goal; it took a good few seconds (and a couple of replays) to work out exactly how Ronaldinho had smuggled the ball from the edge of the area into the Chelsea net. Brilliantly, he had done so by recourse to that most base of playground techniques: the toe poke.
It was not a beautiful strike in any traditional sense, but there was huge pleasure to be found in the bloody-minded pragmatism of the thing. As arch Brazilian goal poacher Dadá Maravilha once said: "There's no such thing as an ugly goal. Ugly is to not score one."
8. Winning over the Bernabéu (2005)
5:20 for Madrid fans' appreciation
Sometimes, just sometimes, genius trumps partisanship. So it was on November 19, 2005, when Ronaldinho inspired Barcelona to a commanding victory over Real Madrid.
After scoring twice and generally torturing the home backline throughout, he left the field to warm – and, for Real Madrid's struggling players, pointed – applause from the Madrid fans. "I will never forget this," he admitted after the match.
9. Overhead ovation (2006)
Most players would have just stooped to head Xavi's dinked cross. The ball was probably a little low to impart any great power, but hit the target and who knows, right?
Ronaldinho is not most players. Even a decade later, you can almost hear his brain rifling through possible solutions to this particular spatial challenge. The one he settled on was, of course, perfect.
10. Battle of the generations (2011)
He may not have pulled up trees during a stint at Milan, but Ronaldinho returned to Brazil with his star power undiminished. Not all of the headlines were positive (Flamengo coach Vanderlei Luxemburgo memorably felt compelled to install a CCTV system at a training camp to prevent the playmaker sneaking girls in), but there were more than enough gala displays to endear the veteran to Fla supporters and neutrals alike.
In 2011, he played a starring role in a topsy-turvy thriller against a Santos side inspired by young upstart Neymar. Ronaldinho's hat-trick sealed a 5-4 victory for Flamengo, but with the younger man's Puskás Award-winning goal snatching most of the plaudits, it felt like a baton was being passed from one great entertainer to another.
11. Turning to the bottle (2013)
NOW READ...
BIG INTERVIEW Robinho on Real Madrid, fighting Crag Bellamy and more
Ronaldinho never was one to shy away from the bottle (sorry), but this goal for Atlético Mineiro in 2013 took things to another level. With play stopped, he wandered over for a sip of Rogério Ceni's water. But instead of returning to his position, he peeled into space behind the unsuspecting São Paulo back four, received a long throw-in and squared for Jô to score.
"It wasn't planned at all," he claimed after the match, but many – including most São Paulo fans, who kicked up quite a fuss – had their doubts. You can take the footballer off the street, but you can't take the street out of the footballer.
LONG READ Ronaldinho – How the godfather of flair changed football forever
Thank you for reading 5 articles this month* Join now for unlimited access
Enjoy your first month for just £1 / $1 / €1
*Read 5 free articles per month without a subscription
Join now for unlimited access
Try first month for just £1 / $1 / €1