Sick children pretending to be excited by visit of Man United players
Kids politely wait for stars to leave, Back of the Net reveal.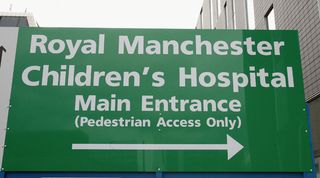 Patients at Royal Manchester Children's Hospital struggled to muster any enthusiasm for the visit of Manchester United's first-team squad, sources report.
The United aces brought Christmas presents to bedridden young fans, who spoke later about how they found the visits rewarding, but slightly awkward.
"Michael Carrick came and spoke to me for 15 minutes," said Jason, 11. "His chat was pretty one-paced and he's got no idea how to move a conversation forwards. I think we were both a bit relieved when he went away."
Carrick then spent 20 minutes conversing sympathetically with Paddy McNair, before realising that McNair looked pale and unhealthy because he was from Northern Ireland.
Rooney expertise
Leukaemia sufferer Annabelle, 13, said: "Wayne Rooney gave me some chocolates, and he had some great advice about hair transplants. Then he ate my chocolates.
"I told him he should manage his decline by adapting his playing style, and he asked if I liked being in hospital and called me a bad word.
"Marcos Rojo asked me who I was, which is a bit ironic."
The assembled children successfully forced smiles when asked to pose with their new club-branded baseball caps and fountain pens, before visibly relaxing when the players left. Several looked underwhelmed and said they had been expecting a different bunch of clowns.
"They must be in a lot of pain, but it's great to see them smiling through the sadness," said Becky, aged five.
Please note: This satirical news story is not real. But you knew that already, right?
Quizzes, features and footballing fun
Get the best features, fun and footballing frolics straight to your inbox every week.