Ted McMinn: What Happened Next?
By Scott Murray
"The surgeon said 'Ted, you're better getting it taken off below your knee'..."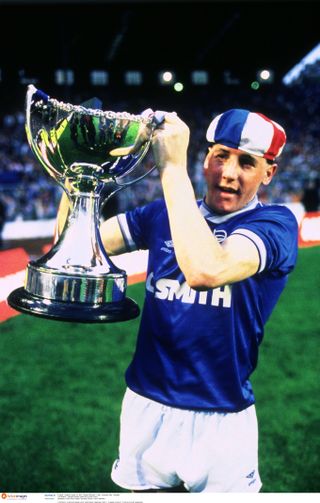 When FourFourTwo rings up the Derby County press officer and asks to speak to Ted McMinn, the press officer suggests we call back at 2pm. "Haw!" we hear in the background. "Haw! No way! The first race at the Cheltenham Festival is at two! They'll have to ring me before that!"
It's a typically ebullient response from the warm-hearted and popular former Rangers, Sevilla and Derby winger. His joviality speaks volumes for the Tin Man's character – especially when you consider what he's been through in the past year…
"It's been a nightmare really. If anyone said to me this time last year I'd have half a leg removed, I'd say 'go to the bar and get yourself another drink!' It's just one of those things.
It was last July, Friday 22. I played a round of golf. The day after, I was at a party and I said to my wife 'I have to go home, I can't stand my shoe being on my foot.' It was getting red and puffy and unbearable to stand on because I'd got an infection in it.
I thought it would go away, but after three or four days I became bedridden. The pain became too much. I couldn't walk and didn't want to get out of bed. By the following Friday I'd had the first of four operations in six days to remove the poison that was in there. When they were removing that, the bone began flaking away.
I don't know what caused it. It could have been injuries I got at football, or injections I took like cortisone to play through the pain barrier but which made the foot fragile. Then again I walked through a marsh and got bitten by mosquitoes and there were ants around my feet. I got scratched by a bush getting my golf ball back. I got a gash on the back of my hand and the next thing I noticed was a horsefly on the cut. Nobody knows exactly what it was.
The doctors removed half of my foot. It wasn't very pretty – it was like a triangle – but they stopped the infection spreading to the rest of my body. If it had reached my heart, I wouldn't have had a chance.
But that wasn't the end of it. I was left with a heel which stretched the Achilles every time I walked, so the surgeon said 'Ted, for the best way of life, you're better getting it taken off below your knee'. The shock of having your foot taken off hadn't really sunk in, so for them to come back with that...
All of August I said 'no, I'm not having it done' but then I thought I can't spend the rest of my life on crutches or in a wheelchair. If I had the op, I'd have balance, I could walk, I could drive. So I thought I'd fight it. I had it done, and two days later I discharged myself from hospital.
It brings it home a wee bit when you see old videos of when I played. I started out at Queen of the South – I was a local lad and my main ambition was to play for them – but I was a Rangers fan, so moving there was a dream come true. We won the SPL and the Cup, but Jock Wallace, who signed me for Rangers, then took me to Seville, which was a great move. Playing against Barca, Real and Valencia was better than four games a season against Celtic. I just got sent a centenary strip from Seville, and the names of all the players who've played for them are on the front. My name's just above Maradona; it's a great honour.
I'm looking forwards though, not back. I'm doing a bike ride from Ibrox to Pride Park – I fell off a couple of times initially but I've got it sorted now – and there's a benefit match coming up between Derby old boys and Rangers' nine-in-a-row team. The fans have been great both sides of the border, really supportive.
I'm still in agony every day when I wake up, though, but after four operations you're not just going to be pain free. I just get on with it, because I know the pain will eventually go away. Anyway, I had a couple of rounds of golf in Tenerife at Christmas, two months after the final op – and I've been invited to play this year's British Open for amputees! I'm not letting this beat me...
Interview: Scott Murray. From the May 2006 issue of FourFourTwo. 
Quizzes, features and footballing fun
Get the best features, fun and footballing frolics straight to your inbox every week.
Thank you for signing up to Four Four Two. You will receive a verification email shortly.
There was a problem. Please refresh the page and try again.